A Heady Mix of Gas and Electrons
It's already been more than a decade since Porsche first showed the 918 Spyder plug-in hybrid concept at the Geneva Motor Show. The production version followed three years later and was even more powerful than the concept promised. Not coincidentally, Porsche chose to limit production to 918 cars, building them from 2013 to 2015.
The 918 Spyder still stands as Porsche's quickest and fastest car ever, and it may retain that mantle unless the marque decides to build another hybrid. It's possible that a future Porsche EV supercar could surpass the 918 Spyder, but time will tell.
Getting a 918 Spyder when new was difficult, as just 918 of these hypercars were made. It cost $845,000 before options. Getting one today is not much easier. The RM Sotheby's Amelia Island auction in late May sold this 2015 model for $1.182m, right around the middle of its of $1m-$1.25m pre-sale estimate.
For reference, Gooding & Company sold a black 2015 918 Spyder in its Geared Online auction in May for $1.144m.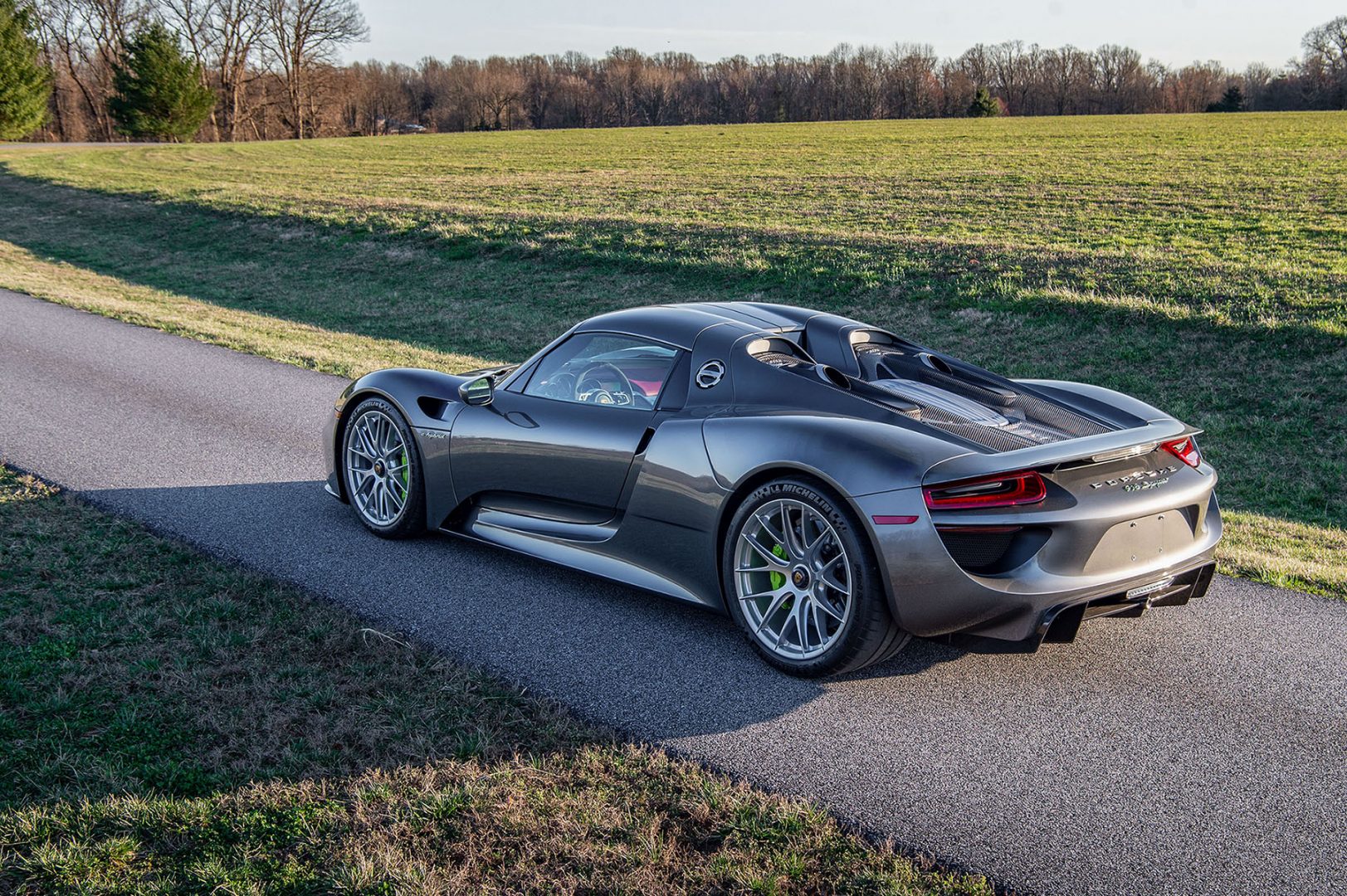 Race of the Electrons
If Rimac and Pininfarina have read the tea leaves correctly, the future of the supercar and hypercar is electric. Some don't like that assessment. This is largely an ego-driven niche, however, where ultimate acceleration and lowest Nürburgring lap times drive sales. It is just a matter of time until those stats belong to battery electrics.
In the meantime, plug-in hybrid hypercars offer the best of both worlds: a screaming internal combustion engine that, by itself could give whiplash-inducing performance, teamed with electric motors for greater off-the-line push.
Ferrari recently entered this space with the SF Stradale, a relative bargain compared to the Porsche 918 Spyder at about $507,000 to start. McLaren, though, wins the low-price-of-entry trophy with the recently introduced Artura plug-in hybrid starting at $225,000. The Artura is a notch or two below the others in absolute performance with its V6-plus-single electric motor, so we don't expect this to be the ultimate application of McLaren's plug-in technology.
887 Total Horsepower
Porsche built the 918 Spyder around a mostly carbon fiber chassis, essentially a requirement in this exclusive group for strength and relatively low weight. The mid-mounted 4.6-liter V8 is not related to anything in Porsche's SUVs but is rather derived from the Porsche RS Spyder LMP2 Le Mans prototypes. With a flat-plane crankshaft (like a Ferrari V8) and titanium connecting rods, it will rev to 9,000 rpm.
The sound blasting from the top-exiting exhaust pipes is truly breathtaking, and so is the 608 horsepower output. If you're thinking, heck, my neighbor kid's Dodge Challenger Hellcat pumps out 717 horsepower, remember that the Porsche 918 Spyder's three electric motors – two at the rear and one up front – contribute another 284 ponies for a total output of 887 horsepower and 994 pound-feet of torque. That's about 90 down from the newer Ferrari SF90 Stradale, but that's called progress.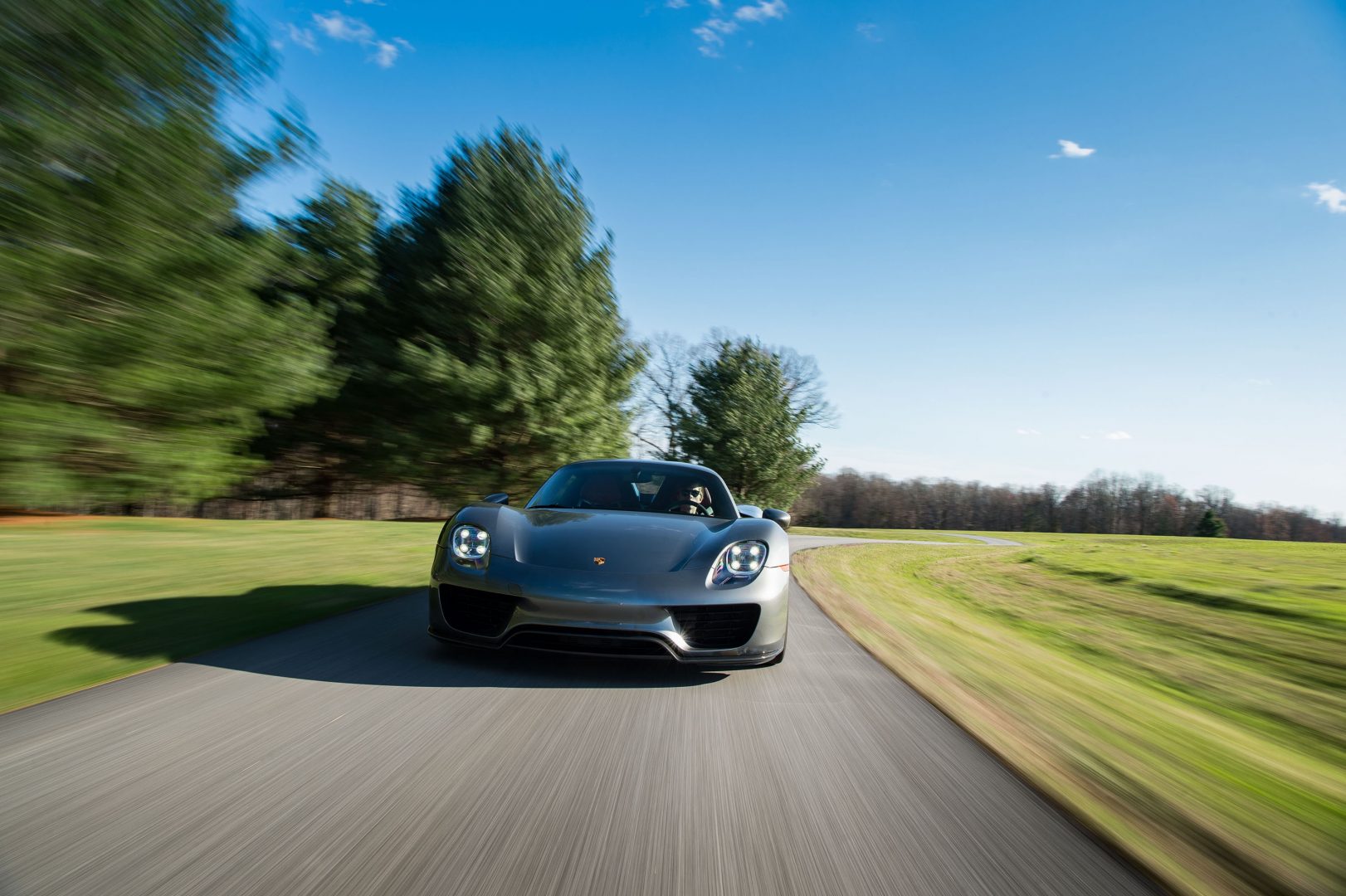 Be Careful Racing for Pinks
A matchup between the 918 Spyder and SF90 Stradale would be close. In 2014, Car & Driver took the Porsche from 0-60 in a mere 2.2 seconds and sailed through the quarter-mile in a blistering 9.8 seconds at 145 mph. Top speed is claimed at 211 mph for both cars. On battery juice alone, the 918 Spyder can reach 81 mph and go up to 12 miles, while the SF90 Stradale will hit 84 mph and reach 15 miles.
The Porsche channels all its power through the PDK seven-speed dual-clutch automatic transmission, so the driving experience is as visceral as you'd expect from a Porsche hypercar. Massive carbon-fiber brakes haul the 918 Spyder down from elevated speeds.
As you'd expect in a car capable of such speed, the 918 Spyder's body employs active aerodynamic features to aid in stability and downforce. These include an adjustable rear wing, a pair of under-floor flaps in the nose and additional adjustable flaps in the headlamp area.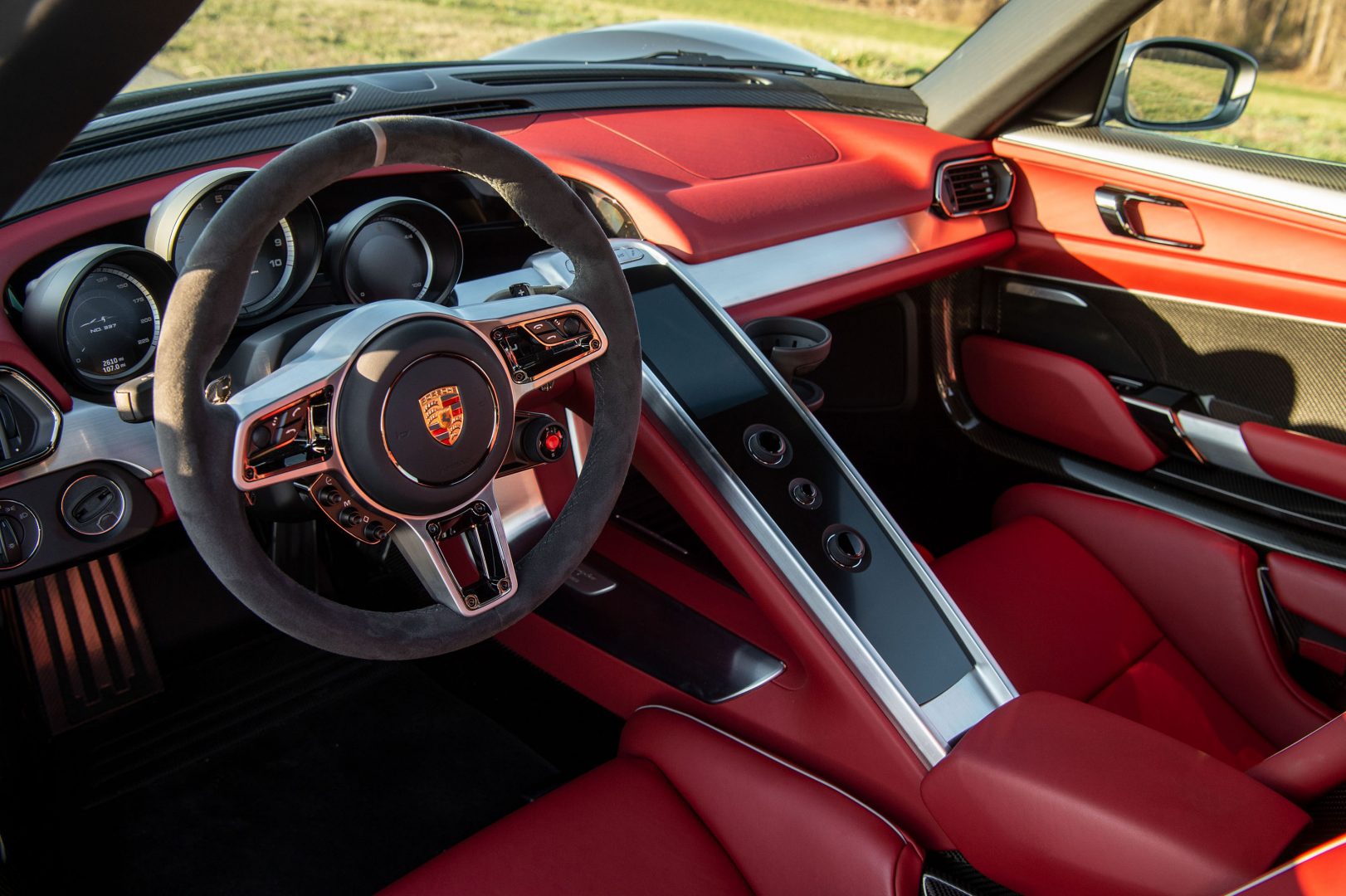 Porsche 918 Spyder's are Still Scarce
The 918 Spyder on offer by RM Sotheby's is number 337 and was originally priced around $900,000. Looking quite striking in Meteor Grey Metallic over Garnet red leather with silver piping, this Spyder features the optional heated lightweight seats and Alcantara-trimmed steering wheel, as well as the front-axle lift system to clear steep driveway aprons. The car, with just under 2,620 miles, received its four-year major service in December 2018 at a cost of nearly $8,000.
Like the Carrera GT almost a decade before it, the Porsche 918 Spyder will always be a landmark car for the marque. Get one while you can.