Remembering a Nearly Forgotten Lambo
Chances are, since you're reading the blog of the #1 provider of lease financing in America, that you know what a Lamborghini Jalpa is and know how to pronounce it. (Just say "Hal-puh" and you'll be OK.)
A product of the '80s that borrowed much from the '70s, the Jalpa never achieved the poster-car status of the Countach. With just 410 made and 100 sent to the U.S., it's not something you normally see at a Cars and Coffee.
Perhaps that status as a rarity and a curiosity spurred a collector to pay $99,000 for a red 1984 Jalpa at the RM Sotheby's Palm Beach auction, which was conducted completely online in late March. A Jalpa preserved in such good condition stands as a reminder that Lamborghini, while struggling under various owners in the '70s and '80s, refused to fade away.
Great Minds Think Alike
Somehow, Ferrari, Lamborghini and Maserati all seemed to get the same idea in the early '70s. All saw – or thought they saw – a market for a "junior" mid-engine sports car that pretended to seat four. The idea was a bid to appeal to buyers who needed to justify their purchase as something the family could ride in.
Lamborghini showed the Urraco at the 1970 Turin Auto Show and began production for 1973; Maserati's 1972 Merak was a V6-powered version of the V8 Bora supercar, with a pseudo-seat stuffed behind the two front buckets, and Ferrari issued the Dino 308 GT4 in 1973 as a 2+2 "replacement" for the extraordinary Dino 246 GT.
The Lamborghini and Ferrari used 3.0-liter V8s (plus smaller-displacement versions for some markets). What all three of these cars had in common were essentially non-usable back seats.
Bull Market
Lamborghini Urraco production tallied 791 cars through 1979, with just 21 of those officially exported to the U.S. These Americanized versions had a 180-horsepower 2.5-liter version of the V8. Those were sad times for performance cars.
Sounding like a character from "Planet of the Apes," the Urraco name was in fact a slang term for "little bull". Lamborghini, since the 1967 Miura, had taken to naming its cars after bulls, bullfighters, or other bullish things. The reason for the choice was that founder Ferruccio Lamborghini's zodiac sign was Taurus – the bull. Wasn't Ford lucky that Lamborghini hadn't grabbed the Taurus name first?
The Urraco was a looker, thanks to the talent of Marcello Gandini. It was far less radical than the Countach that he also designed. The Urraco line ended with the Silhouette, a two-seat targa-roof version that was clearly aimed at Ferrari's 308 series. Floundering Lamborghini was able to make just 54 of them while Ferrari made thousands of 308/328 models.
That '70s Slump
The 1970s had not been good to Lamborghini. The 1973 oil embargo and resulting economic shockwaves put the hurt on sales, drying up money for product development. Signor Lamborghini sold his namesake carmaker in 1974, and four years later the company sunk into bankruptcy.
The Mimran brothers of Switzerland bought the struggling concern in 1980 and soon after launched a successor to the Silhouette as a less expensive companion to the Countach. Called the Jalpa, the new car revamped the basic Urraco platform, keeping the Silhouette's two-seat, targa-roof layout. Not surprisingly, the Spanish name came from a breed of fighting bulls. This "baby" Lamborghini cost $60,000 when a Countach was $100,000.
A Wing and a Prayer
The Jalpa's Interior was crafted with supple leather and featured a gated shifter for the five-speed manual transmission. Putting round gauges in square pods seemed an odd design choice, but then, it was the '80s. Ergonomics were criticized, but at least the Jalpa came with the luxury of air conditioning, AM/FM stereo cassette stereo, power windows and a power driver's side mirror. And, sometimes they worked.
The RM Sotheby's auction car was said to "retain its $5,000 optional rear wing." For some, those 1980s Lambo wings were a bit much, looking like something from the Boeing spare parts catalog.
Charging Bull
The Jalpa used a 3.5-liter version of the Lambo V8, making a healthy-for-the-time 255 horsepower and 230 lb-ft of torque in U.S.-spec. It was pretty quick. In its test of a 1986 Jalpa, Car & Driver got 0-60 in 5.8 seconds. For some perspective, that year's Ferrari 328 GTB, with 260 horsepower, did the deed in 5.6 seconds — basically a tie. The Corvette was close on their tails at 6 seconds flat, while the mighty Porsche 911 Turbo crushed them all with a 4.6-second sprint.
A few years ago, Car & Driver looked back at the Jalpa, hearing from a featured owner that, "Maintenance-wise, it's pretty good, as long as you've got a good mechanic." Don't most owners of 1970s and 1980s Italian exotics say that?
Before Jalpa production ended, Chrysler bought Lamborghini in 1987 and decided to focus on a Countach successor, the Diablo, rather than a replacement for the Jalpa. The next "entry" Lambo, the Gallardo, arrived in 2005 under Volkswagen Group ownership. Lamborghini built 14,000 of those; times had sure changed.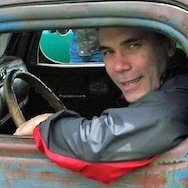 Written by Jim Koscs, Audamotive Communications