Reliving Le Mans Glory
If the sound of screaming engines and smell of popcorn are still lingering from your viewing of "Ford v Ferrari," then you might want to satiate your desire for a piece of the action. Putting a real Ford GT40 in your collection is no easy feat, but wouldn't you rather have something you could drive, anyway?
A 2005-2006 Ford GT would be about perfect. The GT was of course an homage to Ford's 1960s endurance racecars, but intended for the street. For 2006, Ford offered the stunning 2006 Heritage Edition paint option, which commemorated the 1968–1969 Le Mans-winning J.W. Automotive/Gulf Oil racing GT40s. At its Scottsdale auction, Gooding & Company is offering one of the 343 GTs sold in that livery, with a pre-sale estimate of $400k-$450k.
Supercar Surprise
The Ford GT was a supercar surprise when it debuted at the 2002 North American International Auto Show in Detroit as a vehicle to mark Ford Motor Company's centennial (2003). The production GT arrived in fall 2004 for the 2005 model year.
The thoroughly modern GT was an ultra-fast, lightweight sports car with 550 horsepower from a supercharged 5.4-liter V8 engine and few amenities. Performance was a bit better than the Ferrari F430 that also debuted for 2005.
The Best Kind of Retro
In creating the GT, Ford designer Camilo Pardo remained as faithful as possible to the classic racer while adhering to modern engineering and safety requirements. The 2005 GT was larger than the original racecar. However, it was still just a bit taller at 44 inches versus that car's 40-inch height (and source of its name).
Carroll Shelby, whose involvement in the Le Mans wins is now more widely known than ever thanks to the "Ford v Ferrari" movie, provided input on development. The Ford GT turned out to be a highly refined supercar, with everyday drivability. As on the original racecars, the doors opened into the roof for easier ingress/egress. Visibility, though, was limited, a result of limited tolerance for compromising on design.
Ferrari Beater
There was nothing retro about the Ford GT's engineering. The aluminum and composite body cloaked an aluminum space-frame chassis. The hand-built, double overhead-cam aluminum 5.4-liter V8 was based on Ford's overhead-cam "Modular' architecture, but was unique to the GT. An Eaton supercharger helped push output to 550 horsepower and 500 lb-ft of torque. Plus, a a dry-sump oiling system ensured proper lubrication for high-performance and track driving. The only transmission offered was a six-speed manual.
The 3,500-pound Ford GT was a scorcher. Car & Driver got 0-60 in 3.3 seconds and 0-150 in 16.9 seconds – seven seconds quicker than a Ferrari 360 Stradale and Porsche 911 GT3 tested for comparison. The GT was also two seconds quicker than those two lapping GingerMan Raceway in Michigan. Braking was judged exemplary, and without ceramic discs.
Automotive media also noted the GT's easy-to-drive manner, Motor Trend praising its "lavish torque, superb clutch, and positive shifter". The magazine's test recorded the quarter-mile in 11.5 seconds @ 128.7 mph and a top speed of 200.1 mph.
More Wins for Ford
Ford offered some great colors for the GT. The most dramatic had to be the Heritage Edition offered for 2006. The scheme was based on the livery of the Gulf Oil-sponsored J.W. Automotive Le Mans winners in 1968 and 1969. J.W. Automotive had purchased the rights to race the GT40, including the Ford Advanced Vehicle operation in Slough, England. Those were GT40 Mk. 1 models. New regulations implemented in 1968 to reign in dangerous speeds at Le Mans had effectively banned the 1966 Le Mans-winning Ford GT40 Mk. II's 7-liter engine in the Group 4 Sports Car class.
Ford had initially planned to build 4,500 GTs over a two-year period. However, production ended in September 2006 at 4,038 (4,033 according to Ford Performance). Early buyers paid hefty premiums for their GTs, but there were reports of sales slowing and lingering into 2007.
A Car Well Enjoyed
Many Ford GTs coming to auction show very low miles, but the one offered by Gooding has nearly 5,500 miles – a refreshing sign of someone truly enjoying their time with the car. Actually, this car has had two owners.
In addition to the Heritage appearance package, this car has all factory options: forged BBS aluminum wheels, the McIntosh audiophile sound system, painted racing stripes, and Gun Metal Grey-painted Brembo brake calipers. As a bonus, Carroll Shelby autographed the dashboard, and there is a thank-you letter from his philanthropic foundation accompanying the sale.
Watch "Ford v Ferrari" again and get yourself a 2005 or 2006 Ford GT. It's like a movie come to life.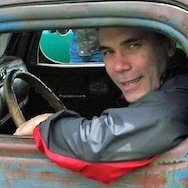 Written by Jim Koscs, Audamotive Communications