One name for a hypercar icon.
Time flies in the world of hypercars. It may not seem that long ago when Ferrari introduced its brain-stunning LaFerrari at the Geneva Motor Show, but it's been six and a half years. Recently, some of these unparalleled (so far) machines have been coming up for sale at auction, where they usually sell for double their original $1.4 million "starting" price. That's a drop from values that peaked in 2018, according to Hagerty.
That's for the Berlinetta. The open model, the LaFerrari Aperta, goes for more. At Mecum's Kissimmee sale in January 2019, a LaFerrari with 418 miles brought $3.3m, but a bid of $6.1m for an Aperta with 174 miles was below the $6.5m-$8.5m pre-sale estimate and was not accepted.
Ferrari made 710 of these super-hyper models, 500 coupes and 210 Apertas. The 500thcoupe and 210thAperta were built especially to be auctioned for special causes; the last Aperta built earned $10m for Save the Children.
Dropping Names
Bono, Cher, Prince, Madonna, Halston, Liberace, Banksy, Beyoncé, Rihanna, Sting … the list of entertainers, artists and other celebrities who go by one name, perhaps not coincidentally, could also be a list of the world's most successful, enigmatic and/or admired of these folks. Perhaps Ferrari took a cue from them when it named its first hybrid hypercar LaFerrari. Not "Ferrari LaFerrari," just LaFerrari.
Well, of course, nobody called it just LaFerrari. And, legally, at least in Uncle Sam's eyes, it was the Ferrari LaFerrari. The name had people talking six years ago, and look, we're still talking about it. The idea was that LaFerrari was the Ferrari, the pinnacle. Could Ferrari top it today? Marque loyalists are counting on it.
When A "Supercar" Isn't Enough
LaFerrari was the fifth in a line of "supercars" from Ferrari, a term the factory has used but that we must put in quotes, because, well, "supercar" became a gross understatement as the series progressed. The lineage included the 288 GTO in 1984; the F40 in 1987; F50 in 1995, and Enzo in 2002. For each of these, Ferrari engineers didn't just stretch the boundaries of road-car performance, they broke them.
"Ferraristi" know that when Ferrari talks about adapting Formula One racing technology to its road cars, it's usually referring to specific chassis systems and aerodynamic principles. LaFerrari certainly applied those, while going much farther.
LaFerrari was Ferrari's first hybrid, with powertrain tech that emerged from the KERS technology (kinetic energy recovery system) used in Formula One. Ferrari called the system for LaFerrari HY-KERS. LaFerrari combines the output of a 789 hp V12 gasoline engine with a 161 hp electric motor for 950 total system hp. Put that duo in a 3,500-lb. car, and you get acceleration that could trigger nosebleeds.
Gas + Electricity = Lightning
LaFerrari's V12 and its HY-KERS batteries are mounted behind the seats, concentrating mass near the car's center. Speaking of the seats, each LaFerrari owner had to be fitted to his or her car. The result for each was a custom, non-adjustable seating position molded into the car's carbon fiber center tub. Instead, the steering wheel and pedals adjust.
A 7-speed dual-clutch transmission integrates the main electric motor. When LaFerrari decelerates, the electric motor operates as a generator, charging the batteries. That's "kinetic energy recovery," which you might know as regeneration in other hybrids. A second, smaller electric motor powers the air-conditioning compressor and other accessories.
The V12 and electric motor jointly unleash a torrent of torque, with unsurprisingly staggering results. Car & Driver, testing LaFerrari at Ferrari's own Fiorano test track, recorded 0-60 in 2.5 seconds and 0-100 mph in 4.8 seconds. The quarter-mile flew by in 9.8 seconds at 150 mph. According to Car & Driver, the Porsche 918 Spyder was slightly quicker to 60 (2.2 seconds). Are you going to quibble over three tenths of a second?
Ferrari said LaFerrari could top out at 218 mph. Marque buffs, of course, also put much stock in the lap times around Fiorano. LaFerrari did that deed in 1:19.70. This year, the 986-horsepower SF90 Stradale, Ferrari's second hybrid, trimmed it to an even 1:19.
Looks as Fast as It Goes
LaFerrari stunned with its appearance, too. Where the Enzo seems brutal, LaFerrari meets the eyes as beautiful yet still purposeful. There is a familial resemblance to the 458 Italia, but its sculptural features are far bolder. The body, rendered in carbon fiber, conceals an advanced active aerodynamic system. A power-operated ducktail spoiler, along with a series of flaps in the rear diffuser, ahead of the front wheels and in the front center, automatically adjust to maximize downforce.
It could go without saying that one had to be invited by Ferrari to order a LaFerrari when new. Today, showing up at an auction ready to drop about $3m might get you one.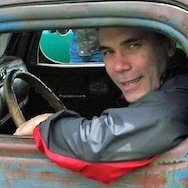 Written by Jim Koscs, Audamotive Communications
For Premier Financial Services