A 4×4 for Superheroes…or Super Villains
You would not think so by looking at them together, but the Lamborghini LM002 and the 1945 Willys Jeep share a common origin story: the U.S. military. While the Jeep grew into today's globally successful SUV brand, the Lamborghini LM002 remains a rare but intriguing piece of this Italian supercar's bumpy history.
In another curious twist, while the LM002 was in production, both Lamborghini and Jeep shared a corporate parent, Chrysler. Crazy times, indeed. The thing many might remember about the LM002, though, was its connection to an early owner, actor Sylvester Stallone, whose hit 1982 movie "Rambo: First Blood" inspired the vehicle's nickname, "Rambo Lambo." Also, it looked like something that the Rambo character would drive.
At its Miami auction on December 10, RM Sotheby's will offer a select group of 60 vehicles, including this 1991 Lamborghini LM002 showing just over 8,900 kilometers (5,500 miles).
The Army Comes Calling
Like many premium brands, Lamborghini recently and correctly calculated that an SUV would become its best-selling vehicle. The Urus has fulfilled that expectation. About the only thing this best-seller has in common with the three-decade-old LM002, though, is the focus on angular design.
In the 1980s, about the last thing anyone would have expected Lamborghini to offer was a V12-powered, three-ton off-road monster truck. At the time, enthusiasts were happy just to know Lamborghini was still in business. In 1980, the Mimran brothers from Switzerland bought the company out of bankruptcy. Lamborghini had already been involved in an unusual project to build a vehicle for the U.S. military. Stranger things, eh?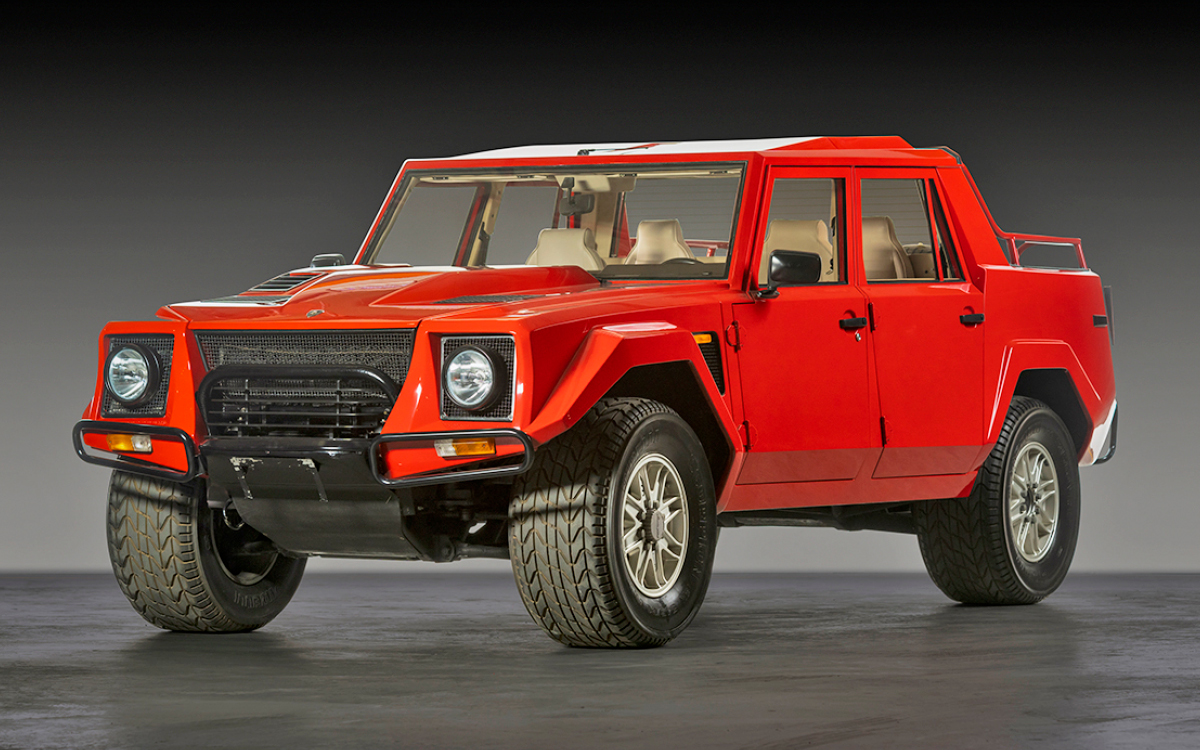 Uncle Sam Wants a 4×4
The U.S. Department of Defense had asked for proposals for a powerful, all-terrain vehicle that could quickly carry troops and weapons into and out of trouble spots. One contractor, Mobility Technology International, designed a vehicle called the Cheetah but needed someone to develop the prototype. They called Lamborghini.
The Cheetah used a rear-mounted Chrysler V8 engine, which made it a poor handler. Meanwhile, another American contractor, FMC, sued because it said the Cheetah resembled its own bid for the DOD contract, the XR311. That vehicle would go on to become the HMMWV, better known as the Hum-Vee, which won the contract and resulted in the civilian version, called Hummer.
That vehicle became associated with another macho-man actor, Arnold Schwarzenegger, who, coincidentally, got involved in a long-running battle of egos with Stallone. We're happy to report that the two have patched up their differences and recently got together to carve pumpkins for Halloween.
But we're getting off the topic.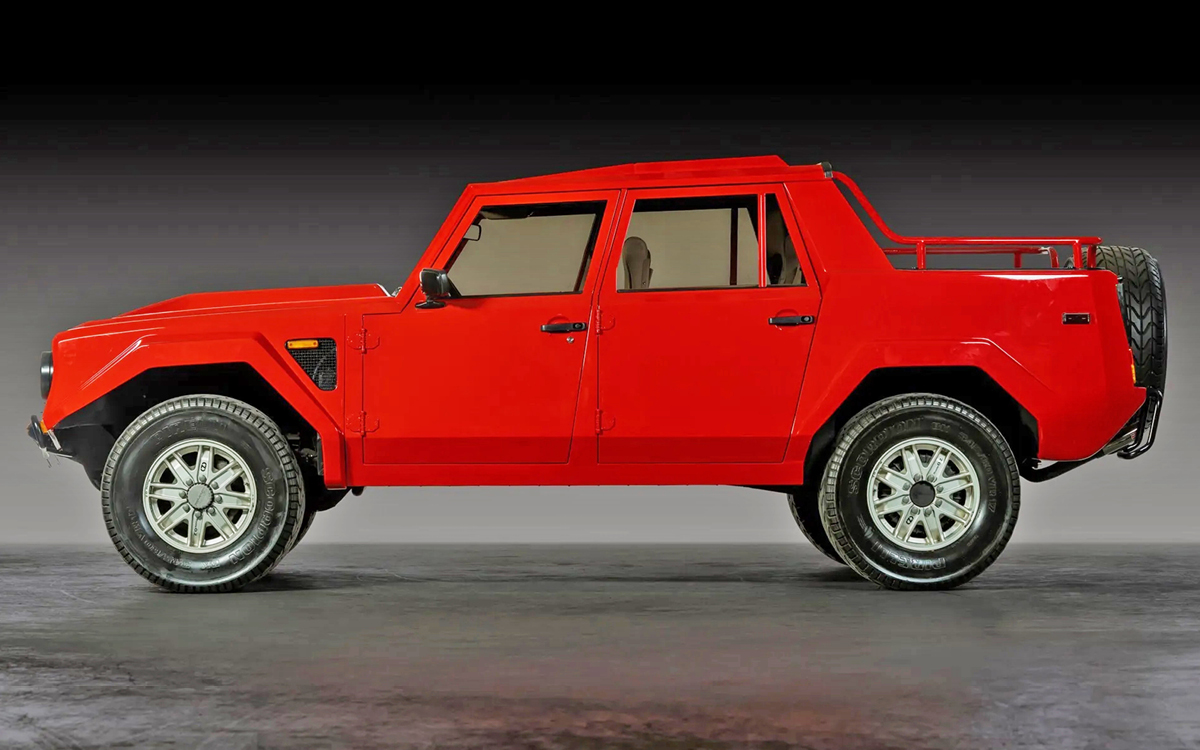 Sheik It Up
Making a long story short, the rear-engine Cheetah prototype was a disaster until a former Maserati designer, Giulio Alfieri, rescued the project. Alfieri ditched the Chrysler V8 in favor of the Lamborghini's own V12 from the Countach, which he placed up front for the LMA concept vehicle revealed in 1982.
The LMA's chassis number, LM002, would carry on as the production vehicle's name. While the Hum-Vee won the D.O.D. contract, Lamborghini put the LM002 into production as a fast all-terrain plaything for Arab oil sheiks. Built on a massive steel tube-frame and draped in a dune buggy-like fiberglass and aluminum body, the LM002 rolled on massive Pirelli Scorpion run-flat tires. The design gave the LM002 a short quasi pickup-like bed with a carpet-lined trunk below that.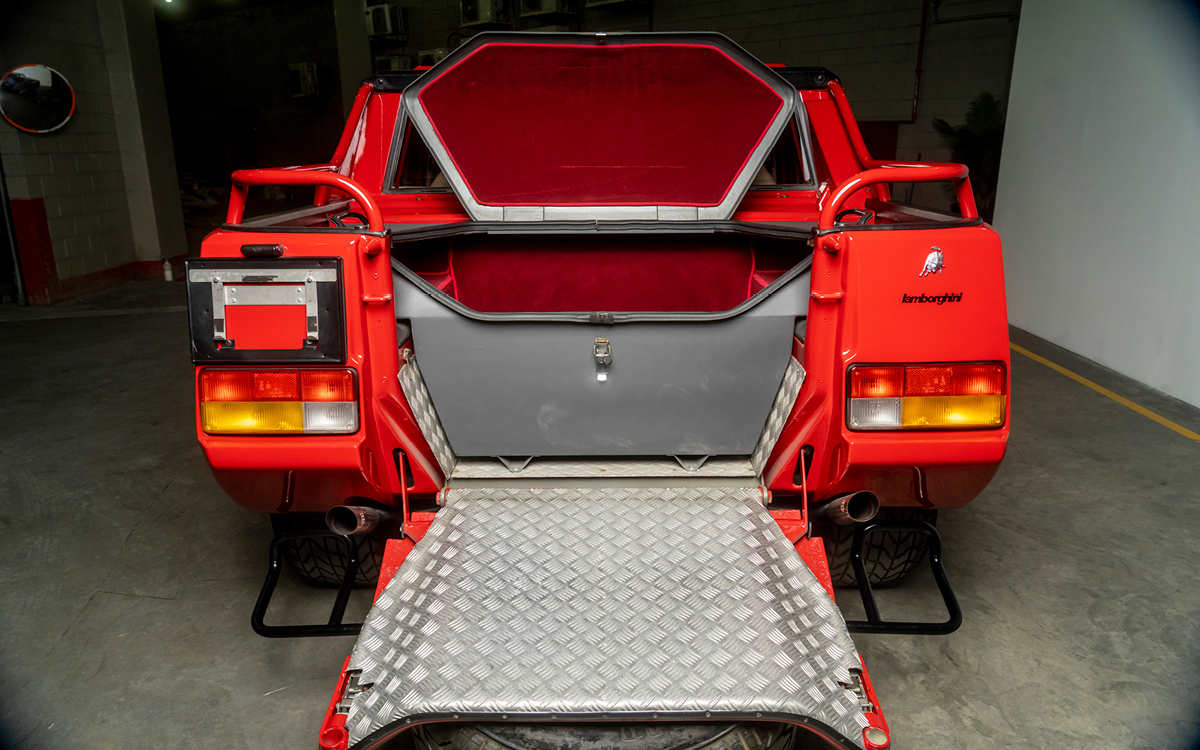 A Real Heavyweight Champ
The wild LM002 weighed more than 6,500 pounds, but the 440-horsepower Lamborghini 5.2-liter V12 with six Weber carburetors was able to shrug it off. Huge air filters protected the V12 from inhaling desert sand.
The Rambo Lambo rode high on fully independent suspension and could drive all four wheels via two-speed transfer case. When you engaged 4WD, you had to jump out and manually lock the front hubs, just like on the early classic Jeeps and Land Rovers. Like other Lamborghinis from the period, the only transmission offered was a 5-speed stick.
Luxury in the four-seat cabin included a generous amount of leather, with wood trim and of course power windows and air conditioning. Remote controls for the standard winch came in handy when helping fellow sheiks pull their stranded Range Rovers out of sand dunes.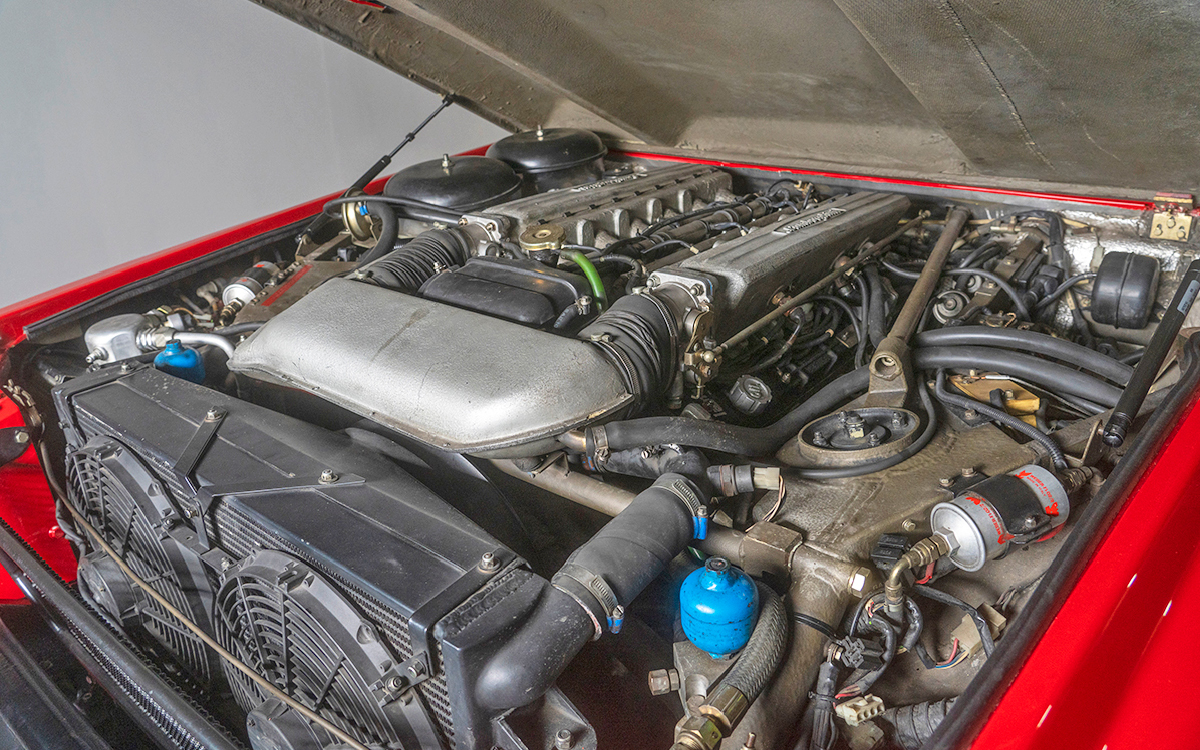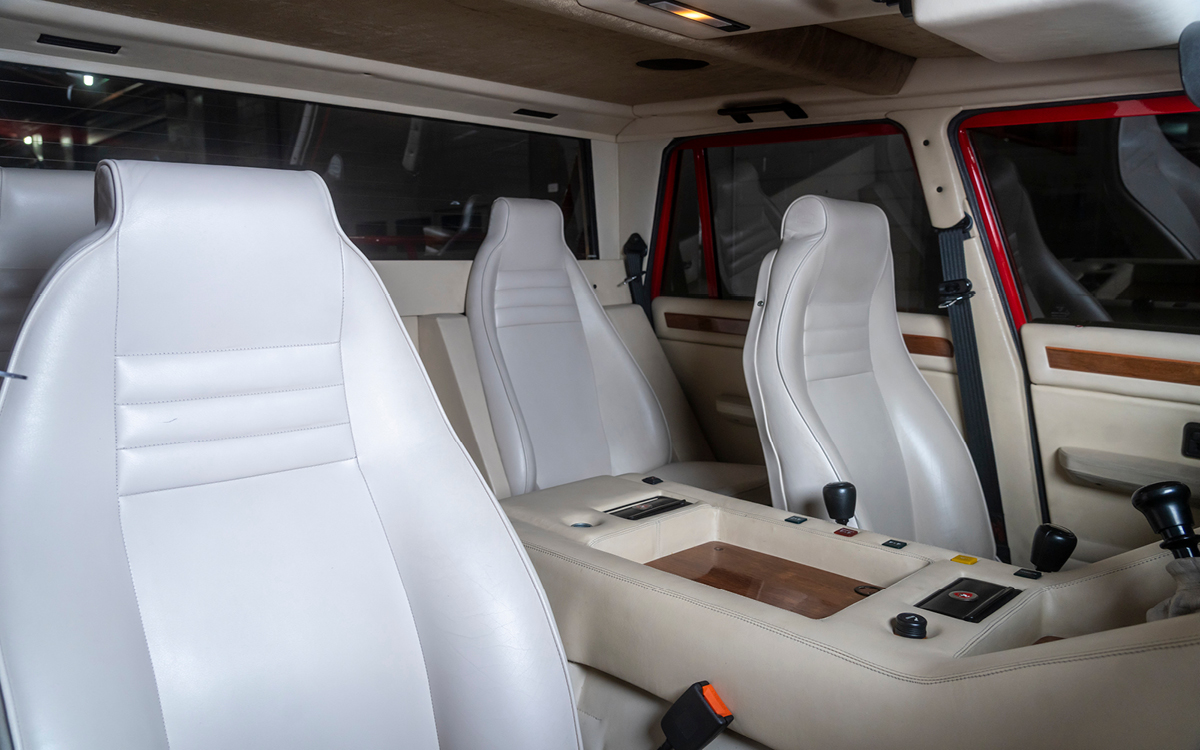 The Genuine Article
The Lamborghini LM002 was no showboat. Car and Driver tested the Rambo Lambo in 1987, and it mesmerized staffers with both on-road handling and staggeringly good off-road capability. (Lamborghini, remember, got its start with off-road vehicles – farm tractors!). The heavyweight LM002 did 0-60 in under 8 seconds and ran the quarter-mile sprint in 16 seconds at 86 mph. In 1987, that was pretty quick for anything.
Nothing seemed to faze the monster, except gas pumps. The Rambo Lambo swilled the good stuff at around 8 mpg. With a 75-gallon fuel capacity, range anxiety was not an issue, but go ahead, do that gas price math in your head.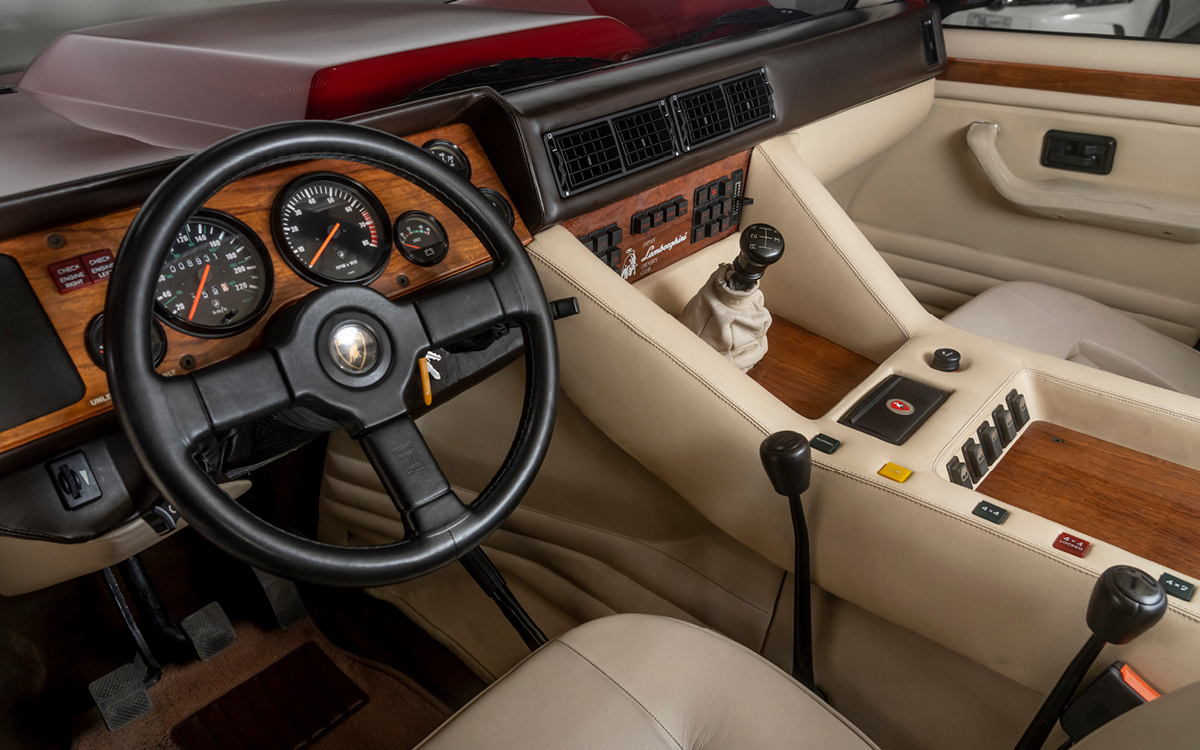 Rambo-ish All Around
Perhaps true to its "Rambo" persona, the LM002 was rough around the edges, with road testers reporting a heavy clutch and steering and "sub-par air conditioning." But you want one anyway, don't you? The Lambo LM002 on offer by RM Sotheby's in Florida is #279 out of 328 made. It has been in the consignor's hands for eight years in Kuwait, a period during which he added just 56 kilometers (35 miles) for a total of 8,931 (5,549 miles). Buy this, and you could scare a Lambo Urus.