Which one would you pick? Bugatti will build the last of 500 Chiron models by the end of this year. (Source: Bugatti)
Trading the W-16 for Electric Motors
The Bugatti Chiron you own, or are waiting for, or wish you had ordered one, will be the last of its kind. The company said it would build 500 examples when it unveiled the car in 2016, and that number is just about up. The last cars will be delivered in early 2022.
Bugatti's unparalleled quad-turbo W-16 engine will be retired, as well, and no successor model or powertrain has yet been announced. But this is not the end of Bugatti.
This past summer, the storied marque announced it was becoming part of a joint venture with Croatian EV hypercar maker Rimac. The company will be called, logically enough, Bugatti Rimac. Also sticking with logic, it follows that Bugatti Rimac will make either hybrids or battery EVs.
In the meantime, customers have been taking delivery of their Chiron Super Sport models and probably pondering whether to drive them or stash them in hermetically sealed storage.
What would you do?
Percentages
So, who owns what? Rimac Group will own 55 percent of Bugatti Rimac, and Bugatti's fellow VW Group member Porsche will own 45 percent. Porsche, meanwhile, currently owns 28 percent of Rimac Group, and Hyundai Group owns 12 percent, all in the interest of accelerating EV development.
Bugatti says it will retain its headquarters in Molsheim, France. It stands to reason that whatever Bugatti vehicles emerge from the joint venture would wear Bugatti badges, as that is certainly the more recognizable of the two brands. Rimac is still building its own brand, with deliveries of its $2.4M, 1,900-horsepower Nevera EV hypercar expected to start by the end of the year.
All of the business talk is just a long way of saying that the future of the hypercar and supercar will ultimately be electric. Rimac claims the Nevera will be the world's quickest accelerating car, and the fastest EV with a 258 mph top speed. That may be 15 mph below the Bugatti Chiron Super Sport, but who would complain?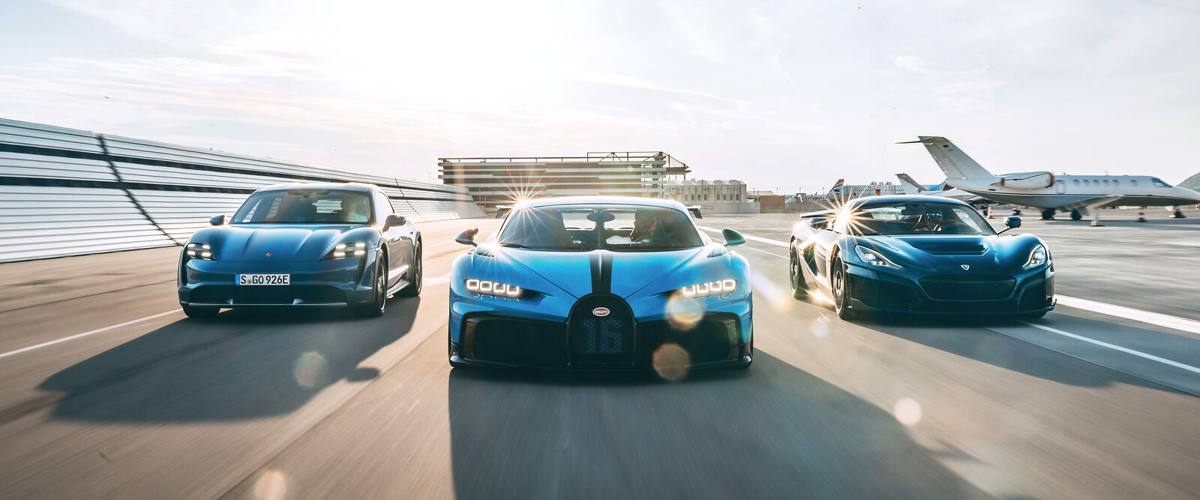 A Few More Numbers to Munch On
The 500 Bugatti Chirons built includes the special edition models, like the Divo and Centodieci along with the current Pur Sport, Super Sport and Super Sport 300+.
When it's all over, the Chiron line will have set records for fastest top speed for a production car, and the most expensive car with the one-of-a-kind, $27M La Voiture Noire.
The Super Sport 300+ record setter earned its name by exceeding 300 mph in special track conditions, and the 30 road versions being built will be limited to a mere 273 mph "for safety reasons" according to Bugatti. (Because everyone knows that driving 274 mph is simply tempting fate, right?). For the record, the Super Sport's Michelin Pilot Sport 2 tires, custom made for this application, are rated for 310 mph.
Bugatti should win an award for "Maximum Over the Top, Silly Grin-Inducing Mechanical Craziness" with the final iteration of the Chiron's 8.0-liter W-16 engine. This 16-cylinder, quad-turbo, 64-valve wonder simply out-powered, out-complicated and out-weirded all other modern ICEs in production vehicles.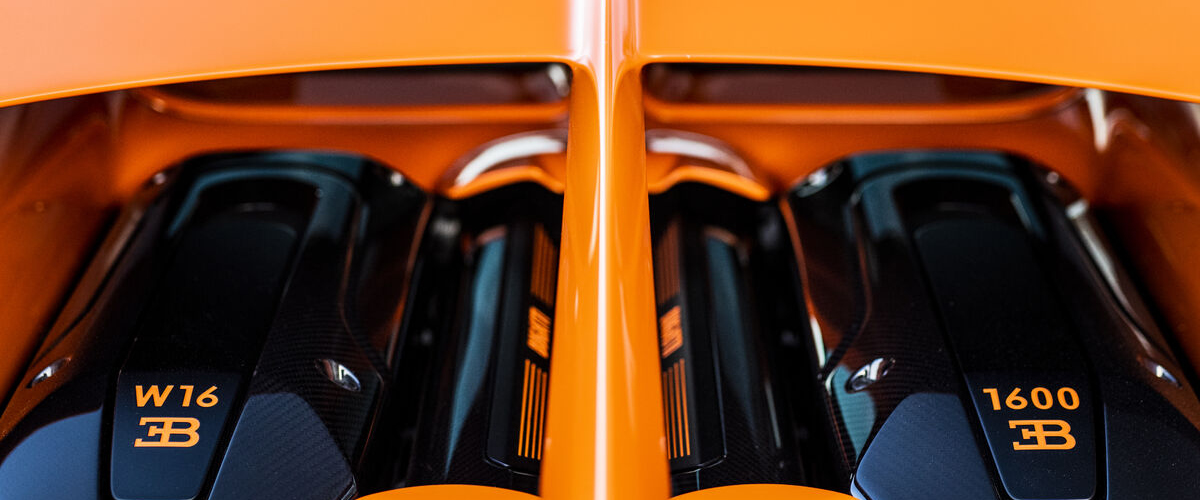 Trick or Treat
The Chiron Super Sport and the Super Sport 300+ are mechanically identical and share the same 1,578-horsepower version of the W-16 engine and 273-mph top speed (99 hp more than other Chirons). The main difference is that the 30 Super Sport 300+ models being built all come in the record-setting version's Halloween black and orange livery, while the "regular" Super Sport could be ordered any way the customer wanted. Both use a longer tail section to enhance aerodynamics, contributing to the higher top speed than other Chirons.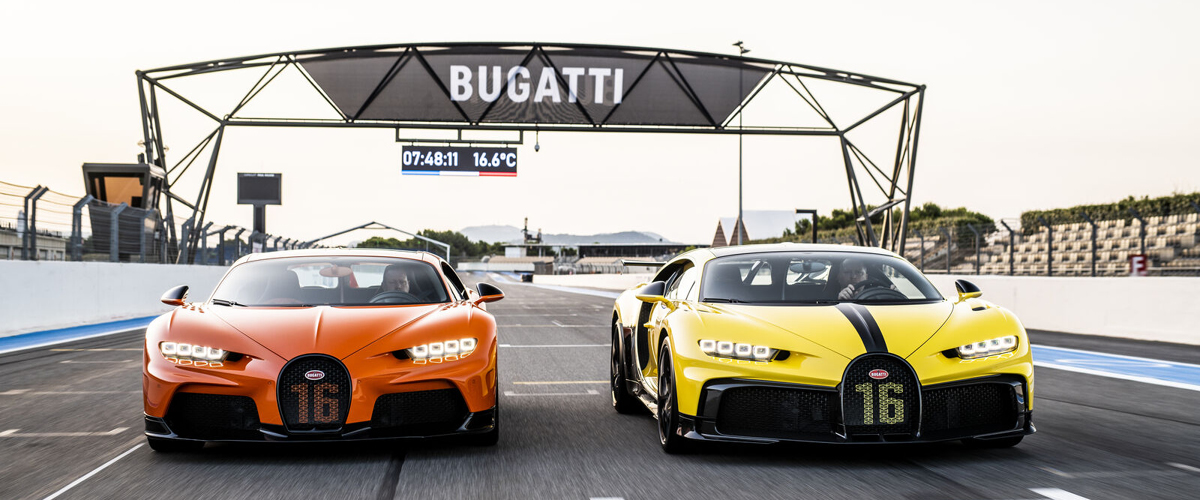 Not Enough Road
Using such speed on public roads is simply insane. That's one reason why Bugatti recently took a group of Super Sport owners and journalists to France's renowned Circuit Paul Ricard to drive the car on the track and surrounding roads. That had to be one memorable experience.
The driving report from Circuit Paul Ricard was positive. Car and Driver praised the car's track performance, road manners and the engineering that makes these cars such compelling machines.
On the track, the Super Sport achieved 217 mph on the 1.1-mile Mistral straight. You simply need a lot more road to go higher. On the country roads surrounding the track, Car and Driver praised the Super Sport's "remarkable docility at low speeds" and its "ability to jink into corners like a car of two-thirds its mass."
The Super Sport's mammoth peak torque of 1,180 lb-ft is on tap from 2,250 rpm right through 7,000 rpm, which is about as close to EV-like output as an ICE can deliver. That is a high compliment, indeed.
If you missed your chance at a Chiron, there are always the auctions down the road.