The Six-Million Dollar Car
Six million dollars sure doesn't buy what it used to. In the early 1970s, it was enough to give critically injured TV astronaut Steve Austin (played by Lee Majors) super-human strength thanks to a bionic arm, legs and eye. Today, it buys a new car.
It's not just any car, of course. At the "The Quail: A Motorsports Gathering" in Monterey, Calif. in August, Bugatti unveiled its ultimate model (so far), the Divo, which costs $6m. That's twice the entry price of the marque's Chiron, and that's also before adding personalization options.
The new Bugatti Divo (rhymes with Devo, the avant garde 1980s band) is named for Albert Divo, who won the Targa Florio twice in the late 1920s driving a Bugatti Type 35.
"Slower" than a Chiron?
Judging by the low miles on modern day Bugattis that come up for sale at auctions, you have to wonder if anyone actually drives these cars, let alone test their nearly unfathomable top-speed potential. But high top speeds have long cast an allure over car enthusiasts of all stripes. The 1935-1936 Auburn Speedster featured a plaque on the dashboard attesting to the car's 101-mph capability. Dan Gurney and Brock Yates famously (or infamously) proved the Ferrari 365 GTB/4 Daytona's claimed 173-mph top speed in the Cannonball Baker Sea-To-Shining-Sea Memorial Trophy Dash in 1971.
The Bugatti Chiron adds another 88 mph on top of that. So, is the $6m Divo the first 300-mph Bugatti? Not quite. Its 236 mph top speed lacks the other 25 mph a Chiron owner can unlock with a special key. Both models use the same 1,479-horsepower, quad-turbo 8-liter W-16 engine. What gives?
Bugatti designed the Divo for ultimate agility, especially on the track, and so some top-end was sacrificed in the name of higher downforce and ultimate grip. Compared to the Chiron, the Divo is lighter by 77 pounds, but still presses the Earth with nearly 4,400 pounds. Lotus aficionados might recoil in horror at such heft, but Bugatti's work on aerodynamics and suspension have yielded a machine that can generate a gut-twisting 1.6g cornering force and lap Italy's Nardò circuit eight seconds quicker than the Chiron.
My Other Car is a Batmobile
The Bugatti Divo is instantly recognizable as the Chiron's sibling, but with crisper and more aggressive front and rear sections. Bugatti says the central fin was inspired by the feature seen on the Type 57 Atlantic, but it also recalls the appendage fellow VW Group member Lamborghini used a few years ago on the Veneno. The Divo's fin optimizes flow of air to the rear wing, all in the quest for higher downforce. Who said tailfins would never come back in style?
Speaking of Lamborghini, while the two marques have technically been cousins in the VW Group, news came this month that, starting next year, Porsche will coordinate activities of those two super-premium brands, as well as Bentley. The idea is to reduce costs and duplicative efforts. Expect more technology sharing, including electrification.
Sold Out
If you were on the fence about spending $6m on either a Bugatti Divo or another jet, or a fleet of Ferrari 812 Superfasts, or maybe bionic body implants, your decision has been made easier: When it introduced the Divo, Bugatti also announced that the 40 cars to be built had been pre-sold, thus fueling Divo envy.
At least you've been spared having to hear some wiseguy singing "Whip It" when you say you drive a Divo. (It's OK, Bugatti has a sense of humor. Here's proof:
Farewell, Sweet 16
But wait, there's more. Interviewed in California in early September by Australia's "Car Advice," Bugatti CEO Stephan Winkelmann confirmed the marque's signature 8-liter quad-turbo W-16 won't be replaced with another engine like that. The timeframe for its departure has not been defined, and there was no mention of Bentley's W-12. Both engines sprang from architecture that conceptually connects to VW's narrow-angle VR6.
One look at what Porsche has done with hybrid technology in the 918 Spyder and pure EV power in the upcoming Taycan, and one can make some pretty safe guesses for Bugatti's high-speed future.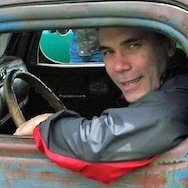 Written by Jim Koscs,  Audamotive Communications
For Premier Financial Services