Brighten your garage with these colorful machines.
If it's cold and gray where you are, then you need to get to the sunshine and hot cars. In a few weeks, that'll be Scottsdale, AZ for the major annual auctions. Why wait? Catch a flight to Orlando, FL and make the short drive down to Kissimmee for Mecum's start-of-year shindig. Premier Financial Services will be there, starting our new relationship with Mecum to offer lease financing for cars purchased at its auctions.
The star of Mecum's 2020 Kissimmee sale is undoubtedly the 1968 Mustang featured in that year's Steve McQueen cop thriller, "Bullitt." It's offered at no reserve, and pre-sale prognostication has it cruising into the muscle car auction record book.
Mecum has long been the go-to auction house for classic Detroit muscle cars. Yet, the auction company founded by Dana Mecum covers the full spectrum of collectible models, including classic and modern exotics. Speaking of the spectrum, the 2020 Kissimmee sale promises to color your world. These cars are some of the wildest hues you'll see on four wheels.
Here's a sampling that will have you thinking about Roy G. Biv.
Who but foam-mattress king Michael Fux would order one of the world's greatest hypercars in a custom color called Acid Green? One other individual did, but it's Fux's car that Mecum has on offer at Kissimmee. A better name for this particularly searing shade might have been "Toxic Avenger Green."
Porsche waited more than 10 years to offer a successor to its Carrera GT supercar, but the 918 Spyder proved worth the wait. By making its first hypercar a plug-in hybrid, Porsche not only one-upped Ferrari's La Ferrari, but also made an 887-horsepower statement about its faith in electrification. The combination of a naturally aspirated 4.6-liter V8 combined with front and rear electric motors added up to electrifying acceleration and a 217-mph top track speed.
This green monster with just 510 miles has a pre-sale estimate of $1.5M-$1.6M.
If you prefer your hybrid hypercars in a darker, more reptilian shade of green, or if the 510 miles on the Porsche 918 Spyder seems excessive, consider the McLaren Senna, also from the Fux collection. It's the second of 500 Sennas produced and has just 203 miles. There's plenty of that new-carbon fiber smell wafting from the bespoke $13,900 transparent "Fux Green" exterior and green and white interior.
That's the name McLaren gave this particular color, which covers the optional full exposed carbon-fiber body. The cost for that combo was $297k for the body and another $86k for the paint (inside and out). The pre-sale estimate for Fux's green lizard is $1.5M-$1.75M.You can find more details about the McLaren Senna in our earlier preview.
Visitors to the Wellborn Musclecar Museum in Alexander City, AL have long admired the quality of restorations and originals that Tim and Pam Wellborn collect. A number of the museum's Dodge and Plymouth muscle machines are offered at Kissimmee, including Pam's favorite, a 1970 Dodge Charger R/T with the optional 440 Six Pack engine and Panther Pink paint.
In 1970, just two buyers chose to pair that color with the Six Pack engine. This engine was named for its triple two-barrel carburetors. And yes, the color was inspired by the "Pink Panther" Saturday morning cartoon that debuted in 1969. This cool cat even had his own little roadster. The pre-sale estimate for this cotton candy-colored Charger is $175k-$250k.
For just a bit more, you could have an even wilder shade of pink and more power with a special McLaren 720S. (Michael Fux strikes again!)
The 1969-1970 Shelbys were the last of the modified Mustangs made under the original agreement between Ford Motor Company and Carroll Shelby. By this time, the cars were pretty much an all-Ford effort, with very little involvement from Shelby.
Mechanically, these final Shelbys followed the specs of the Mustang Mach 1. Both use the 351 "Windsor" V8 in the GT350 and 428 Cobra Jet in the GT500. Styling for the Shelby versions was unique. With a squared-off front end that would influence the 1971-1973 Mustang as well as the 1971-1974 AMC Javelin. Taillights came from the 1965 Thunderbird.
The 1970 Shelbys were 1969s in production when the model-year switchover occurred. These were updated with black hood stripes, a front spoiler and 1970 VINs. Of the 788 Shelbys converted to 1970 status, 380 were GT500 fastbacks. The pre-sale estimate for this award-winning restored GT500 is $100k-$115k.
Color Your World
Consider driving one of the brightly painted collectibles from Mecum's Kissimmee sale as a way to put more color in your life and also your contribution toward beautifying the road. Premier Financial Services Southeast Sales Manager Chris Warren will be at the Kissimmee auction, so feel free to contact him if you have any questions about obtaining lease financing for these or other cars offered.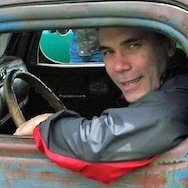 Written by Jim Koscs, Audamotive Communications
For Premier Financial Services