Special cars for the nice … and naughty
Is there someone in your life who's been extra nice this past year? Or, maybe there's someone who's been extra naughty? Either way, if you're looking to reward someone this holiday season, what better way than to surprise with a new, late-model or classic exotic car?
It's even better when you can get it by leasing with a Premier Simple Lease rather than tying up all that cash. Then, if the car appreciates in value over the next two or three years, that will be your holiday gift.
We took a look at all the cars we featured in 2019 and selected 10 that we think would make phenomenal gifts to make that special someone think you're even more special.
It shouldn't surprise you to see Ferraris taking four out of 10 spots here. You simply can't go wrong with a giftwrapped Ferrari. It may be a little late to secure one of these gems in time for this holiday season. However, it's never too early to plan for next year. Or, you might just snag one at the Scottsdale auctions in January.
Here we go:
By the 1990s, Paul McCartney was finally playing Beatles songs in concert again, and Ferrari also returned to classic form to give fans the modern front-engine V12 berlinetta they'd been pining for.The 1995 550 Maranello would push Ferrari's Testarossa-derived, mid-engine and very-1980s 512M aside to become the marque's flagship sports model. The Maranello was quicker and better handling than the 512M. Plus, it was easier and more comfortable to drive and more practical. The design was just retro enough. The classic Ferrari berlinetta formula was ideal all along.
For the bad boy or girl in your life, any Lamborghini, with its edgy design, has a "don't mess with me" persona. The Huracán Evo is an update on a five-year-old design and manages to integrate aero tricks without looking like somebody went nuts at the big-and-tall wing store. Without turbos to muffle its boisterous voice, the Lamborghini 5.2-liter V10 makes glorious noises through the Huracán Evo's high-mounted twin exhaust tips. And, with all-wheel drive and the right tires, perhaps a little dashing through the snow is in order.
People still grasp for words to describe the stunning beauty of the Jaguar E-Type Series I. It's got an exotic look that still stops people in their tracks, even if it was a mass-produced sports car. The Series I 4.2-liter model fixed many of the earlier cars' faults, making the E-Type more agreeable to own without blunting the fun. The inline-six purrs like a happy tabby while the E-Type slinks elegantly though town or roars like a hungry jaguar as it tears up a country road, always while looking phenomenal. Know anyone like that?
For the boy or girl who has everything, there's always something more, right? That brings us to Ferrari #2 on this list, Maranello's first plug-in hybrid. The SF90 Stradale combines the output of a 4.0-liter twin-turbo V8 driving the rear wheels with an electric motor in the eight-speed transmission, plus another electric motor for each front wheel. Total output of 986 hp eclipses the LaFerrari and makes the SF90 Stradale Ferrari's quickest road car ever (for now). For laughs, you can even run it in battery mode, where it drives only the front wheels.
Any vintage Porsche 911 has a fun streak a mile wide, but to really put a mischievous grin on someone's face, the 911 Carrera RS 2.7 is the one to get. This special lightweight model was built with racing in mind, yet remained perfectly streetable. Never officially sold in the U.S., the Carrera RS 2.7 remained forbidden fruit until changes came to single-car importation rules. Stripped to the essentials and hot rodded beyond the 911S, the RS 2.7 is not a toy that will lose its luster a few weeks into the New Year.
Jean Bugatti, Ettore's son, designed the Type 57 Atalante and derived its name from a Greek mythology heroine, Atalanta. It certainly looks the part of a goddess. Just 17 were made, so this might have to wait for a future holiday. It'll be a gift they'll never forget, though. Yet, the Atalante is not something to tuck away forever in a climate-controlled garage. Its 3.2-liter straight-eight engine and long-distance comfort made this a true GT, years before anyone put that badge on a car. It's perfect for driving in a road tour, like the New England 1000.
The Aston Martin DB AR1 Zagato is a gift to chase clouds and rain away. It has to, because it's got no roof. The coupe version had not been not offered here, so this was a kind of gift to American Aston Martin customers; AR meant "American Roadster." A roadster seems more appropriate for summertime fun anyway. There were 99 of these modern beauties made, all with a 435-hp V12 and automatic transmission to make summer night drives more memorable.
With so many great older Ferraris to choose from, how do you find one for the person who really revs up your life? Try the 288 GTO. Based on the 308 series, the 288 GTO used twin turbos and turned its 400-hp V8 lengthwise. The GTO's purpose was to compete in Group B rallying, but the FIA shut down that category because it had gotten too dangerous. So, Ferrari made the 288 GTO for the road and simultaneously launched its modern supercar series. Know someone who could handle it?
Here's one for an enthusiast who began playing with slot-car racetracks at age four and fantasized shrinking to a tiny size to drive one. All of Porsche sports cars have track breeding, but the Carrera GT is a road car rooted in an endurance racer that Porsche never built. The mid-mounted 605-hp V10 engine was made only for this car; the pushrod-actuated suspension comes from the Formula One playbook, and the lightweight structure is carbon fiber. Oh, and it's stick-shift only. Complete the gift with a private track membership – or a slot-car track.
If you or your special someone appreciates that enjoying a Ferrari doesn't always require face-melting acceleration and a 200-mph top speed, turn your gaze to the 1964-1965 275 GTS. This elegant convertible used an entirely different and more conservative looking body than its 275 GTB berlinetta counterpart and also was rated with a bit less horsepower. The 275 GTS was built for a perfect sunny day, a scenic winding road with the occasional long straight, and a driver with no particular place to go.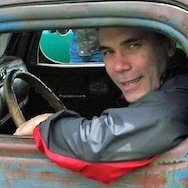 Written by Jim Koscs, Audamotive Communications