Ultra-Rare Ferrari Rival Gets its Due
An automotive engineer's career that included starting as a test driver for Alfa Romeo and then heading up sports car development for Ferrari in the late Fifties would make for a stellar resume, indeed. Add to that engineering the Lamborghini V12 engine, and you have enough for an automotive legend. For Giotto Bizzarrini, there was that and more.
Bizzarrini died in May of this year at age 96. A new Bizzarrini company, meanwhile, is touting a new V12-powered supercar under development and named "Giotto" in his honor. The new car wears a design by Giorgetto Giugiaro, who designed the first car bearing Bizzarrini's name nearly 60 years ago.
At its Monterey auction this month, RM Sotheby's will offer a 1968 Bizzarrini 5300 GT Strada, one of the 86 alloy-body cars built from 1965 to early 1969. It is estimated to bring $800K-$1M. Let's have a look.
Sparks Fly at Ferrari
With rising prosperity in post-WWII Europe came increasing popularity of sports cars and motor racing, also opening opportunities for newcomers. Graduating University of Pisa in 1953 with a degree in mechanical engineering set Giotto Bizzarrini on a course that intersected with the greatest names in Italian GT and sports cars, culminating in his own car.
Bizzarrini's position at Ferrari included overseeing development of the 250 GTO, the pinnacle of the automaker's early racing Berlinettas. Then, in October 1961, Bizzarrini and seven other engineers and executives left Ferrari (or were fired) in the so-called "palace revolt," before GTO development was complete.
The group formed Automobile Turismo e Sport (ATS) to race in Formula One and build a road car more advanced than a Ferrari. The F1 effort failed, as did the road car, a pretty mid-engine coupe with a 3.0-liter V8, with just a dozen believed built.
Bizzarrini, though, had other irons in the fire.
Bizzarrini Revs Up the Sixties
In addition to ATS, Bizzarrini had his hands quite busy with two budding Italian marques: Iso and Lamborghini. For Lamborghini, he designed the V12 engine that would, in various forms, power the marque's cars from the first 350 GT model through the 2001-2010 Murcielago.
Bizzarrini had followed a different engineering brief for Iso. Renzo Rivolta's Isothermos company had manufactured refrigeration units before WWII, and after the war, expanded to mobility with the tiny Isetta bubble car (also license-built by BMW) and motor scooters. An ambitious jump into the luxury/GT car category began with the Iso Rivolta IR300 introduced in 1962.
Bizzarrini designed the IR300's chassis, while Giugiaro, working for Bertone at the time, designed the elegant body. Rivolta's venture adopted the idea taken by Britain's Allard and France's Facel Vega in years prior, choosing a powerful and reliable American V8 engine instead of developing his own. He chose a good one, the compact and light Chevrolet Corvette 327 cubic-inch V8. (The "300" in the IR300 name was for the SAE gross horsepower rating.)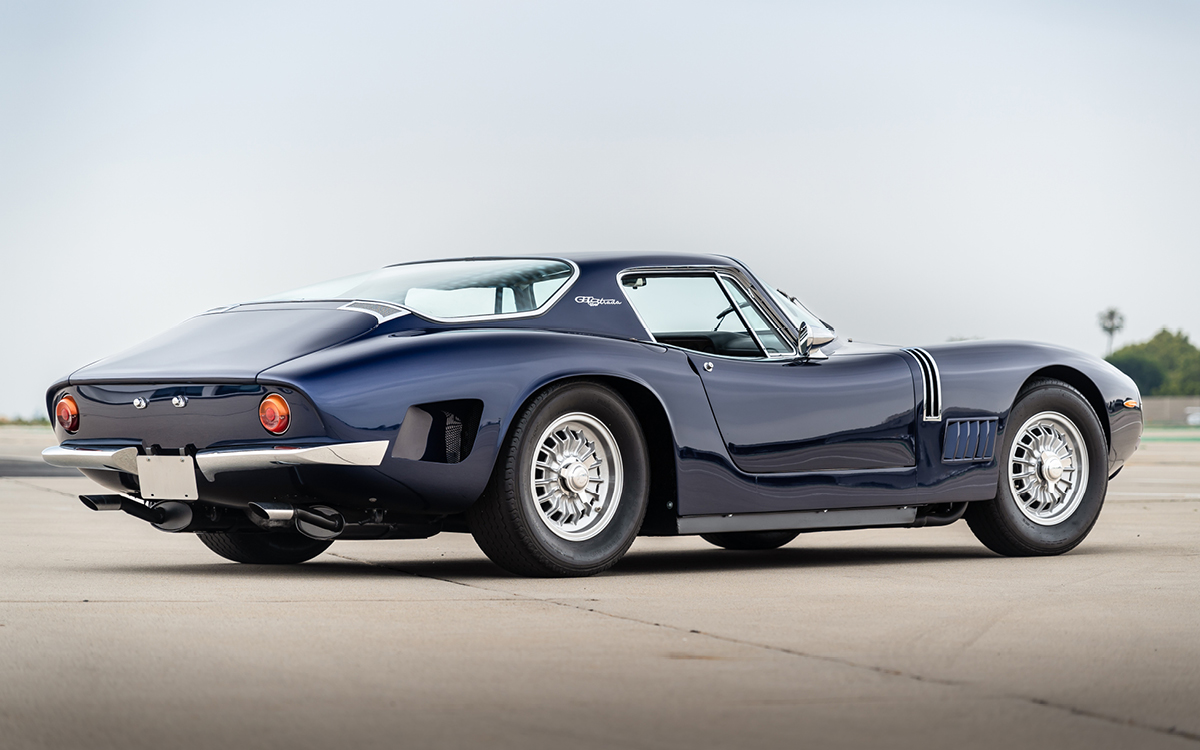 Enter the Grifo
The following year, Iso debuted a two-seat Grifo, built around a shorter-wheelbase version of the IR300's chassis. The car debuted in two dramatically different forms at the 1963 Turin Auto Show. The Grifo A3/L (for "Lusso") was the road car, while the A3/C ("Corsa") was for racing, with the race-built Corvette engine tuned to give over 400 horsepower. Bizzarrini engineered both cars, and Giugiaro designed bodies for both.
The two Grifos differed under their markedly different bodies. For the A3/C, Bizzarrini moved the engine back further than even in the Grifo, making it a "front/mid" setup. This improved weight distribution and handling, but the Chevy V8's rear-mounted distributor had to be accessed through a panel in the car's dashboard to adjust the engine's ignition timing.
Improving on the Ferrari 250 GTO
For the Grifo A3/C, Bizzarrini is reported to have said, "I started with the idea of the Ferrari GTO and set about trying to improve on it." The A3/C wore aluminum bodywork, and its chassis, like that of the Grifo, used a De Dion-type rear suspension setup. For those unfamiliar, a De Dion-type suspension used a rigid tube (sometimes called a "dead" axle) to connect the rear wheels, but with the differential mounted to the chassis and using individual axle shafts, which reduced unsprung weight. The Ferrari 250 GTO, in contrast, used a heavier solid rear axle on leaf springs, not that different a setup than used on many American cars (and Maserati models) at the time.
The Grifo A3/C proved its mettle at the 1965 24 Hours of Le Mans, where it won its class and earned an admirable ninth place overall. The car reportedly hit 190 mph on the Mulsanne Straight, which was staggering fast for a production GT. Giotto Bizzarrini reportedly drove the car home after the race. (As an aside, this would be the last year a Ferrari would win Le Mans outright until 2023.)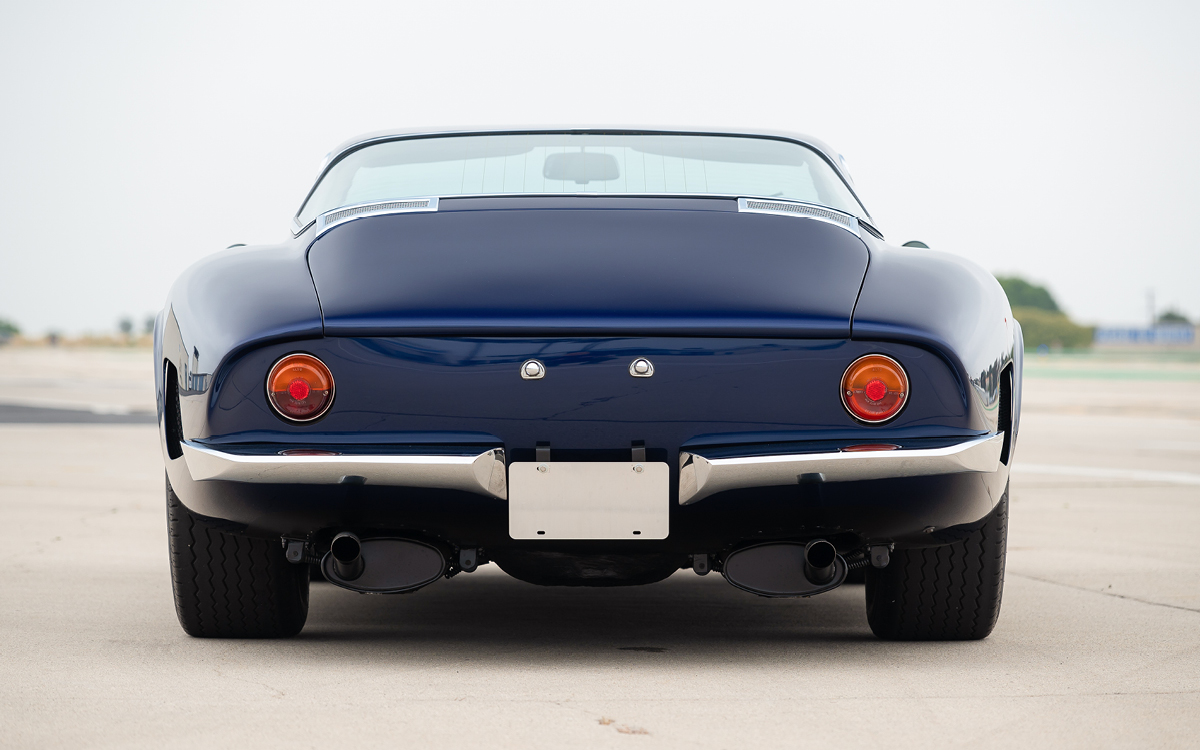 Bizzarrini Parts Ways with Iso
Rivolta disapproved use of the Grifo name on the A3/C, and after 22 had been built, handed production over to Bizzarrini's own company, Prototipi Bizzarrini, which built it as the 5300 GT. (The "5300" was for the 5,354-cc metric cylinder displacement of Corvette's 327 cu.-in. V8.) This was probably a better thing for Signor Bizzarrini, who now had a car that he conceived and engineered wearing its logical name.
The 5300 Strada was the street version, using the Corvette 327 with a four-barrel carburetor. (Vette buffs would know this version of the 327 as RPO L79.) The option of four Weber two-barrel carburetors boosted output to a claimed 400 hp. The 5300 GT also used the Vette's four-speed manual transmission and even its shifter. An aluminum body made the Bizzarrini about 400 pounds lighter than the 3,200-lb. Corvette, and the 44-inch-high Bizzarrini had superior aerodynamics.
Production continued very slowly from mid-1965 until early 1969, including a U.S.-market version called GT America with a fiberglass body, a double-wishbone independent rear suspension, and an $11,000 price tag (about $91,000 today). Road & Track tested that model in 1969. Equipped with four Weber carburetors, it delivered a 145-mph top speed.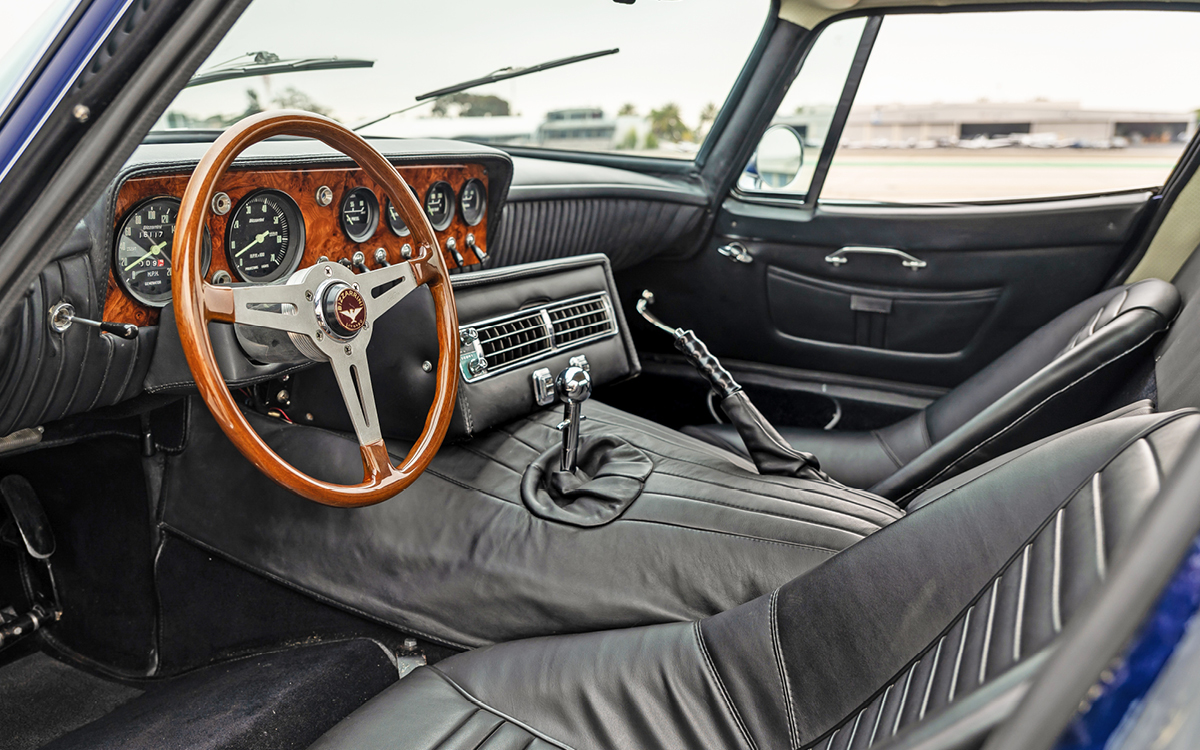 A Rare Gem
As documented by marque authority Jack Koobs de Hartog, the 1968 Bizzarrini 5300 GT Strada (chassis # 0323) on offer from RM Sotheby's was among the last of the 86 alloy-body models made. It was delivered new in California equipped with power windows and air conditioning. The car remained in California with a few different owners until going to a Massachusetts owner in 2017.
By then, it had been repainted red from its original color. The consignor had it returned to the original blue, including removing all the old paint. The body was in "remarkably good condition, requiring only minor corrections to relieve some of its more characterful artifacts of Bizzarrini's production line," according to RM Sotheby's. The interior was retrimmed in black leather using the correct material and patterns, and the car is said to have been driven sparingly since.
One of a wave of European sports and GT cars to use American V8s, the Bizzarrini 5300 GT was certainly among the more exotic and exciting of this genre. A unique pedigree and super-rarity make it a treasure today.