Lamborghini's First.
How critical is marque heritage to buyers of premium carmakers? Well, if we could set the Wayback Machine to the 1963 Turin Auto Show, we'd find a stunning looker, the 350 GTV, from a new marque named Lamborghini. And we'd learn that its only ancestors were farm tractors and air conditioners.
With no racing pedigree and no history of making automobiles whatsoever, Lamborghini went on to do pretty well for itself – eventually. On the other hand, one could have considered the heritage of Italian carmakers in general. Plus, figured that, with a name like Lamborghini and a V-12 engine under the hood, it was worth taking a closer look.
When it went into production, the inaugural Lamborghini dropped the "V" from its name, as well as some of the more dramatic styling cues. The 1964 350 GT, with toned-down coachwork by Touring. It looked nothing like any Ferrari or Maserati and made clear that Lamborghini would play by its own rules.
Myth and Fact
In Lamborghini lore, the spark that triggered founder Ferruccio Lamborghini to go into the high-end GT business was a quarrel with Enzo Ferrari over problems with the tractor maker's personal car. Lamborghini was alleged to offer some suggestions for improvement, and Ferrari was alleged to show him the door. Somehow, this old story never seems to cite any evidence.
Maybe the story is that the entrepreneurial Lamborghini saw an opportunity to cash in on the growing demand for high-end cars. And maybe he wanted to build something more to his personal liking. He would have known that a V-12 was essential to put the fledgling marque at Ferrari's level in potential customers' eyes. Maserati was using its inline-six and working a V8 into some models. Additionally, Aston Martin was strictly six-cylinder at the time.
Even though Lamborghini did not spring from auto racing, the 350 GT's development was done by race-minded designers and engineers. Lamborghini commissioned Giotto Bizzarrini, who had been Ferrari's chief engineer before leaving to start his own company, to design the V-12. Gianpaolo Dallara, who would go on to design F1 and Indy racecars, designed the chassis. The production 350 GT would emerge not from some obscure converted barn or small shop. Except for a new factory in Sant'Agata Bolognese in northern Italy.
From Concept to Production
The Lamborghini 350 GT lost some of the visual excitement of the 350 GTV prototype,. However, the prototype did not even have an engine, because it would not fit under the hood. (The 350 GTV converts into a running car two decades later.)
The 350 GT's overall shape was more rounded than the GTV's. The prototype's pretty pop-up headlights were lost in the translation, and so the 350 GT had somewhat bulbous headlight pods protruding from the hood – but still done elegantly.
Carrozzeria Touring built the bodies using its Superleggera system of aluminum panels over a tubular structure. The bodies were then sent to Lamborghini for completion, including powertrain installation.
Bizzarrini's original V-12 was essentially a racing-spec engine. Therefore, numerous changes were made to tame it for the road, including lower compression. Additionally, a lower RPM limit, less aggressive camshafts and sidedraft Weber carburetors. The result for this new 3.5-liter unit was still a very impressive 280 horsepower. They were on par with the 3.3-liter V-12 in Ferrari's 275 GTB that also went into production in 1964.
High-Speed Cruiser
The Lamborghini 350 GT was built to be a long-distance tourer, not a ragged-edge sports car. (That was coming a few years later with the Miura.) Production was severely limited. Lamborghini made 120 its 350 GT models and before introducing a 3.9-liter, 320 horse version of the V-12 engine for the renamed 400 GT. The first couple-dozen used the 350 GT body, while a subsequent 224 built had a different roofline and 2+2 seating, though on the same 100.4-inch wheelbase.
Paul McCartney owned a 1967 400 GT. According to Bonhams, which auctioned the car in 2011, the McCartney 400 GT was one of just a few brought into Britain and converted to right-hand drive. It was first titled in February, 1968, the month The Beatles recorded their #1 hit, "Lady Madonna."
Later in 1968, Lamborghini replaced the 400 GT with the Islero.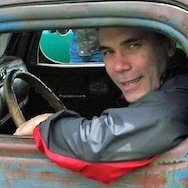 Written by Jim Koscs,  Audamotive Communications
For Premier Financial ServicesSaveSaveSaveSaveSaveSaveSaveSaveSaveSaveSaveSaveSaveSaveSaveSaveSaveSaveSaveSaveSaveSaveSaveSaveSaveSaveSaveSaveSaveSaveSaveSaveSave