Super Rare, Super Pretty, and Super-Fast
In many ways, the 1967-1968 Ferrari 330 GTS collected the best ideas of several Sixties Ferrari models into one car. It was faster and more luxurious than the 275 GTS it replaced, inherited design cues from the 500 Superfast, and was more comfortable to drive than Ferrari's previous V12 Spider, the 250 GT California. As a bonus, it was a bit rarer than that car (taking both first and second series into account).
RM Sotheby's Monterey auction in August is offering two 1967 Ferrari GTS models, including one that's been restored and one that needs restoration that is offered at no reserve. It seems easy to predict some spirted bidding on both.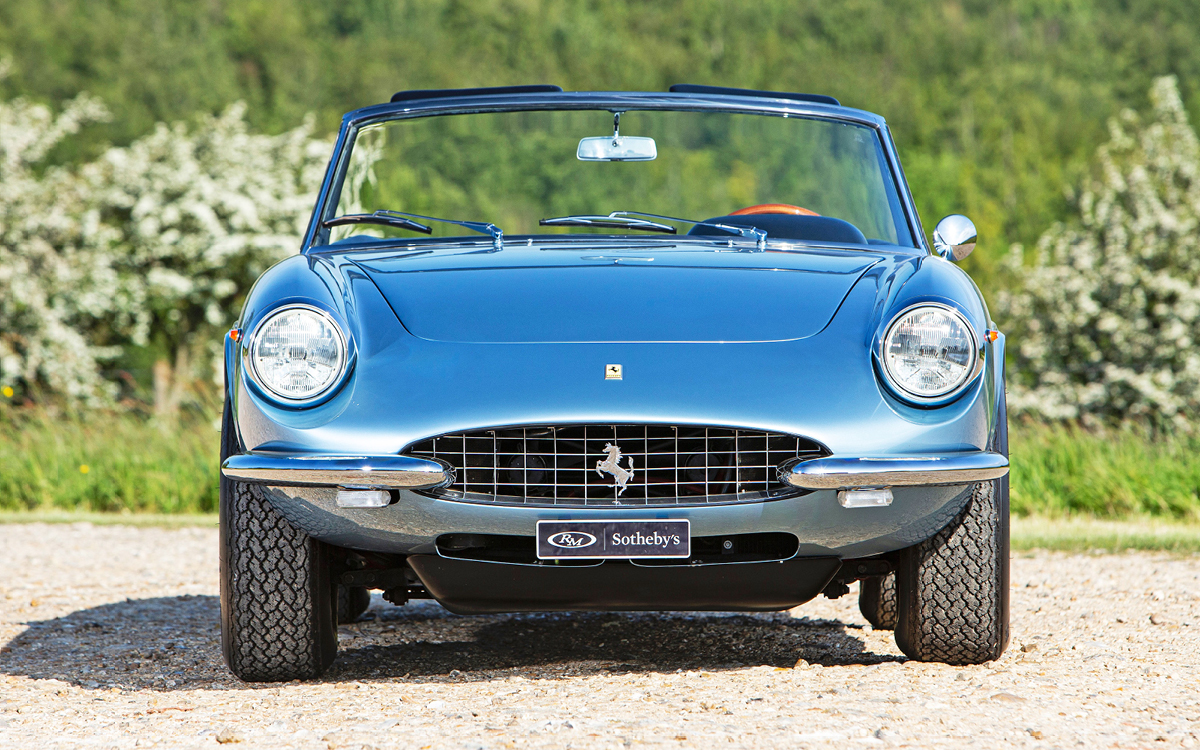 Ferrari's Swinging Sixties
In the mid-Sixties, Ferrari crafted a notable distinction between its V12 Berlinettas and the open models, generally called Spiders. The 275 GTB and 275 GTS, though based on the same chassis, were aimed at different customers. The GTB shared design cues with Ferrari's late Fifties dual-purpose models like the 250 GT TdF, while the open 275 GTS had a more modern look and more comfort-oriented demeanor.
That distinction left a noticeable gap that the 250 GT Lusso had previously filled. Ferrari's answer was the 1966 330 GTC, another masterpiece from the collaboration between Ferrari and its main designer, Pininfarina.
The 330 GTC's body has a more upright stance and airier cabin than the 275 GTB. The GTC's design took inspiration from the ultra-rare 500 Superfast, and some luggage room behind the seats augmented the trunk. Air conditioning, power windows, and a stereo were available to make everyday driving and long-distance trips more pleasant.
A year later, Ferrari dropped the top with the 330 GTS.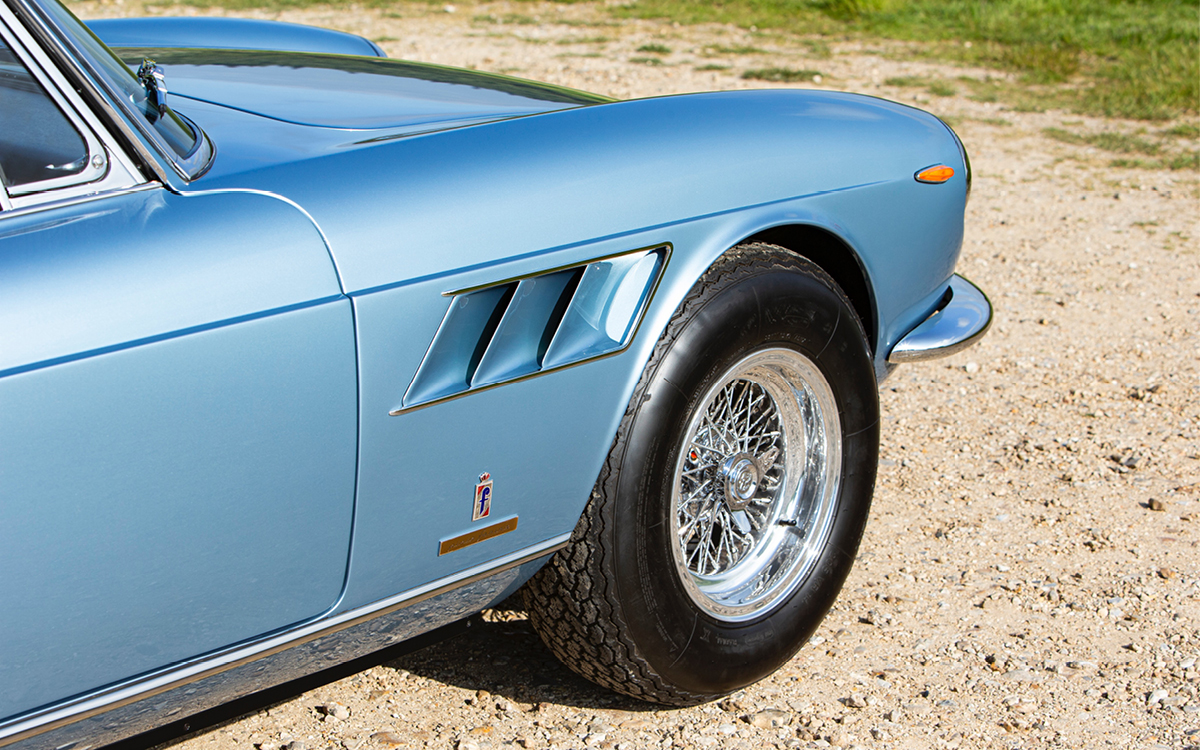 Bigger V12
The "330" designated a larger displacement version of the Colombo-designed V12 engine, with 330-cc per cylinder for 3,967cc total. This single overhead-cam 4.0-liter engine used triple Weber carburetors but slightly lower compression than the 275 GTB. It matched the 275's 300 horsepower, but at lower rpm and with greater torque (244 lb-ft. at 5,000 rpm) for a more easygoing demeanor.
"Easygoing" did not mean demure. The 330 GTS could zoom from 0-60 in about six seconds and reach a top speed of 145 mph. As with the 275 GTB and 275 GTS, the 330 GTC/GTS models used a rear-mounted five-speed transaxle.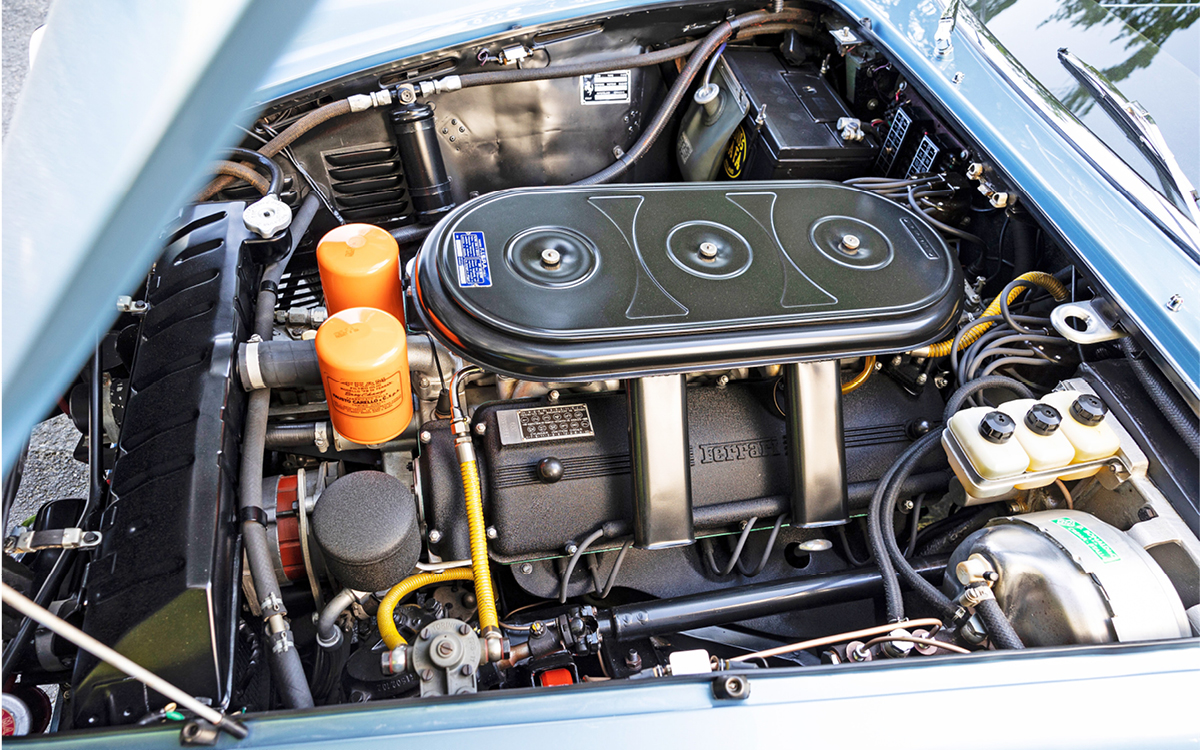 Nothing Like It
Automotive media praised the 330 GTS, just as they had the 330 GTC coupe. Here's what Road & Track said in its August 1968 road test:
"Ferrari continues to progress toward the perfect sports car. The 330 GTS is not just a wonderful, exciting open roadster but also a comfortable everyday car that doesn't mind being driven to the supermarket. If it's still tough to justify that $15,000 tag, just remember that you can't get anything like it for anything less."
That $15,000 price became $16,500 with the optional air conditioning and stereo. You'd love to go back in time and buy one new, right? Well, you would have had to get your name on that waiting list quickly. Ferrari would make just 99 of these roadsters through 1968, compared to 600 of the coupes. In 1969, both bodies got the three-Weber 4.4-liter version of the V12, and the revised models were called 365 GTC and GTS. Ferrari made 168 of these coupes and just 20 Spiders.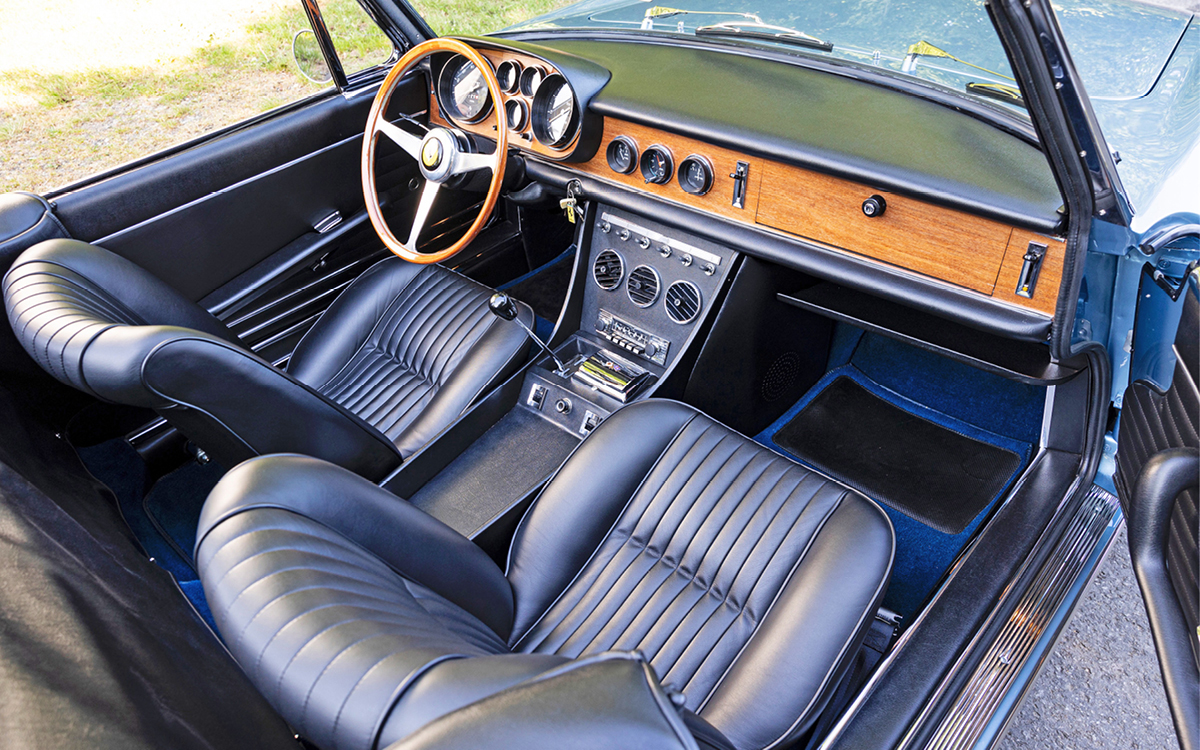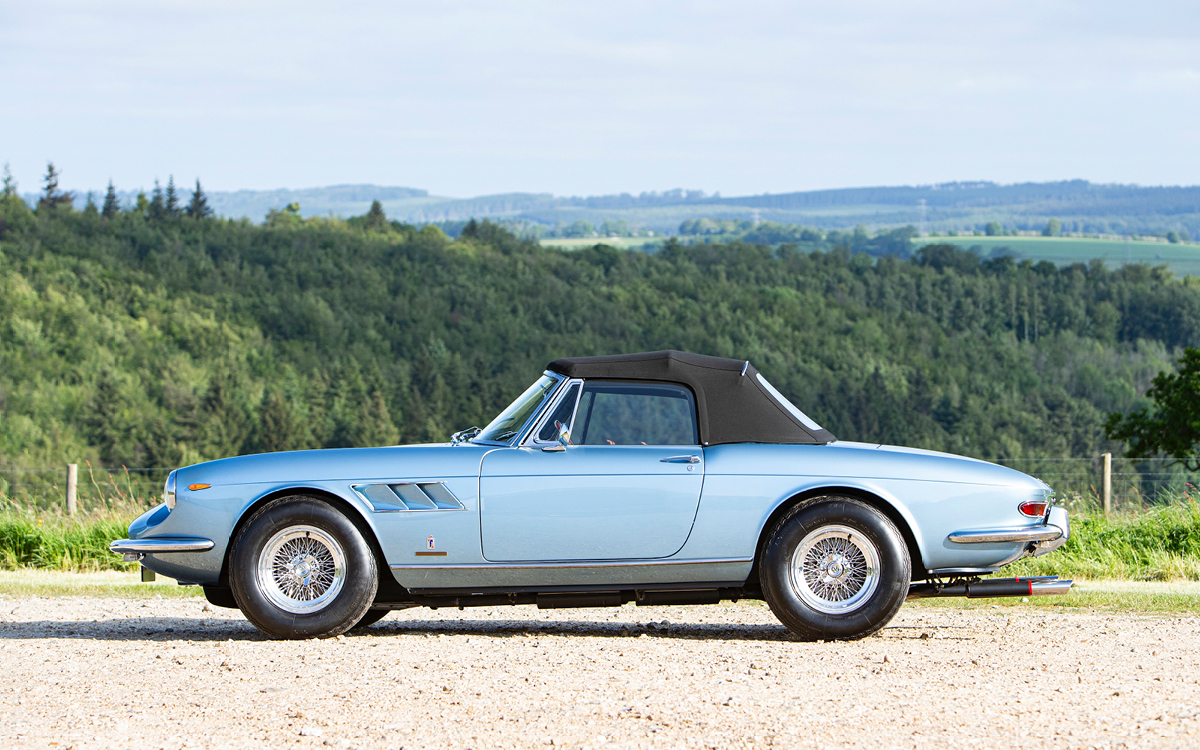 Buy Restored, or Buy to Restore?
At RM Sotheby's, you'll have a choice of two 1967 Ferrari 330 GTS models, with quite a large difference between them. The first, our feature car, is a restored version that seems to have led a charmed life. Ferrari displayed this car at the Torino Motor Show, and when it was sent to Ferrari's U.S. East Coast distributor, Luigi Chinetti Motors, it continued as an auto show car until 1969.
The 330 GTS left Italy painted Azzurro over Nero Franzi (black) leather interior. Options included air conditioning, power windows, and Campagnolo alloy wheels. The car ultimately went to Algar Enterprises in Philadelphia (today called Ferrari Philadelphia) and then its first owner, American realist painter James "Jamie" Wyeth, whose father was artist Andrew Wyeth.
He sold the car in 1975 to an owner who would keep it for three decades, giving it a cosmetic restoration, a repaint in red, and Borrani wire-spoke wheels. As a show car, it garnered numerous awards, including a First in Class at the Palm Beach Cavallino Classic in 1994. The next owner, the consignor, treated the 330 GTS to a full mechanical refurbishment, new interior, new top, and a return to its original color. He also had the car certified by Ferrari Classiche. The 330 GTS has since been displayed at several European concours events and appeared in issue 246 of Cavallino magazine.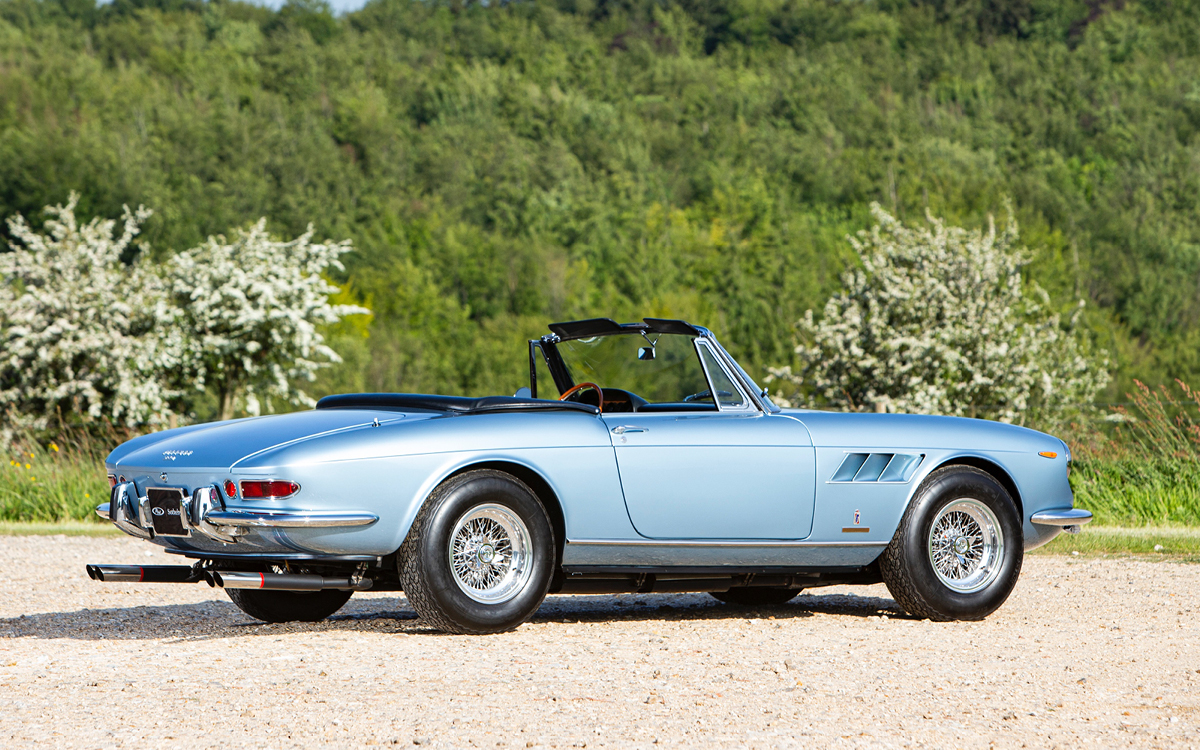 Lost and Found
The second 330 GTS on offer by RM Sotheby's is from the "Lost and Found" Ferrari collection that recently surfaced. This group of 20 rare Ferraris are true "barn finds." They'd been stored in a Florida barn for decades until Hurricane Charley wiped out the building in 2004. The damaged cars were moved to a warehouse in Speedway, Indiana and had been sitting there since. The 330 GTS, while appearing mostly intact and retaining its numbers-matching engine and transmission, will need a full restoration.
A rarity when new, the Ferrari 330 GTS remains one of the most treasured of the marque's models from the Sixties. As Road & Track said in 1968, there really was nothing else like it.