"Sheer Ecstasy"
When we hear about Ferrari reaching for production volumes approaching 10,000 cars per year, it's almost amusing to think of a time when the marque didn't make that many cars in a decade. In 1966, even in places like Miami and Hollywood, you would not have seen yourself coming and going in a car like the 275 GTS that sold at the Mecum Monterey auction for $1.1m (pre-sale estimate was $1.1m-$1.4m).
By late 1964, Ferrari's achingly beautiful 250 GT Berlinetta Lusso was nearing the end of its too-short life. There had not been an open car in Ferrari's lineup since the California Spider. Ferrari sated the demand for a new Berlinetta and a new convertible soon after. They introduced the 275 GTB and 275 GTS at the Paris Auto Salon in October 1964.
While both cars shared mechanicals, the body designs were entirely different. This can mean only one thing today: you need one of each in your Ferrari collection.
Ferrari Goes Mod
Ferrari's introduction of the 275 GTB and 275 GTS in 1964 signaled a new era for the marque. These were the first Ferrari road cars with independent rear suspension. Handling and ride quality made the leap that Ferrari buffs expected for the price they were paying for Maranello's creations.
With these models, Ferrari pushed its engineering envelope in many ways. Beneath the distinctly different designs Pininfarina created for the Berlinetta and Spider was a new 94.4-inch wheelbaseladder-style chassisusing large-diameter main tubes connected by smaller-diameter crossmembers. Rigidity was improved over previous designs.
Ferrari brought track-proven ideas to the 275 GTB and GTS. This included its first rear-mounted 5-speed transaxle in a road car and double wishbone rear suspension. Cast-alloy wheels were a modern touch, though the classic Boranni wire wheels were still available.
That's Colombo, not Columbo
The 275's engine was the last version of the Colombo "short block" V12 that Ferrari had been using since 1947. A 77mm bore and 58.8mm stroke yielded 273.8cc per cylinder (hence "275" in Ferrari's old naming practice) for a total of 3.3 liters.
In both the GTB and GTS versions, the engine was fitted with three Weber downdraft twin-choke carburetors. However, Ferrari gave each model a different horsepower rating: 280 hp at 7,500 rpm for the Berlinetta and 260 hp at 7,000 rpm for the Spider. Ferrari claimed just under 2,500 pounds for the 275 GTS, though Road & Track's 1966 test car was nearly 500 pounds more than that. But then, Ferrari always seemed to understate vehicle weight.
How'd she do? Road & Track got 0-60 mph in 7.2 seconds and the quarter-mile in 15.7 seconds at 91 mph. That was about what a Corvette with its base V8 might do, though the Ferrari's gearing allowed a 145-mph top speed suited for the Autostrada and Autobahn. The GTS price in 1966 was $14,500.
Two Bodies
The choice of two vastly different body styles for the 275 GTB and GTS was pure Ferrari marketing savvy and probably based on gut-feeling and trust in the designer. The GTS was a somewhat conservative beauty, while the racier GTB continued themes from 1950s Ferraris, including the 250 GT TdF.
In the 275 GTS, though, one can see the influence of the Ferrari California Spiders (at least the 16 open-headlight models) and the 1961 400 Superamerica. The tail treatment was similar to the 330 GT but sleeker. The distinctive front fender vents would carry over to the 330 GTC and GTS in 1967. In addition to designing the 275 GTS, Pininfarina also built the bodies, while Scaglietti built the GTB bodies.
Just 200 Made
Where the Ferrari 250 GT California Spider was built as a convertible version of the marque's more performance-oriented coupes, the 275 GTS was positioned as the more comfortable everyday sibling to the 275 GTB. Its interior appointments were a bit more luxurious. The bucket seats are fully adjustable and more accommodating, plus provide more luggage space.
More critically, the GTS used slightly softer suspension tuning to give it a more comfortable ride. Ferrari made just 200 of its 275 GTS before replacing it with the 1967 330 GTS. The 275 GTS sold by Mecum at Monterey had been owned by a former Skip Barber Midwest series physician since 1983. It was cosmetically refreshed by Mike Kleeves, who stripped the car to bare metal and repainted it in Rosso Corsa. The interior and top were replaced at the same time.
The "Other" 275 Spider
Would there have been a market for a spider version of the 275 GTB's body style? Ferrari's U.S. distributor, Luigi Chinetti, thought so and commissioned the 275 GTS/4 NART Spider in 1967 (for Chinetti's North American Racing Team). Just 10 were made, and RM Sotheby's sold one at Monterey in 2013 for $27m.
As for the more "common" Ferrari 275 GTS, consider how Road & Track summed up the car in 1966: "With the top down, all the extraneous noises disappear and one simply exults in the purr from those beautiful tailpipes. Sheer ecstasy."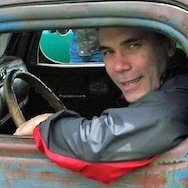 Written by Jim Koscs,  Audamotive Communications
For Premier Financial Services