Pre-WWI American Car Sets $4.8M Record
Results from the 2023 January auctions seem to perfectly capture the breadth of the collector auto market. The top modern supercar sold, a 2014 Ferrari Enzo, brought $4.075M at RM Sotheby's sale. But that was the #2 car in Scottsdale. A car 102 years its senior, a 1912 Simplex 5-Passenger Torpedo Tourer, sold for $4.835M at Bonhams, setting a record for the most ever paid for a Pre-WWI car.
In between, most other cars sold were post-WWII classics, with, naturally, a wide array of modern performance machines, including some that had hardly been driven. Gooding & Company did not hold a sale in Scottsdale, but we're including the Mecum Kissimmee sale from earlier in the month. While most cars in that eight-day event covered the hobbyist portion of the spectrum, Mecum's Top-10 represented high-performance automotive royalty from Europe and America.
Prior to the Arizona sales, RM Sotheby's announced that its 2023 auction in conjunction with The Amelia will be its last there. The auction firm promises "a new and exciting event at a new location in March of 2024."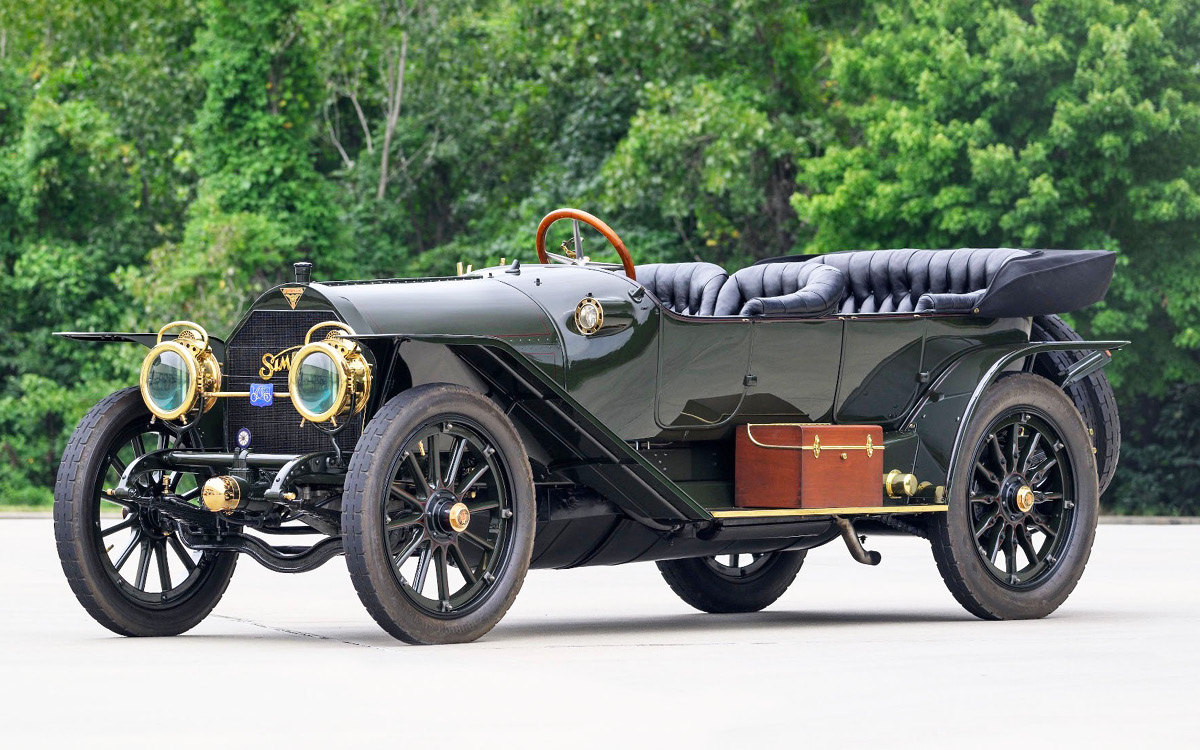 Bonhams Grabs the Brass-era Ring in Scottsdale
Rarity, a famous first owner, and a romantic backstory supported the $4.8M Simplex sale at Bonhams. Simplex, which was headquartered in New York City and built cars there and later in New Jersey, was a high-end "motorcar" of the day, costing around $5,000 and renowned for its huge 50-horsepower four-cylinder engine and advanced-for-the-day four-wheel brake system
Enzo Ferrari was just a 14-year-old lad in the Kingdom of Italy when, in America, Harold Vanderbilt, heir to the Vanderbilt railroad empire and a champion yachtsman, gifted the Simplex 5-Passenger Torpedo Tourer to his fiancé, tennis and squash champion Eleonora Sears. (She and Vanderbilt never married.)
The couple did not get married, but Sears kept the car for over 25 years. In 1939, she drove it to an early Vintage Motor Car Club of America event in Massachusetts. The silver trophy the car won there was included with the Bonhams sale. By the 1950s, the Simplex landed in the hands of Charles Chayne, Vice President in Charge of Engineering for General Motors. Chayne worked with GM engineers to refurbish and upgrade the Simplex, including installing an electric starter. The car, which had retained its original aluminum body by J.M Quinby & Co. in Newark, NJ, was fully restored a few years ago.
Postwar Stars
The #2 car at the Bonhams sale was another rare, sporting machine. The 2006 Maserati MC12 Corse was one of just 12 of these track-only special made for customers, sold for $3.811M. (A 13th car was a prototype for the small series.) Called "box fresh" by the auction house, Maserati showed just 123 miles.
The MC12 was based on the Ferrari Enzo, using its chassis, 6.0-liter V-12 engine and 6-speed F1 transmission. The Stradale (road) version offered 621 horsepower, while the Corse was tweaked to 755 hp. This was solely a track car, but only for private use, not competition. Maserati had built the requisite 50 MC12 Stradale models for road use to qualify the car for FIA GT1 racing. The actual GT1 racecar won the 2005 FIA GT world endurance championship.
In #3 position for Bonhams, a stunning BMW 507 brought $2.057M. Two other notable sales in the top-10 came from the same period of fruitful Chrysler-Ghia collaboration on concept cars and limited-production specials. The 1957 Chrysler Ghia Super Dart 400 that sold for $809K was a concept car shown at auto shows. The 1954 Chrysler Ghia GS-1 Coupe, from a small hand-built run of 18 cars, sold for $792,500.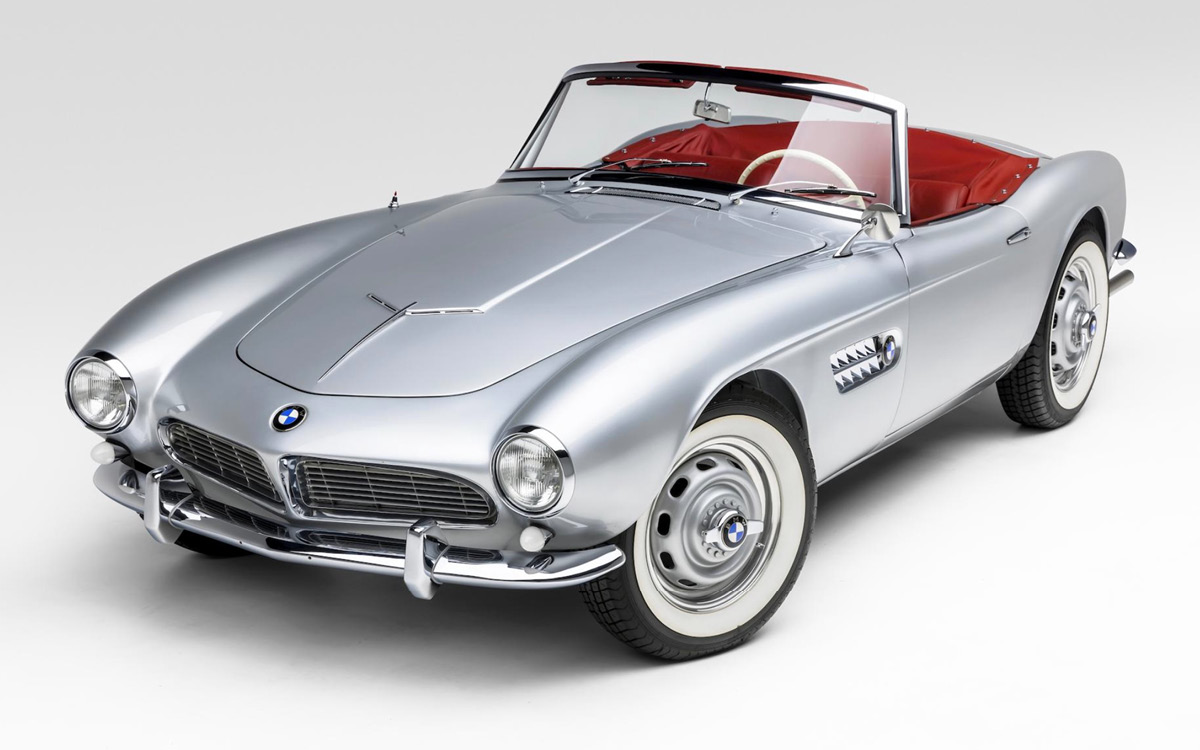 Bonhams Scottsdale 2023 Top-10
| | |
| --- | --- |
| 1. 1912 Simplex 50HP 5-Passenger Torpedo Tourer | $4,835,000 |
| 2. 2006 Maserati MC12 Corse | $3,811,000 |
| 3. 1958 BMW 507 Series II | $2,057,500 |
| 4. 1965 Ferrari 275 GTS | $1,586,250 |
| 5. 1953 Siata 208S Spider | $1,562,500 |
| 6. 2005 Porsche Carrera GT | $1,033,500 |
| 7. 1957 Chrysler Ghia Super Dart 400 | $809,000 |
| 8. 1954 Chrysler Ghia GS-1 Coupe | $792,500 |
| 9. 1962 Ghia L6.4 | $567,000 |
| 10. 2018 Aston Martin Vanquish Zagato Volante | $534,000 |
RM Sotheby's
RM Sotheby's reported a $44M sale in Arizona, with 91 percent of lots sold to bidders from 22 countries. Ferraris accounted for half of the top-10 sales here, all of them selling for more than $1M.
As expected, the top sale at RM Sotheby's Arizona auction was the 2014 LaFerrari (Lot 141) that brought $4.075M. Reflecting the personalized buying process for the original LaFerrari owners, this car was reported as the only one in Blu Elettrico over Crema leather. The 789-horsepower hybrid hypercar hadn't spent its life exclusively sequestered in a garage, as it showed just under 3,200 miles.
Italy's classics were well represented in the #2 and #3 sales, a 1971 Lamborghini Miura P400 SV sold for $3.58M and a 1967 Ferrari 275 GTB/4 out of a 45-year period of single family ownership that brought $3.36M.
The #3 car at RM Sotheby's was one of Premier Financial Services' auction preview cars, the 1969 Chevrolet Corvette ZL1 convertible restored by Kevin Mackay's renowned Corvette Repair in New York. Setting a record for the most ever paid at auction of a third-generation ("C3") Corvette, the ZL1 went a bit above the high end of its $3M pre-sale estimate, getting $3.14M. One of two built for retail sale, the ZL1 was raced in-period and held by its original owner, who kept the car until 2008.
Since RM lists the tied #9 and #10 cars as individual entries, we thought we'd pull a "Spinal Tap" and push on through to #11. It's a 1953 Fiat 8V Coupe by Ghia that sold for $1.105M. Five steps down from that in price, another Premier car, the 1994 Porsche 911 Turbo S X85 Flachbau (flat-nose), sold right at the low end of its estimate, bringing $830K.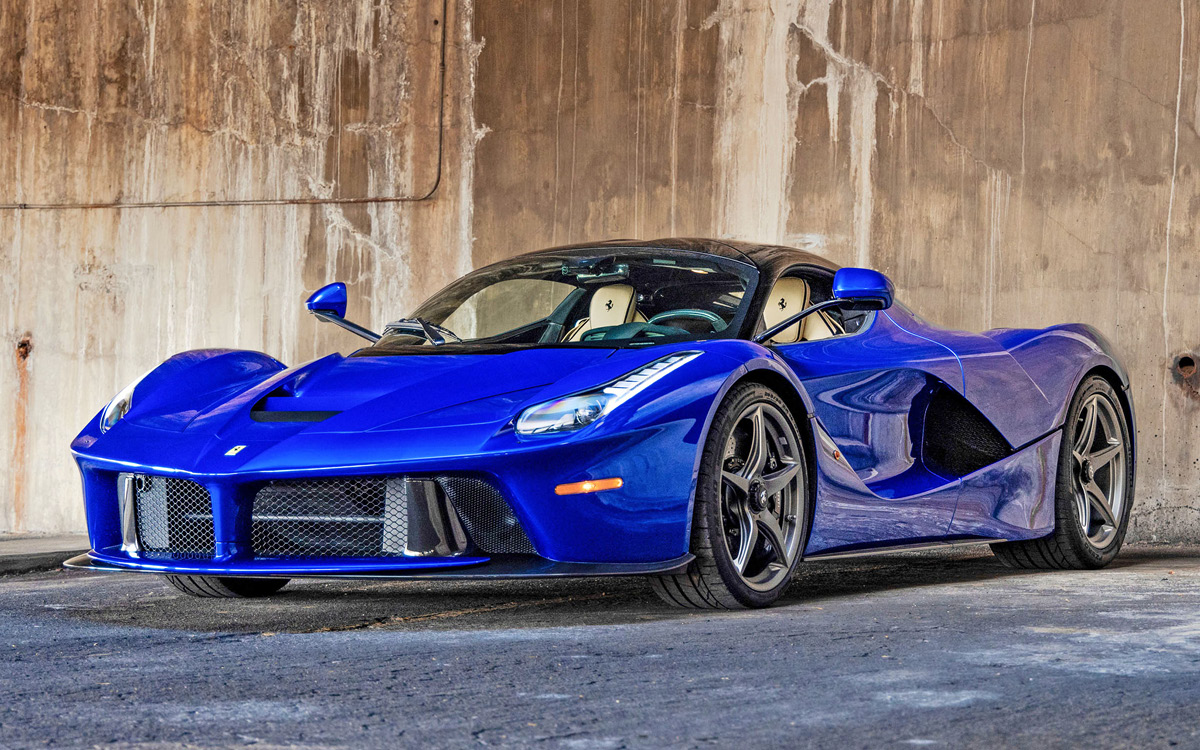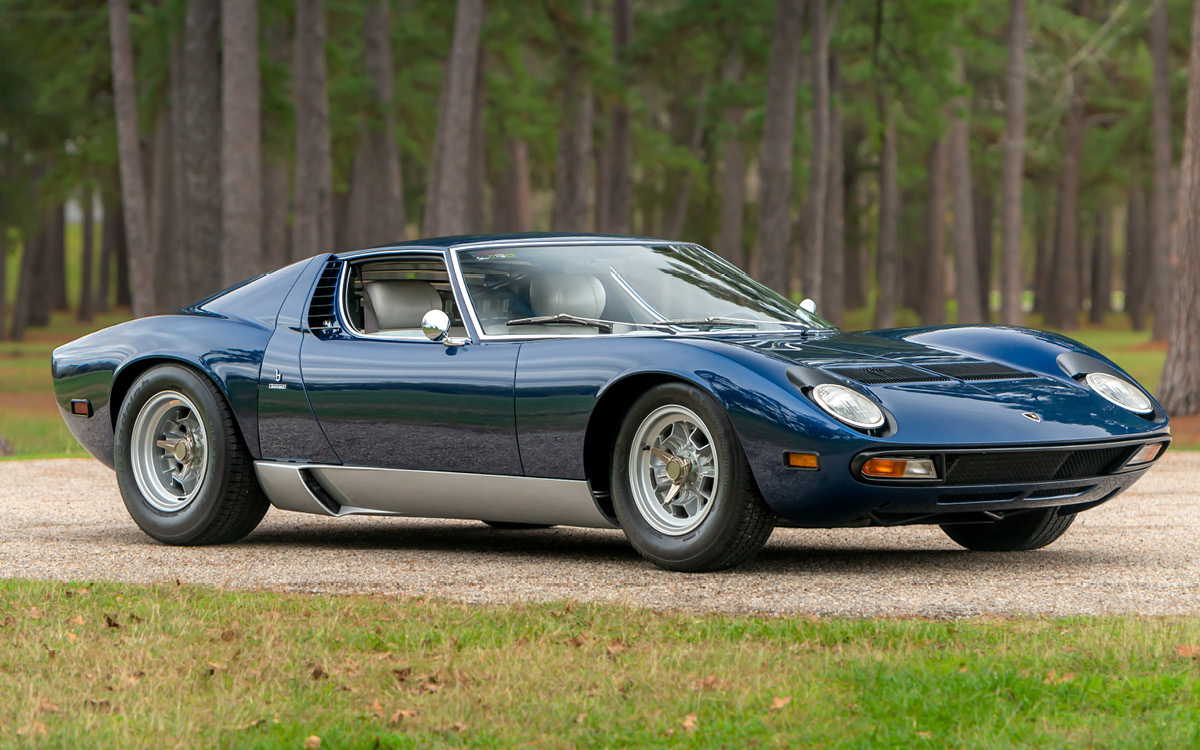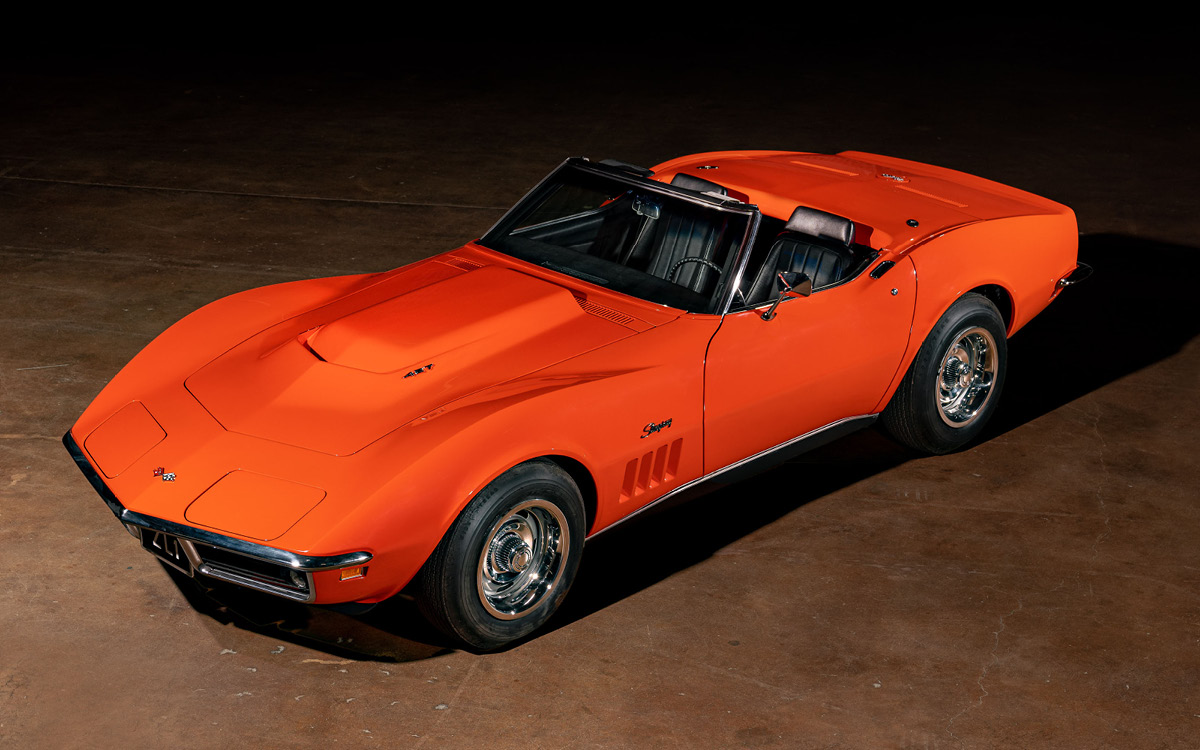 RM Sotheby's Scottsdale Top 10
| | |
| --- | --- |
| 1. 2014 Ferrari LaFerrari | $4,075,000 |
| 2. 1971 Lamborghini Miura P400 SV | $3,580,000 |
| 3. 1967 Ferrari 275 GTB/4 | $3,360,000 |
| 4. 1969 Chevrolet Corvette Stingray ZL-1 Convertible | $3,140,000 |
| 5. 1966 Ferrari 500 Superfast Series II | $2,225,000 |
| 6. 1992 Ferrari F40 | $2,150,000 |
| 7. 1958 Mercedes-Benz 300 SL Roadster | $1,820,000 |
| 8. 1987 Porsche 959 Komfort | $1,682,500 |
| 9. 2017 Ferrari F12tdf | $1,242,500 |
| 10. 2005 Porsche Carrera GT | $1,242,500 |
Mecum Auctions Kissimmee, Florida
Preceding the Scottsdale auctions by a couple of weeks, Mecum's annual eight-day auction in Kissimmee, Florida brought the expected spectrum of the car world, with a stunning Top-10. The #1 sale, a Ferrari F40 was #179 of the 213 built for the U.S. The Ferrari supercar had been was enjoyed for 10,994 miles. The BMW 507 that sold for $1.76M was #242 of the 252 produced.
Mecum's #6-10 cars came in two ties. Two highly significant 1969 Dodge Charger Daytonas each brought $1.43M. The road car was a super-low-mile former custom show car that had been restored to its factory stock condition and counted Otis Chandler and actor David Spade among former owners. The NASCAR racer was driven by race legend Bobby Allison and verified by him.
There were no Ferrari GTOs on offer in Scottsdale or Florida, but there was a $1.1M Pontiac GTO Judge convertible, one of seven made with the brand's vaunted Ram Ai IV engine and a four-speed stick. Tying the GTO at $1.1M was the 1968 Eagle Offenhauser that Dan Gurney drove to second place in that year's Indy 500.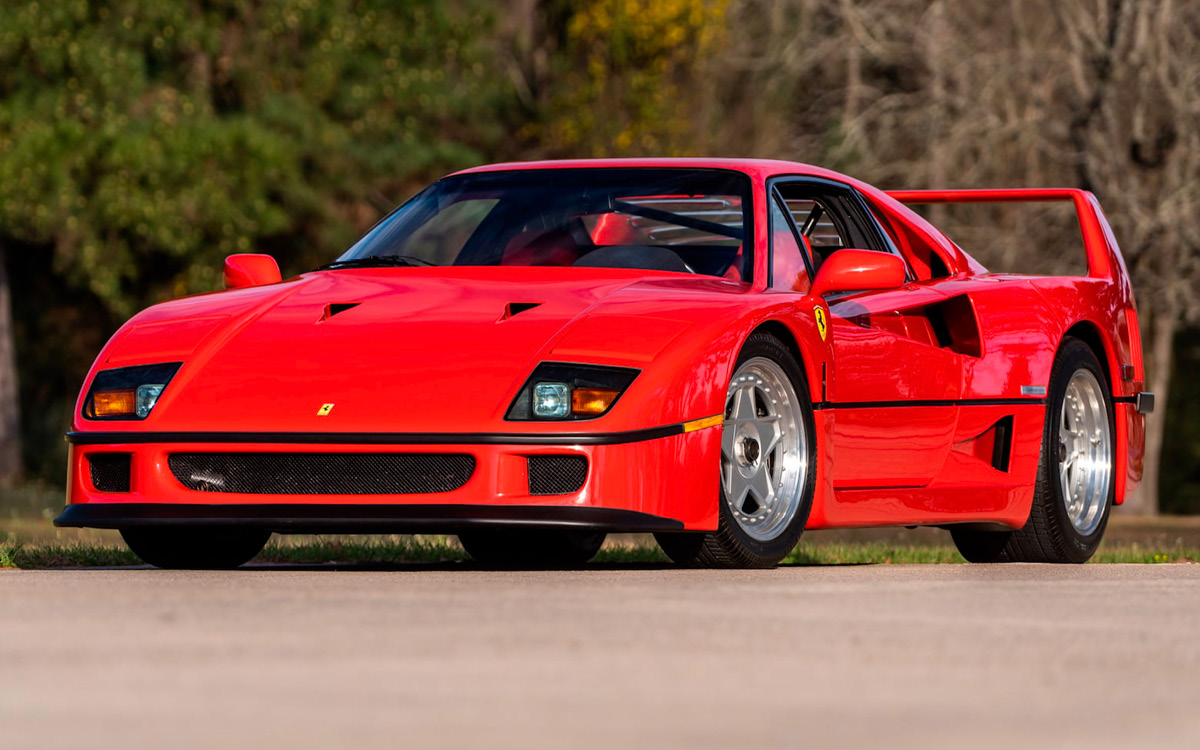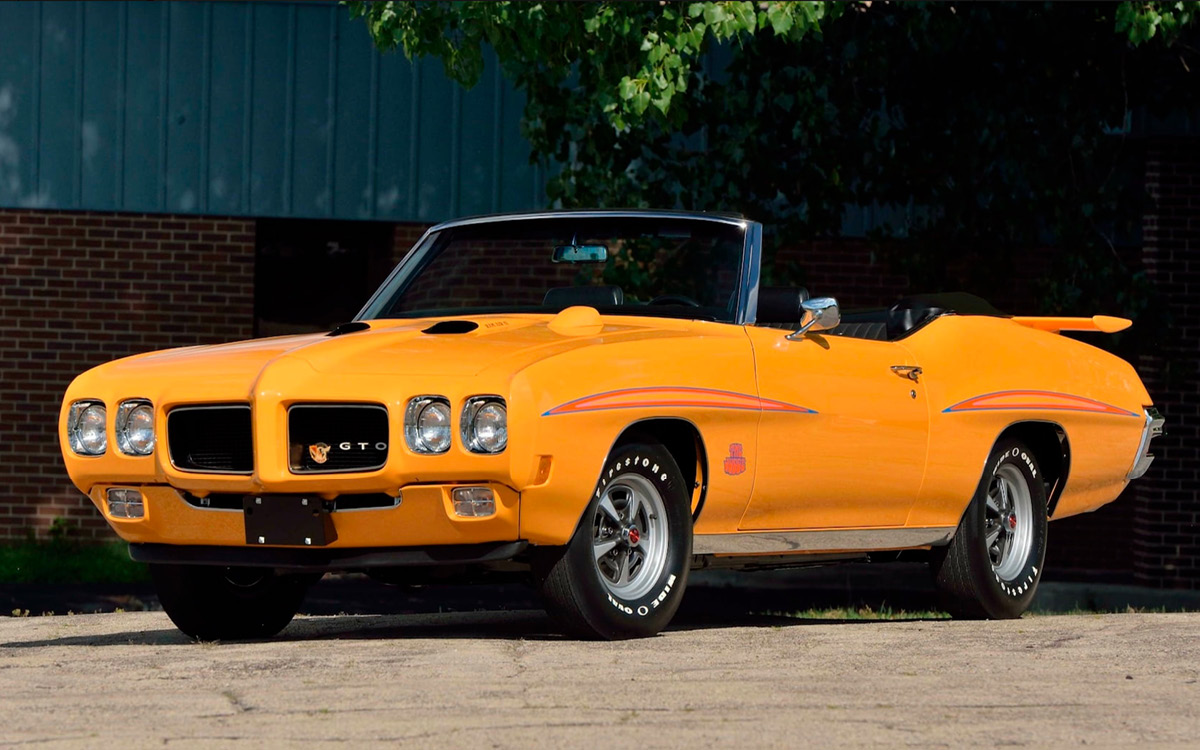 Mecum's Kissimmee Top 10
| | |
| --- | --- |
| 1. 1992 Ferrari F40 | $3,135,000 |
| 2. 1967 Ferrari 275 GTB/4 | $2,970,000 |
| 3. 1959 BMW 507 Roadster | $1,760,000 |
| 4. 1955 Mercedes-Benz 300SL Gullwing | $1,650,000 |
| 5. 1967 Ferrari 330 GTS | $1,595,000 |
| 6. 1969 Dodge Charger Daytona Hemi | $1,430,000 |
| 7. 1969 Dodge Charger Daytona NASCAR | $1,430,000 |
| 8. 1966 Shelby 427 Cobra Roadster | $1,430,000 |
| 9. 1970 Pontiac GTO Judge Ram Air | $1,100,000 |
| 10. 1968 Eagle Offenhauser Indy Car | $1,100,000 |