All-American Racing Hero
Daniel Sexton Gurney died on January 14, 2018. He was 86 years old. Dan Gurney was the all-American racer, the tall, cool motorsports athlete who became as much of a household name as sports figures like Mickey Mantle, Joe Namath, and Kareem Abdul-Jabbar.
Imagine, however, a single athlete playing and excelling on championship baseball, football, and basketball teams. Even then, such an athlete's accomplishments would not compare with what Gurney achieved in his career. Gurney became the first of three racers (so far) to win in Sports Cars, Formula One (six wins), NASCAR (five wins), and Indy cars (seven wins). The other two racers who won in those four areas were Mario Andretti and Juan Pablo Montoya. Gurney also raced and won in the SCCA Trans-Am and Can-Am.
A Record to Envy
For some, Gurney's greatest victory was the one he shared with A.J. Foyt, when the pair won the 1967 24 Hours of Le Mans in a Ford GT-40 Mk. IV, beating the second-place Ferrari 330 P4 by four laps. It was the first all-American victory in the French classic: American drivers in an American-built car for an American team. (The GT-40 Mk. IIs that won Le Mans in 1966 and the Mk. I's that won in '68 and '69 were built in England, with American engines.) It was on the podium where Gurney invented another racing innovation: spraying the celebratory champagne.
Although Gurney never won the Indy 500, he came in second in 1968 and 1969 and third in 1970, his last year as a driver. Gurney's record, as stated on the All American Racers website, includes starting 312 races in 20 countries for 51 different makes. He drove for the best, including, in addition to Ford, Ferrari, BRM, Porsche, Lotus, Brabham, Eagle and McLaren.
Dan Gurney, Car Builder
Appropriately, the racecar builder and team that Gurney formed in partnership with Carroll Shelby in 1965 was called All-American Racers. (Gurney bought out Shelby in 1970). When he began building racecars, he named them not for himself, but rather called them "Eagle." Gurney remains the only American driver in the entire history of Grand Prix Racing to win a Formula 1 World Championship event in a car of his own construction.
From its inception, AAR built cars for its own racing teams and also for sale to customers. The first major victory went to Bobby Unser, who won the 1968 Indy 500 in a customer Eagle. Gurney is of course credited with helping advance racecar aerodynamics: the famous "Gurney Flap" started as an improvised addition to the rear wing of to Bobby Unser's 1971 Eagle to add downforce. The "Gurney Flap" (as named by a Douglas Aircraft aerodynamicist) was later adopted throughout auto racing and then aircraft design.
In the three decades that followed, AAR employed 66 drivers who won 8 Championships in a wide range of racing. Twenty-one of the 33 cars on the grid at the 1973 Indy 500 were Eagles.
Overall, AAR built 106 Indy Eagles. Other cars included four Formula One Eagles, 20 Formula 5000 Eagles, 13 IMSA GTP Eagles, 13 Formula Ford Eagles, 3 IMSA GTU Toyota Celicas, 3 IMSA GTO Toyota Celicas and the one and only Delta Wing. The Toyota Eagle Mk. III, powered by a 750-horsepower turbocharged 4-cylinder engine, dominated IMSA GTP in 1991-1993.
A Car Named for Gurney
Gurney's name did appear on one production car, but in a most modest way. In 1967, he drove a Mercury Cougar for Bud Moore's Mercury-backed team in the SCCA Trans-Am series, which missed the 1967 manufacturer's championship by just two points (behind the Mustang). To merchandise the feat, Mercury offered the "Dan Gurney Special," a $100 dress-up option for the 1967-1968 Cougar that added a "Dan Gurney Special" window sticker, fancy hubcaps, and chrome engine trim.
On the other hand, it gave nearly 32,000 customers a chance to feel some connection with an American racing hero. The brand's 1968 XR-7 G was a true "Gurney" limited edition with exclusive design touches and offering performance options. Just 619 were made and. Unlike the Dan Gurney Special, the XR-7 G commands a hefty premium today.
Gurney's AAR team built and campaigned two Plymouth Barracudas in the Trans Am for 1970, but without much success. The deal, however, resulted in the 1970 Plymouth AAR 'Cuda production model, with just over 2,700 made. Hagerty pegs average value at just over $81,000 and up to $150,000 for a concours-condition AAR 'Cuda.
Continuing Legacy
An avid motorcycle rider, Gurney also developed the Alligator, known for its radically low, foot-forward seating position that lowered the unusual bike's center of gravity. About three-dozen were built.
Dan Gurney's legacy continues through AAR, with his son, Justin, in charge. The company's 75,000 sq. ft. Southern California prototyping and manufacturing facility encompasses five buildings. In addition to building racecar bodies and chassis, the company has expanded into aerospace. On December 21, 2015, the SpaceX Falcon 9 was the first ever rocket to land back on Earth, doing so at Cape Canaveral on landing legs manufactured by AAR.
It seems appropriate that Dan Gurney would be connected in a race to perhaps colonize another planet.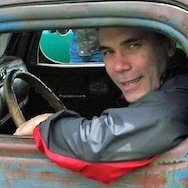 Written by Jim Koscs, Audamotive Communications
For Premier Financial Services