Rare and forbidden racer, frozen in time
Porsche 911 history is wonderfully full of rare, stripped-down variants built either for road and track, or purely for racing. But what happens when you build a racecar, but no race series will allow it, and none is developed for it?
Meet the 1991 Porsche 911 Carrera 4 Lightweight, surely one of the most intriguing 911 production models developed for racing. The "4" is of course of the car's four-wheel drive, which, outside of WRC rallying, was verboten in road racing. That explains why Porsche built just 22 of these cars.
Chances to own one of these unicorns don't come up often. RM Sotheby's is offering the fifteenth of 22 built, and the only yellow one at its Amelia Island auction in March. The pre-sale estimate is $700k-$900k. (The auction house sold a black one at its 2019 Monterey sale for $456k.)
The yellow screamer is titled in Florida and shows just 559 kilometers (348 miles). Let's have a look.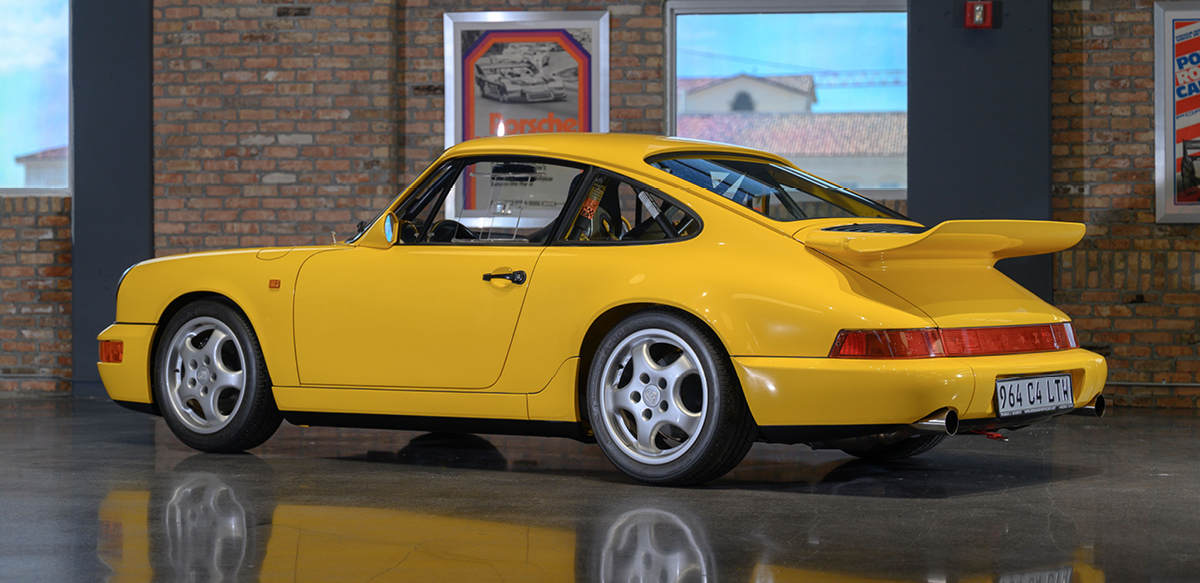 Built to Race
One of the great questions of motorsports from the past three decades has to be, "Why haven't there been more race series for all-wheel drive cars?" There was certainly some thinking along those lines when Porsche developed the 911 Carrera 4 Lightweight. No race series ever developed around it, however, and the car was not used in WRC rallying.
Before you fall in love with this uber-rare Porsche, consider the disclaimer that RM includes in the listing: "Please note that this car's chassis number is only six digits; it does not have a 17-digit VIN. While it is currently offered on a Florida title, RM Sotheby's encourages prospective buyers to check with their respective state's DMV to ensure this is a registerable and titleable lot where they reside."
The bright yellow Porsche could, however, certainly provide a track experience unlike any other 911, thanks to its rally-bred all-wheel drive.
The car is of course based on the 964 series 911, which for 1990 introduced four-wheel drive to the legendary sports car. A little history here: Porsche had first used an electronically controlled four-wheel drive system in the 959, a car originally built for FIA Group B racing. Like the Ferrari 288 GTO that was also developed for Group B, the 959 became a limited-production road car when that dangerous series was cancelled.
More and Less Than Meets the Eye
Porsche has, over the decades, offered lightweight variants of the 911 for racing. There have also been lightweight road models for club racing or just impressing fellow Porschephiles with the stripped-down interior and higher price.
The 911 Carrera 4 Lightweight was very, very different. Firstly, let's address the "lightweight" aspect. Supervised by Jürgen Barth, who had won Le Mans for Porsche with Jacky Ickx and Hurley Haywood in 1977, the development program first attacked weight.
Barth started with a seam-welded body shell for added strength, but substituted aluminum doors and front hood, along with a fiberglass rear hood and spoiler. The body-color lightweight bumpers lacked any of the low-speed collision absorption hardware used on production cars, and Plexiglas® windows further reduced weight.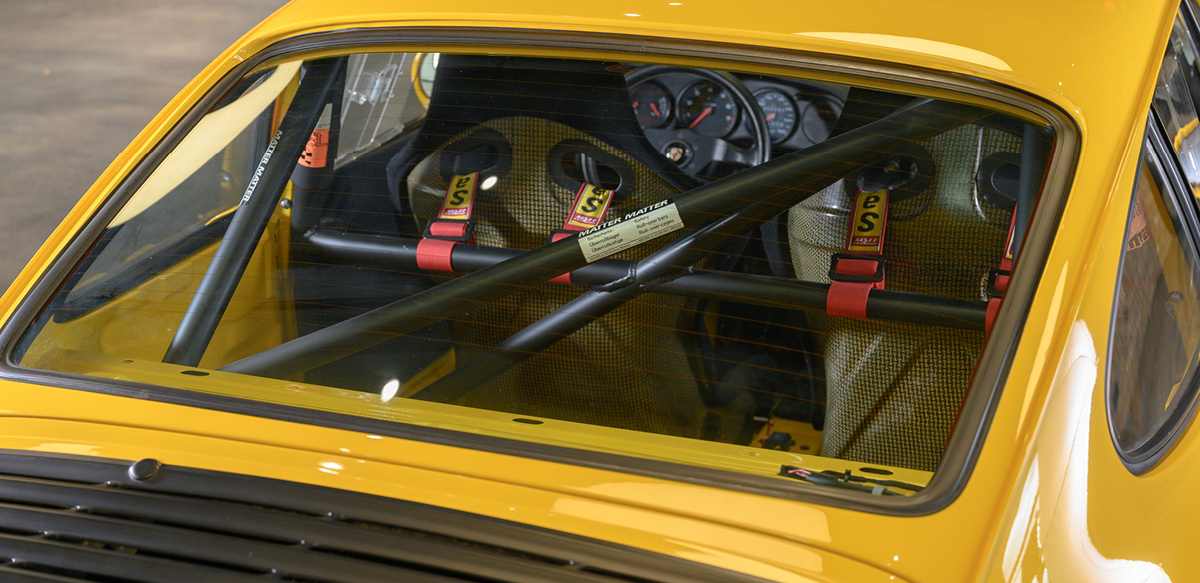 No Luxury for You
Inside, all carpeting and sound insulation was left out, and the standard door panels were replaced with the RS-style trims. Lightweight Recaro racing bucket seats with five-point harnesses came from the 911 Cup racers.
Auxiliary gauges and switches filled the spaces vacated by the deleted radio and climate controls, and a Momo steering wheel replaced the standard car's airbag-equipped wheel. Some weight went back in with the Matter roll cage, of course. The oil tank was mounted within the car's wheelbase for better chassis balance and used a side-mounted filler.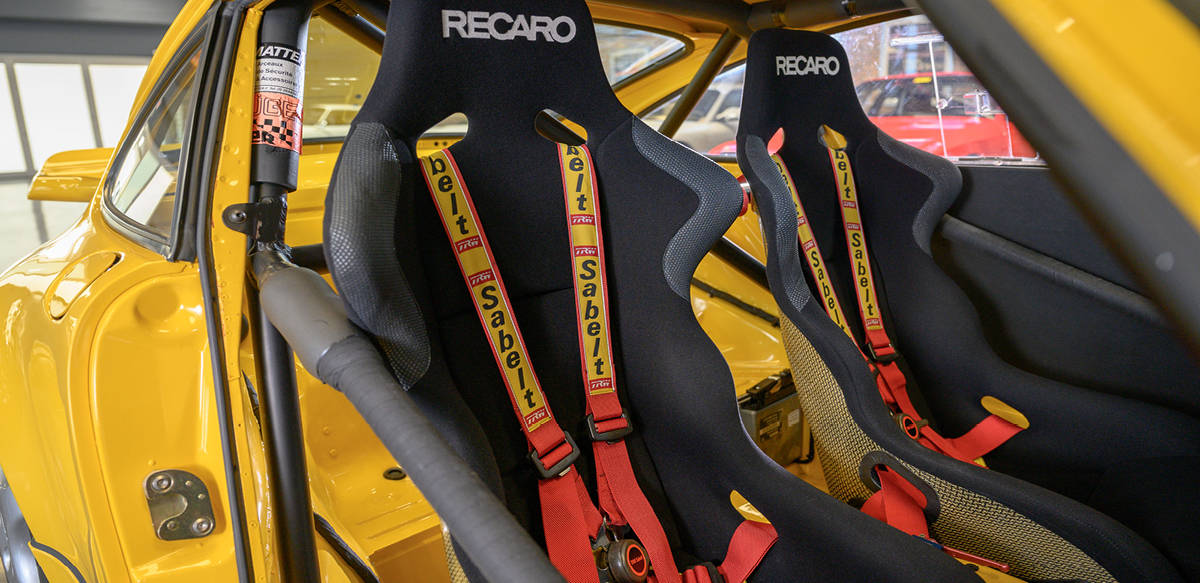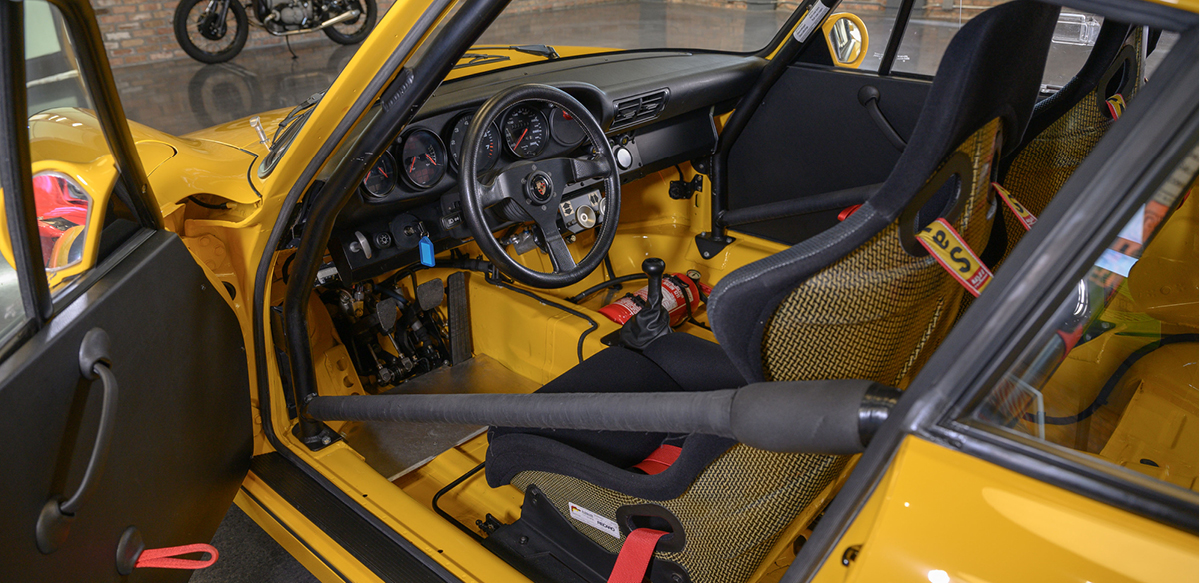 2,400 Pounds of Fury
Beneath the lightened shell, the 911 Carrera 4 Lightweight used the 911 Cup racer's adjustable suspension, which lowered the car about an inch and also added a chassis strut brace. Wheels were six-inch wide in front and eight-inch in the back, though the car offered by RM Sotheby's is equipped with the optional Cup 1 RS magnesium wheels, seven-inch in front and nine-inch in the rear.
Ready to race, the car weighed just over 2,400 pounds, a huge 800-pound reduction from a production Carrera 4.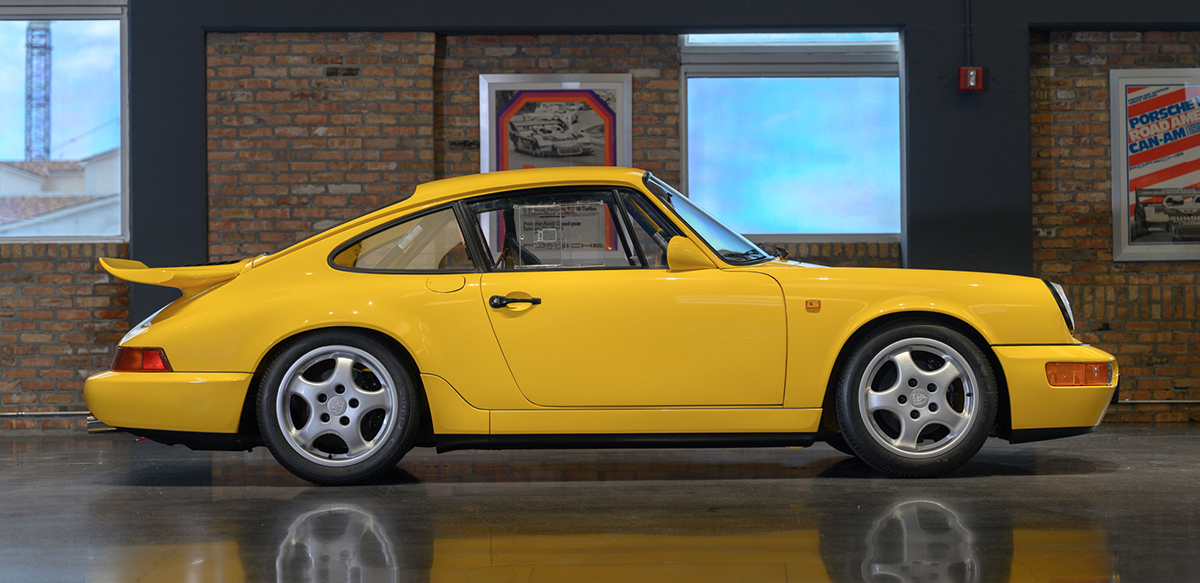 Rally Car Descendant
The flat-six engine was basically the 911 Carrera 3.6-liter unit with a modified exhaust. Horsepower was 265. If that sounds light, consider that low vehicle weight and that the car was designed to be homologated into a production-based race series (which, of course, never materialized).
The close-ratio five-speed manual transmission was teamed with the mechanically adjustable all-wheel-drive system derived from the 1984 Porsche Type 953s. These were the specially built Paris-to-Dakar rally cars that served as testbeds for the 959. The system's center and rear differentials were manually adjustable using rotary controls beneath the dash. Two temperature gauges monitored the individual differentials.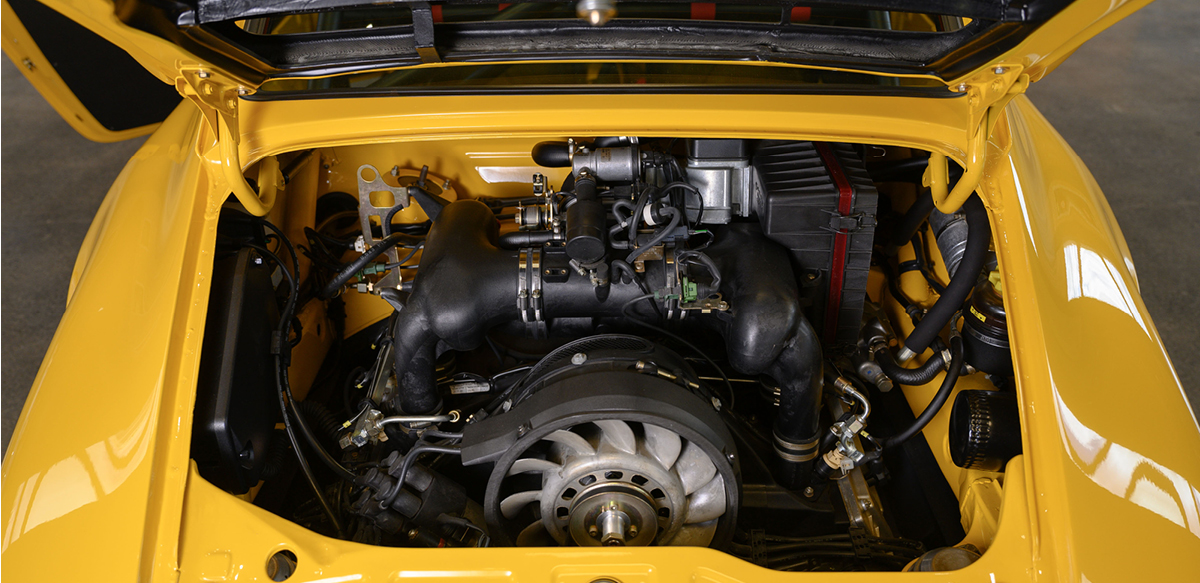 Already Famous
The car offered by RM is already something of a celebrity, having been featured in several magazines. It also won the "Best Lightweight" award at the 2018 Concours Masters at Salon Privé, held at England's Blenheim Palace as part of Porsche's 70th Anniversary celebration.
Would you prefer to see this car spend the rest of its life as a concourse entrant, or out on the track? Let us know.