Another James Bond hit
It could be argued that, until the 1977 chapter in the James Bond movie franchise, "The Spy Who Loved Me," relatively few Americans who were not diehard sports car enthusiasts had never heard of a car called the Lotus. But, when a white, gadget-laden Lotus Esprit screamed across the screen and even converted into a submarine for a brief swim in the ocean, Lotus was definitely top of mind.
The Esprit was a badass-looking ,wedge-shaped road missile that captured the spirit of the mid 1970s, good and bad. Most moviegoers in 1977 would probably have been surprised to learn that the exotic Lotus had just a small four-cylinder engine under the fiberglass skin.
The Esprit, in various forms, would live on for a remarkable 29 years and was a more evolved and more powerful car in the second half of its lifespan. We'll look at other versions in a later post.
Lotus Grows Up
From its inception, Lotus had offered its road and race cars in complete form or as kits for buyers to assemble, thereby saving some U.K. taxes. The company had bigger ambitions for the 1970s, and leaving kits behind was part of that. The four-seat 1974 Elite revived an old name and put a new, somewhat polarizing body on a larger, revised version of the Elan +2 chassis.
Next, Lotus turned toward a mid-engine sports car, something striking that would put the marque in league with more premium models. Lotus, after all, had six Formula One constructors' championships in its trophy case by the time the Elite appeared; it was time to put more racecar expertise on the road.
Italian Style
Lotus had already offered a mid-engine sports car in 1966, the Europa. It was a wizard in the curves, but its design was odd, to say the least, looking like a cross between a sports car and tiny utility truck.
For the next middie, Lotus turned to a design master, Giorgetto Giugiaro, who had also designed Maserati's wedge-shaped Ghibli and Bora.That was the big league where Lotus wanted to be with the new model, which would be called Esprit.
The Esprit used the backbone-style chassis that Lotus favored, but Lotus dipped into some corporate parts bins. It is borrowing front suspension from a workaday Vauxhall Cavalier, for example.
Lotus designed the rear suspension and used inboard disc brakes. They are great for reducing unsprung weight and enhancing agility but are a nuisance to mechanics everywhere. As on previous Lotus models, and in keeping with Chapman's "add lightness" mantra, the Esprit's body was fiberglass.
Cursed at First
The Esprit's engine may have roared like a Ferrari onscreen in the James Bond film, but it was no mountain lion. The Lotus 907 engine, a relatively advanced 2.0-liter DOHC inline-four with four valves per cylinder, was first produced in volume for the 1972 Jensen Healey. That helped Lotus recoup some of its investment. However, the early engines were plagued with problems and pretty much sunk the pretty Jensen sports car in the market.
Despite those movie sounds, the Lotus four made just 140 horsepower in U.S. form. That was a good showing for a 2.0-liter at the time. The Lotus engine was teamed to a 5-speed transaxle from Citroën, the same unit used in the Maserati Merak.
Light on Its Wheels
Because the Lotus Esprit weighed about 2,400 pounds in U.S. trim, it was pretty quick, with 0-60 in about 7.5 seconds. That was on par with the far heavier and thirstier V8-powered Corvette, but at least everyone who saw you driving an Esprit thought it was a 200-mph supercar.
The Esprit handled every bit as good as the stuntman made it look in "The Spy Who Loved Me". The Esprit was easy on gas, too, although that was small consolation for high service and repair bills. The Lotus Esprit Series I got off to a rough start with quality issues; an improved Series II model arrived in 1978.
Amphibious Lotus
Getting the Esprit into the Bond film was a coup for Lotus that would help mitigate negative perceptions of the car. The company loaned two cars for filming. Plus, they provided an empty body shell that was basically wrapped around a mini "wet sub". That is, there is no pressurized cabin but rather an open platform for SCUBA drivers to pilot the sub.
Among the gadgets in the car was a submarine-launched missile used to shoot down a helicopter. Like Bond's Aston Martin DB5 from "Goldfinger," the Esprit submarine car from "The Spy Who Loved Me" became a popular model and child's toy around the world. Tesla founder Elon Musk bought the real thing in 2013 for about $1m.
You can buy an Esprit for considerably less. The car featured in the photos sold at the RM Sotheby's Arizona auction in January 2020 for $36,400 including the buyer's fee. Hagerty pegs average value for a Series I Esprit at $22,200. This goes up to $62,000 for a concours-quality model – a rare find, indeed. Values seemed to be heading upward in 2019, with RM Sotheby's selling one for $106,400 but have since cooled according to Hagerty.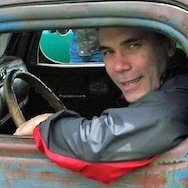 Written by Jim Koscs, Audamotive Communications