When Bentley Stepped Out of Rolls-Royce's Shadow
Today's Bentley Continental models are among the world's most desirable luxury cars, and the same could have been said about the Continentals made from 1953-1965. While seemingly a galaxy apart in performance capability both were built for touring seasoned with a little speed. Captain Obvious spoiler alert: the classic models were much more sedate than the new ones. The classics, though, were highly adept at covering long distances at high speed in supreme comfort and style.
For that reason, plus the added perk of super-rarity, the Bentley Continentals of the Sixties remain among the most sought-after of the marque's classic cars. Gooding & Company's 2023 Pebble Beach Concours d' Elegance® auction is offering a rare left-hand-drive 1961 Bentley S2 two-door saloon with coachwork by H.J. Mulliner that exemplified this model's divergence from the parent company. It has a pre-sale estimate of $400K-$500K.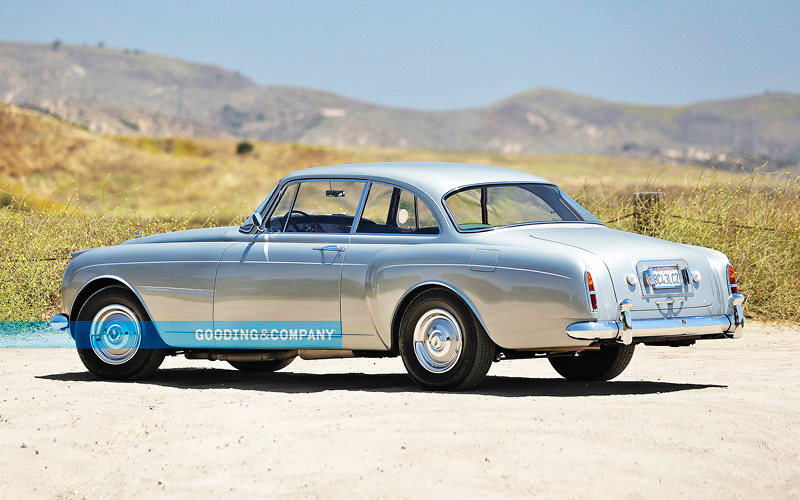 Bentley Breaks Out
Rolls-Royce had owned Bentley since 1931 and, until Bentley Continental R models of the 1990s, most postwar Rolls and Bentley models had been differentiated only by their badges and grilles.
The original Bentley R-Type Continental broke that trend in 1953, with a modern body influenced by aerodynamic principles, built on a chassis that normally carried the Thirties-looking R-Type sedan (a clone of the Rolls-Royce Silver Dawn). Bentley tweaked the 4.9-liter Rolls F-head inline-six-cylinder engine to give 153 horsepower. With the Continental's aluminum body, along with higher engine compression and higher drivetrain gearing, a top speed of nearly 120 mph – very high in the day – was possible.
Bentley made just 208 R-Type Continentals, but the name would carry forward in 1955, with a coachbuilt models based on the newly introduced S1 saloon.
The S1, of course, was the Rolls-Royce Silver Cloud with a Bentley grille and badge. Bare chassis were sent to various coachbuilders, including the one that Rolls owned, Park Ward, to receive coupe and convertible bodies. Mulliner was also the first to build a four-door Continental called Flying Spur. About 430 S1 Continentals of all body types were made.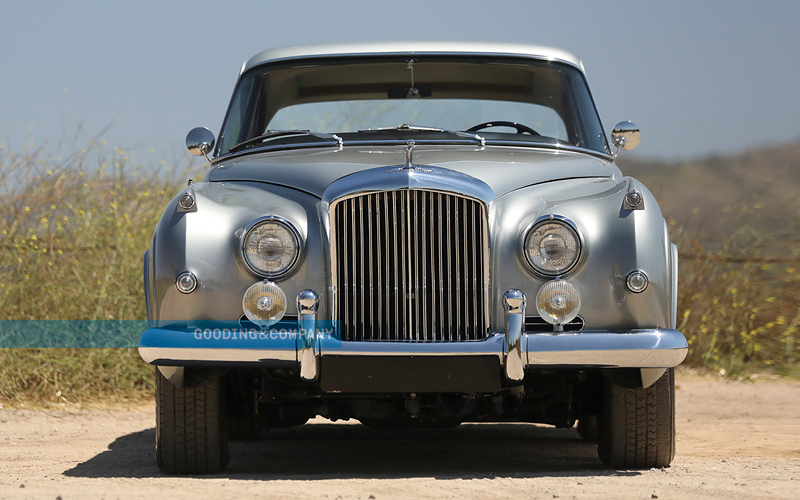 The S2 Continental
When Rolls upgraded its Silver Cloud and the Bentley S1 standard saloons to S2 spec in 1959 with a new 6.2-liter V8 engine and other tweaks, the coachbuilt Continental program continued. The body types were similar, with the Mulliner models showing a sleeker, lower front end than the Park Ward cars. (Rolls had bought H.J. Mulliner in 1959 and shortly afterward merged it with Park Ward, which it had owned since 1939.)
As before, the far more contemporary looking Continental was lower than the standard steel four-door saloon, eliminating that car's contrived "double bow" fender styling. In its place was a straight fender line and slab-side body, a theme that would define the fully modern Rolls Silver Shadow/Bentley T Series introduced in 1965.
The Continental Park Ward drophead coupe (convertible) version had a very different look from the Mulliner models, including American-influenced tailfins. Bentley S2 Continental production from 1959-1962 totaled 388 cars, with about 100 coupes by Mulliner like the one offered by Gooding. This car was also one of just 26 in that group built with left-hand drive.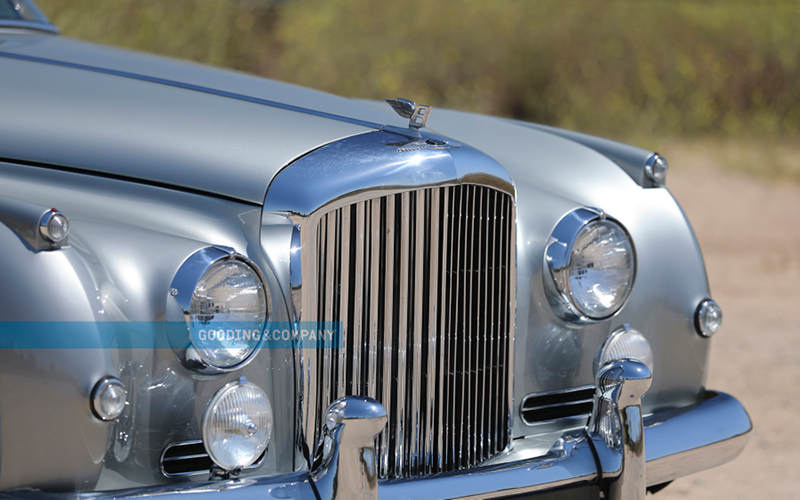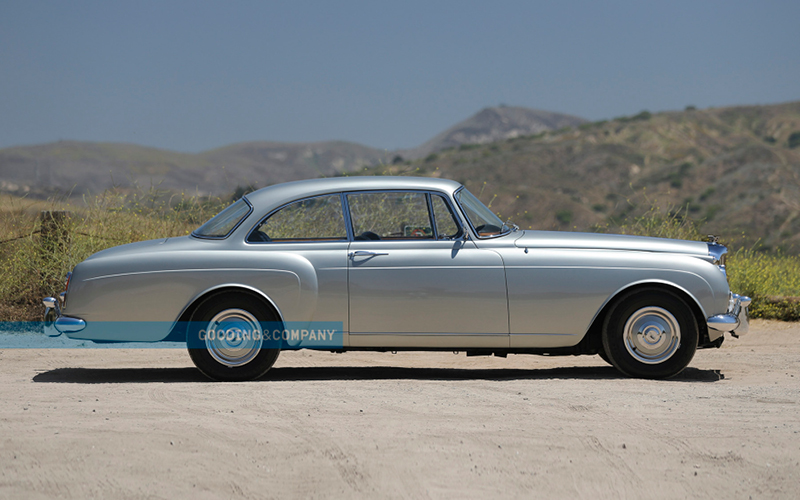 New Power and Comfort
Rolls/Bentley had gotten with the program in American-stye comfort with power steering and air conditioning made standard in Silver Cloud I and Bentley S1 models. These also used the GM-licensed Hydra-Matic four-speed automatic transmission.
The Rolls V8 mimicked American V8s of the period with its overhead-valve (cam-in-block) configuration but using lighter aluminum construction. Horsepower has reached dizzying heights in the modern Bentleys (and so has vehicle weight), but in contrast, the company did not advertise this point of bravado in the original Continental's day. For the record, it was about 180 net hp, or around 250 hp in the SAE gross terms American carmakers were using at the time.
When the Silver Shadow/Bentley S-type redesign added the new four-headlight front for 1963, the Continentals followed suit, though with a loss of some elegance, in some opinions.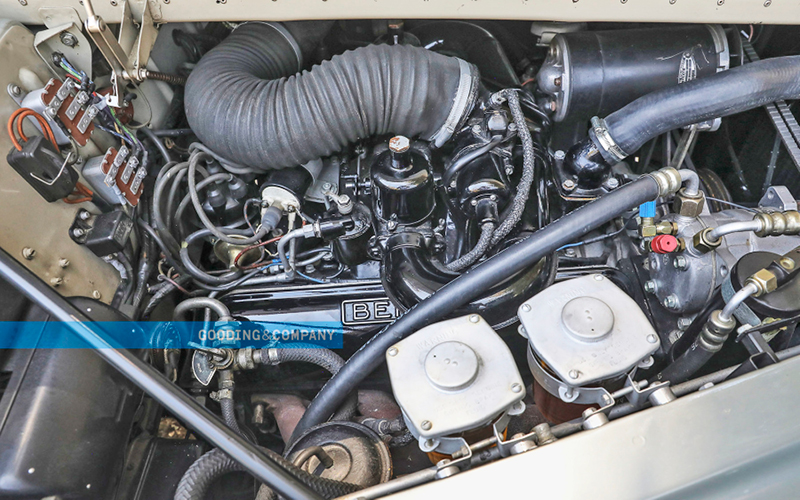 "Italian Trot"
The Bentley S2 Continental offered by Gooding & Company was custom-built for its first owner, Count Paolo Orsi Mangelli in Italy. His business empire there included agriculture, textiles, and tobacco. He was also one of the country's most important horse breeders, known as "the father of the Italian trot."
Factory records show the car was originally finished in Sand over green Connolly leather and specified "for use in Italy," with metric instruments, high-frequency horns, and Dunlop whitewall tires. Other notable features included power windows, Tudor-type sun visors, custom woodwork, and lightweight front seats.
The distinctive Bentley remained in Italy until the late 1970s, when it went to its next owner in Hawaii. In 1996, the third owner commissioned a high-quality cosmetic restoration in the current pewter over green color scheme. The car went to two more owners, including the consignor. The perfect chariot for captains of industry in its day, this 1961 Bentley S2 Continental may have stories yet to write for its next owner.