Celebrating its 33rd road rally since founding of The Colorado Grand® in 1989, this non-competitive, charitable event continues to be one of the nation's most prestigious and respected tours. Autoweek has even dubbed it as "the one event you have to do before you die." Founded by the late Bob Sutherland – a major collector of vintage cars – The Colorado Grand provides owners of pre-1960 sports and race cars of distinction with an opportunity to experience 5 days and 1,000 miles covering Colorado's most inspiring roads and Rocky Mountain landscapes, while raising money for towns and people along the way.
Billed as "by invitation only," The Grand is actually open to all, and not impossible to get into if your car meets the pre-1960 admissions criteria. This year, for example, there were 175 applications for 95 spots, which included pre- and post-war Alfa Romeos, Aston Martins, Bentleys, Ferraris, Jaguars, Lancias, Maseratis, and Mercedes Benz. The 2022 participant list also included 21 Porsche 356s, one of which is owned by Steven Serio of The Bond Group, who's consulted with serious collectors around the world on curation, restoration and servicing since 1987.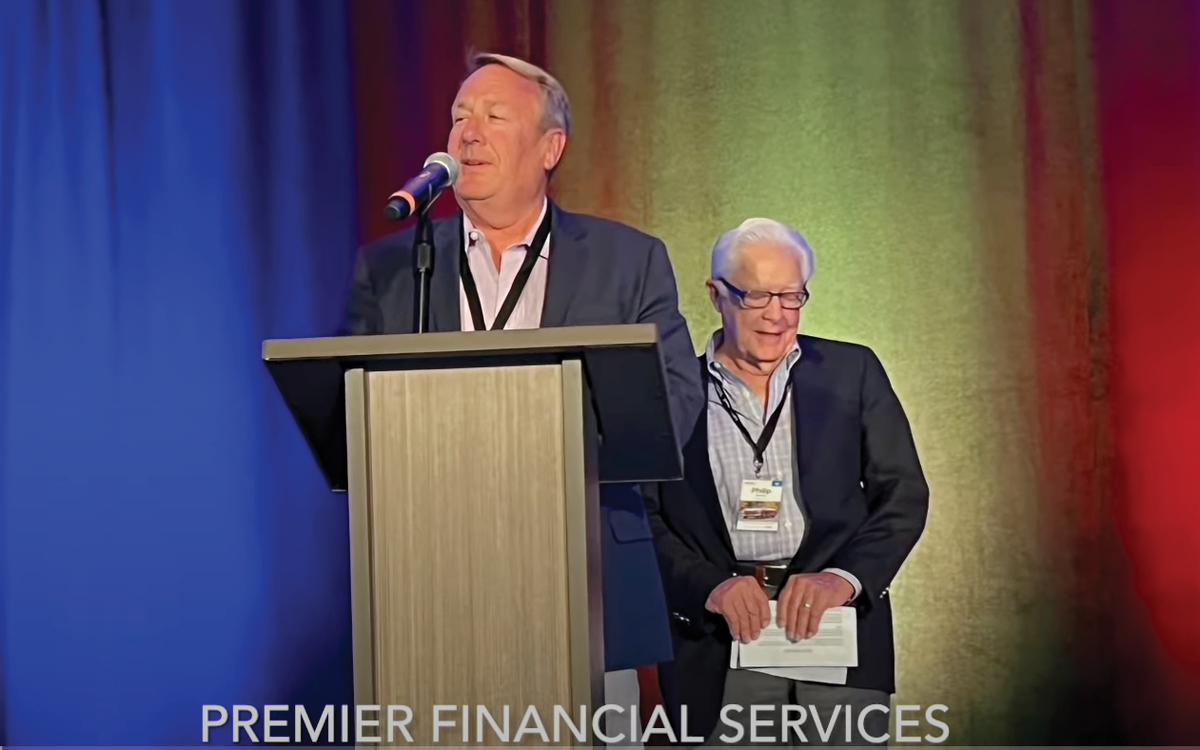 Participating for the 4th time as a corporate sponsor of The Grand (along with Mercedes-Benz USA, Hagerty Insurance, WeatherTech, and RM Auctions), Premier was represented by its Vice President of Sales, Doug Ewing, as a rally co-driver along with Steve Serio, who graciously provided Premier with the use of his 1957 Porsche 356A Speedster. According to Steve, "I bought the car in 2011 from an individual on Staten Island, who was not the original owner. It had been off the road and unregistered since 1967, and was taken apart in 1975 for restoration. The car was literally in pieces, and my intention was to restore it as a rally car."
Toward that end, Steve upgraded the brakes, steering and suspension, and added Technomagnesium wheels. The car also has a Willhoit 2.2S engine that generates 162 bhp, and has participated in 11 different rallies, including 4 of them on The Grand. Steve and Doug agree that Porsches 356s are great rally cars. "Most serious collectors own a 356, and they may be less inclined to bring a car on a 1,000-mile event that's more complicated and prone to breakdowns. A 356 is dependable and easy to fix. They're not the fastest car in the world, but they handle well and are great fun to drive," according to Steve.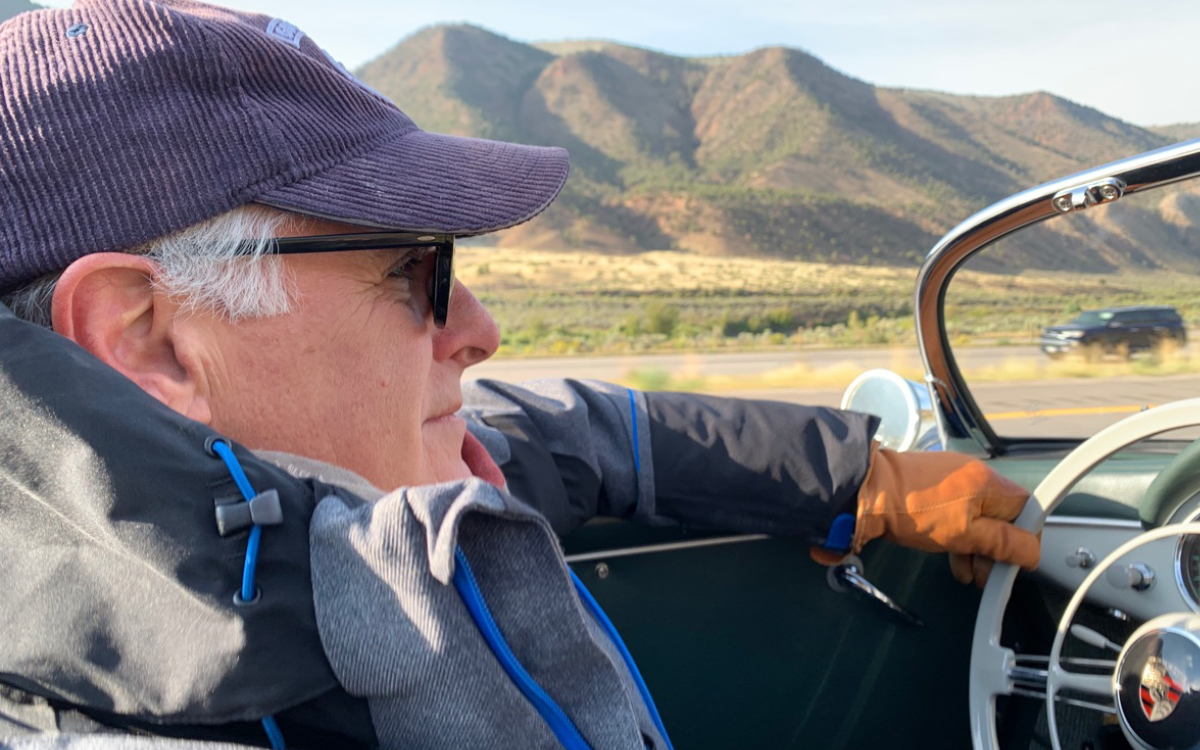 Rally Adventures: Loose Nuts and Loose Cows
Driving a dependable vintage car doesn't guarantee a rally that lacks excitement. For Doug and Steve, their excitement began with (long-time Porsche owner) Doug at the wheel, far from the hotel, when he noticed the 356 was not turning correctly. "We were driving through hairpin turns and switchbacks, and every time I took a left-hand turn something didn't feel right to me. The car pulled hard to the left and then snapped back to the right, but I could let go of the wheel on a straightaway and there was no wandering, the car held true."
Later that evening, back at the hotel, one of the mechanics identified the problem: front end castle nuts that had not been correctly torqued when the car was converted to disc brakes. It was a mechanical issue that was quickly addressed that same night, but that human error might have had serious consequences, given the rally's challenging terrain, rain-slicked roads and high speeds. Doug and Steve both acknowledge they dodged a bullet at the outset of the rally. Steve noted that, "We weren't past the last safety wire, but you never want to test those limits." But it wasn't their only close encounter during The Grand.
Their second adventure began with Doug at the wheel. "We were leaving a town, and I started to accelerate on a straightaway. We were traveling around 50 miles an hour, and out of the corner of my eye I saw an ATV in the adjacent field driving parallel to us, trying to herd some cows. All of a sudden, two of the cows got spooked, ran up on the embankment, and then ran into the road directly in front of us. I never knew cows could run that fast. We swerved hard to avoid hitting them, and missed them by only a few feet."
Good Natured Fun on the Rally
Offsetting the loose nuts and loose cows, Steve and Doug greatly enjoyed the camaraderie with the rally participants; many of whom are recognized as "captains of industry," and all of whom are serious vintage car enthusiasts. Doug noted that "the group of people this year appeared to get along very well. No one was driving aggressively. There were no accidents, or incidents where anyone was reprimanded by the Colorado State Patrol troopers who accompanied us. It was a great group of people."
The rally also included good-natured hi-jinks among participants. "One of the nights," Steve recounted, "a couple friends attached bullet hole stickers all over our car, and added a "Princess" license plate frame that you might find in a little girl's pretend car. They also replaced our gear shift knob with a really large, iridescent green plastic skull. They went to great lengths to make our car look silly for the next morning's drive."
Steve also admitted to playing practical jokes of his own, which included putting an emergency kit that contained adult diapers and other silly items into the trunk of another driver's car, who in turn, relocated the kit to another driver's car, to continue the prank.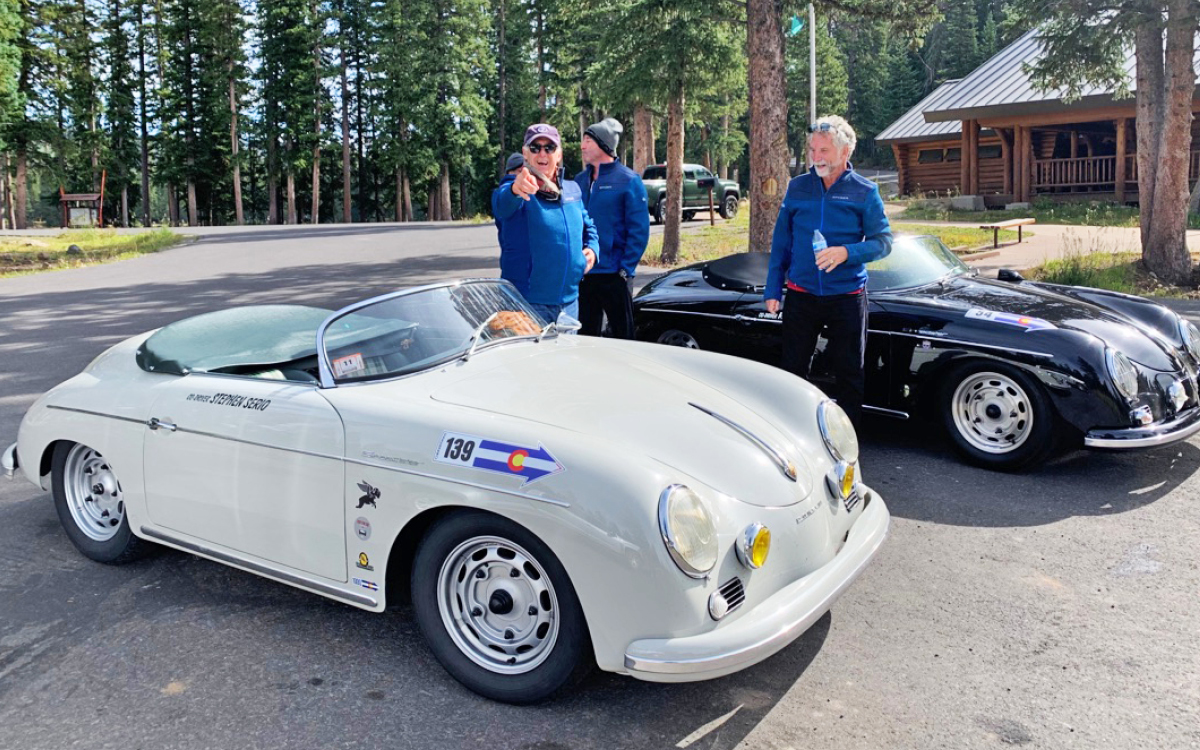 The Serious Side of The Grand
Unlike many other rallies and tours, The Grand is strictly a charity event, generating well over $500,000 annually for small Colorado charities and Western Slope towns, as well as college scholarships for graduating high-school seniors in those towns. Current charities include the Colorado State Patrol Family Foundation, Flight for Life, CASA, and medical facilities in small towns.
When the cars roll into the local towns along the route (which begins and ends in Vail, Colorado) it's considered a big event for residents, and with good reason. Over the years, The Grand has either purchased or helped purchase much needed rescue equipment for local fire departments, medical devices for hospitals and clinics, and even night-vision goggles for medevac helicopter pilots. In fact, some entrants continue to donate to the charity even in the years they don't attend The Grand in person.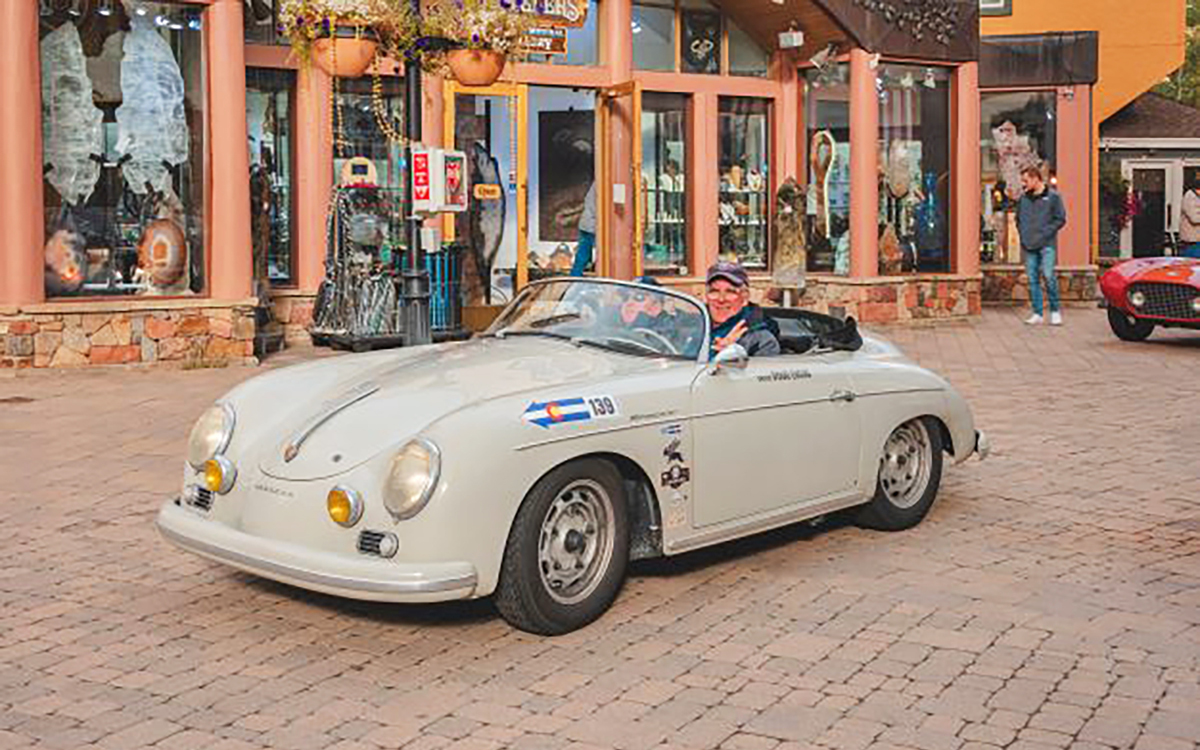 It's Called "Grand" for a Good Reason
Doug and Steve are veterans of many sports and race car rallies, but continue to be impressed with The Colorado Grand, in terms of its purpose, the course, and the overall experience. Doug noted, "There are certain moments when you hit these open roads, for example when driving into Moab, when it feels like you're on the moon. You're driving in the valley along the river with amazing rock faces and enormous canyons. It's very prehistoric looking, and pictures can't do justice to what you're seeing and feeling. It's absolutely gorgeous."
"There's a reason why this event is oversubscribed every year," according to Steve. "The Colorado Grand is the best organized event, with the best roads, and it gives back directly to the community. This is still considered the biggest touring event in the United States. It's always a privilege to participate in it, and without sounding too corny, it really is pretty spectacular."
To gain a better perspective on the cars, the people and the routes in The Colorado Grand, you can watch highlights of this year's rally in this video.