The First Mercedes Super Sedan
The luxury category is seemingly overflowing with sedans that offer pavement-ripping acceleration and staggering top speeds. Most come with the added status of membership in a marque's "letter club," wearing badges such as "M," "V" "S" and "R" like a proud upper classman who's earned a varsity jacket.
But the car that started the trend wore just a simple number, a "6.3" addendum to its main badge, 300SEL.
The 1968-1972 Mercedes-Benz 300SEL 6.3 holds a unique place in automotive history. Many consider it the first super sedan, a luxury machine with musclecar acceleration and impeccable road manners, all in a stealthy package that looked nearly identical to the six-cylinder versions of the W108/W109 body style. It was an unexpectedly hair-raising car from a marque that rarely let its hair down.
Hagerty valuations indicate a bit of a spike over the past year, so now might be a great time to acquire a premier-condition 300SEL 6.3 using a Premier Financial Services Simple Lease. A Mercedes 300SEL 6.3 is comfortable enough to drive any day that you feel you can do without your modern vehicle's Starship Enterprise infotainment console.
The Forefather of Four-Door Hotrods?
Mercedes-Benz could rightfully point to its landmark 300SEL 6.3 as the progenitor of today's growing fleet of four-door hotrods. You might get an argument from Maserati fans, who would direct your attention to the 1962-1969 Quattroporte. But Mercedes built about 6,500 of the car called simply "six-point-three" by aficionados, compared to fewer than 750 of the early Quattroportes.
Those with a predilection for the obscure might submit the 1961-1964 Aston Martin-built Lagonda Rapide, with about 55 made. There was also the somewhat more prolific, Chrysler-powered Facel Vega Excellence, but that's getting way off track.
Big Engine from a Really Big Car
The heart of the 6.3 was the M100 single overhead-cam V-8 that was first used in the unrivaled Mercedes-Benz 600 uber-luxury sedan introduced in 1963. The 600 weighed nearly three tons, so putting its 300-horsepower engine into a two-ton package resulted in stunning performance for the time: zero to 60 in under seven seconds and a top speed of about 135 mph.
The 6.3 could run America's favorite Saturday night performance test, the quarter-mile, in the high 14's at over 90 mph – a laudable feat considering the Autobahn-oriented 2.85 axle ratio. The tall gearing allowed unflustered 100 mph+ cruising when one could find enough road.
It was the American musclecar formula, mixed with European GT genes to produce what Road & Track magazine called "merely the greatest sedan in the world."
Greatness came with a price, which was $14,400 in late 1969 and rose to over $16,000 by 1972 (about $90,000 today). Hagerty pegs value for the best examples today at about $65,000. It could be worth more if Steve McQueen owned it, but the late actor's car failed to sell with a high bid of $375,000 at the Keno Brothers' inaugural auction last November.
What's a 6.3 Really Like?
On the other hand, noted collector Jay Leno found a solid running 300,000-mile 6.3 driver with all systems working for $5,000. After polling viewers whether he should resto-mod it or restore to stock, the viewers voted to restore and Jay plans to follow through.
In addition to its muscular engine, the 300SEL 6.3 was distinguished by an air suspension system, something that on many fell victim to neglect as the cars aged and depreciated. You'll want to find a well-preserved original or restored example in order to lease through Premier Financial Services.
Interior build quality was beyond reproach, but luxury was found lacking, a combination that typified Mercedes cars back in the day. Air conditioning was standard but noisy and not up to American cooling standards. Central locking was a novelty at the time, but power seats? Not in the top Benz. Need to adjust the driver's mirror? Stick your hand out the window. And the wood interior trim, though beautiful, was sparsely applied.
Still a Mercedes Rock Star
Let the modern mega-powered sedans duke it out for hot-lap honors. The ultimate sedan to drive 45 years ago, a Mercedes-Benz 300SEL 6.3, will still put a smile on your face. Just ask Jay. And just ask the Mercedes experts at PFS about enjoying one of these magnificent sedans.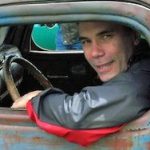 Written by Jim Koscs, Audamotive Communications
For Premier Financial Services