The Man, The Machines, The Mystique
The remarkable success of Oscar-winning "Ford v Ferrari" (Best Film Editing and Best Sound Editing) has given Carroll Shelby, who died in 2012, some new and well deserved attention from an audience that goes well beyond automotive enthusiast circles.
More people than ever – and especially younger generations – now know that Shelby was every bit an American sports hero as Joe Namath, Reggie Jackson, Billie Jean King and Michael Jordan. (And when it comes to Ford v Ferrari on the road, "Mr. October" Jackson covers both sides in his impressive car collection.)
Beating the racing establishment with simpler, less expensive and sometimes cruder machinery was a recurring theme throughout Shelby's professional life. He got his racing start driving other peoples' cars that he could not afford to buy himself. He went on to build a business empire that has continued and grown beyond his death.
Born to Fly
Born in 1923 in Leesburg, Texas, Carroll Hall Shelby could probably fill three movies. He was a WWII U.S. Army Air Corps pilot trainer, and then a racer, a car builder, a disruptor, a visionary entrepreneur and a philanthropist.
Shelby began his racing career after the war and had a winning stint in a Cadillac-powered Allard J2X. Even as he also drove Ferraris and Maseratis, the brute effectiveness of that light British roadster powered by a high-torque, easy-to-service American V8 had left an indelible impression on him.
Shelby landed on the cover of Sports Illustrated magazine in 1956 and 1957 as "Driver of the Year." His greatest driving achievement came in 1959, when he won the 24 Hours of Le Mans with Roy Salvadori for Aston Martin. But Shelby had been driving with a time bomb in his chest, a heart condition that would force his retirement from driving the following year. He had raced with nitroglycerin tablets under his tongue in case of an angina attack while at the wheel.
"Total Performance" Takes Off
Shelby took his first shot at car-building in 1960, teaming up with Texas Chevy dealer and racer Gary Laughlin and Jim Hall of later Chaparral racecar fame. The trio commissioned Scaglietti, Ferrari's go-to body maker, to craft aluminum bodies for the Corvette chassis. That the cars resembled Ferrari's 250 GT Tour de France apparently did not sit well with Enzo Ferrari. Just three were made before the project ended.
Timing was on Shelby's side, though, when he pitched Ford Motor Company on the idea of supplying its new, lightweight "Fairlane" V8 to install in the AC Ace, a light, lean British roadster. AC liked the idea, since the Bristol inline-six it had been using in the Ace had gone out of production. Shelby said the "Cobra" name for the car came to him in a dream.
Ford found the value of adding the hero racer and his Cobra sports car too good to pass up. The company had pulled out of the AMA ban on factory-backed motorsports and was going all-in on racing with its "Total Performance" program. Shelby was a perfect fit.
Beating Ferrari, Part I
The AC Cobras proved hard to beat on the track, and the more aerodynamic Pete Brock-designed Cobra Daytona coupe won the GT class at the 24 Hours of Le Mans in 1964. The following year, Shelby American became the first American manufacturer to win the World Manufacturers' GT Championship, beating out Ferrari in the over-2.0-liter class.
The original Cobra morphed into a wider model in 1965 with the production version of Ford's big-block 427 cu.-in. V8 used in NASCAR. (Many of the 340 or so "427" Cobras built actually got its milder 428 cu.-in. cousin from Ford's big cars.) Just about 1,000 total Cobras were made, but there have been tens of thousands of copies built since.
Shelby also had by then repeated the Cobra formula with another British roadster, the Sunbeam Alpine. The resulting Ford-powered car, called the Tiger, was built by Jensen in England, but Shelby collected a royalty on each car.
Mustang Mania
Seeking to spread the Cobra mystique around, Ford asked Shelby to develop a high-performance version of its runaway hit 1965 Mustang. Using the Mustang fastback model, Shelby's operation tweaked the 289 cu.-in. V8 to Cobra specs and fortified the pony car's simple chassis. The result was the GT350, a fast and furious bad-to-the-bone purist machine that won the SCCA B Production National Championship. Just 562 were made that first year, including 36 "R" race models.
For 1966, the GT350 was slightly tamer, and Shelby cut a deal with Hertz Car Rental to put 1,000 of them into the fleet – out of 2,380 made. Hertz Sports Car Club members could rent the racy Shelby for $17 a day plus 17 cents a mile. Most of these GT350H models had an automatic transmission.
Beating Ferrari, Part II
When Ford's GT40 endurance racer, built in England and, like the Cobra, also powered Ford's 289 cu.-in. V8, was floundering, Shelby was called in to help. The GT40 Mk. II was getting the Ford 427 to replace the 289, unleashing greater speed. Management and development from Shelby, with much help from driver Ken Miles, brought Ford the success it sought for its huge investment. After wins at Daytona and Sebring came the legendary 1-2-3 podium sweep at Le Mans in 1966.
Shelby also managed Ford's 1967 GT40 racing program with the U.S.-developed and built Mk. IV racer, delivering another Le Mans win. (The GT40 Mk. III was a road-oriented version with just seven made.)
Trans-Am Winners
As if the Le Mans, Cobra and GT350 programs hadn't been keeping Shelby busy enough, his Venice, CA operation also built a series of Mustang coupes for the SCCA's budding Trans-American Sedan Championship, a.k.a. Trans-Am series. Shelby-built Mustangs won the Trans-Am Championship in 1966 and 1967, even beating Ford's factory-backed team of Mercury Cougars in 1967.
In a bit of a twist, Toyota contracted with Shelby's racing operation to campaign its 2000GT sports car in the SCCA's C-Production class. Two cars were raced for 1968, taking third and fourth against seasoned Porsche 911s that had been dominating the class.
The Shelby Mustang road cars, meanwhile, grew into more refined and stylized GTs in 1967 and added the GT500 with a 428 cu.-in. V8. The 1968 GT500KR ("King of the Road") got the more potent 428 Cobra Jet engine, which continued through the final 1970 models. By then, nearly 14,000 Shelby Mustangs has been made.
"Retirement" and Revival
Retiring from the car business in 1970, Shelby spent much time in Africa and started a custom wheel company. And he loved to cook chili. He had co-founded the world renowned Terlingua Chili Cook-Off in 1967 and then later turned his chili fixins' into a brand that's still going.
By the mid-1980s, Shelby was back in the car business with an old friend, Lee Iacocca. Now at the helm of Chrysler Corporation, Iacocca asked the race hero to work some of the same magic for Dodge as it had for Ford in the 1960s.
The Original Hot Hatches
Times and cars were very different. Instead of more traditional rear-wheel drive and rumbling V8s, Shelby would be working with front-wheel drive and turbocharged four-cylinder engines. The deal involved Dodge performance cars wearing the Shelby name, plus unique versions converted by Shelby's own operation in Whittier, CA.
The resulting "hot hatches" like the Dodge Omni GLH ("Goes Like Hell" as named by Shelby) and 175-horsepower, 2,200-pound Omni and Charger GLHS ("Goes Like Hell … Somemore") and Shadow-based CSX demonstrated Shelby's penchant for beating the big guys for lower bucks. "Sport compacts" from import brands eventually matched the little Shelbys' performance –some 15 years later.
Shelby rekindled the spirit of the Mustang GT350H with a deal that put 1,000 CSX models into the Thrifty Car Rental fleet in 1988, though these CSX-T versions lacked the full Shelby performance package. The last Shelby Dodge, the 1989 CSX-VNT, was the first production car to use a variable-nozzle turbocharger and composite wheels.
The Elusive Shelby Series 1
Shelby acted as an advisor on Dodge's Cobra-inspired Viper, and then turned his attention to building his own all-new sports car from the chassis up. Called the Shelby Series 1, the curvy roadster went through development and production teething pains before 249 were finally made by the early 2000's.
The Series 1 was a cutting-edge supercar with aluminum chassis, F1-type suspension, carbon fiber and fiberglass body and a specially modified Oldsmobile Aurora V8. The price new was up to $195,000 for the supercharged version. Shelby's personal supercharged Series 1 brought $313,000 at a Bonhams auction of his personal collection in 2018. (Hagerty puts Series 1 average value at $103,000.)
Full Circle
Later, Shelby began building continuation Cobras, giving enthusiasts a shot at the "real thing" versus all the replicas and kits on the market. After reprising the "rent-a-racer" Mustang idea with Hertz in 2006, Shelby was back in a Ford deal, which continues today with the GT350 and GT500 duo from the automaker.
Shelby American, meanwhile, also offers a range of its own modified Mustangs, plus hotrodded Ford trucks and a GT40 Mk. II continuation that the company says more than two-thirds of the parts interchange with the original Le Mans-winning racers.
Another Movie?
In 1990, Shelby had received a heart transplant and the following year established the Carroll Shelby Foundation in 1991 to help children in similar life-threatening situations. The Foundation continues its work today.
And that was just the highlights, folks. Maybe Matt Damon would like to reprise his on-screen role as America's most celebrated race hero.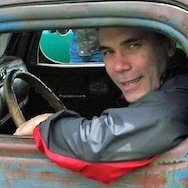 Written by Jim Koscs, Audamotive Communications