One of the marque's most elegant models
Maserati was on a tear in the '60s, building a roster of sports cars, GTs and the four-door Quattroporte. Its cars of that period were more like Aston Martins than Ferraris, with a greater focus on luxury grand touring than all-out performance.
The 1966-1972 Maserati Mexico exemplifies that approach and was the marque's most understated model of that period, with an upright design, large greenhouse and four-seat cabin. Just 485 were made, powered by Maserati's racecar-derived V8 engine. In addition, each was offered with a choice of five-speed manual or three-speed automatic transmissions.
RM Sotheby's Scottsdale auction is offering one of the earliest Mexicos made, the 13thbuilt, to be precise. The pre-sale estimate is $125,000-$175,000.
A V8 Made It Unique
By 1965, Maserati's Sebring, a successor to the six-cylinder 3500 GT and based on that model, was in need of replacement. Coachbuilder Vignale, which had designed built the Sebring, showed an elegant V8-powered 5000 GT coupe prototype at the 1965 Turin Motor Show as a potential successor.
The unnamed production version, based on a shortened Quattroporte chassis, debuted a year later with a 290-horsepower, 4.7-liter V8 that would later power the sensational Ghibli. Mexicos also offered a less powerful 4.2-liter V8.
Maseratis of that period used a less sophisticated chassis than Ferraris. This Chassis featured leaf-spring rear axles, but ride and handling were praised. The Maserati 4.7-liter V8 essentially matched the output of the Ferrari 330 GT's 4-liter V12. This made it quite appealing for such a grand tourer.
What's In A Name?
Maserati says the "Mexico" name was chosen because Mexican President Adolfo Lopez Mateos bought the Vignale prototype. However, they claim that it was pure coincidence John Surtees won the 1966 Mexican Grand Prix in a Cooper-Maserati T81.
In 1966, a Maserati Mexico cost $16,300 in the U.S. The RM Sotheby's car is a restored model in stunning Opalescent Blue metallic over cognac leather, and it's also got the desirable five-speed, plus factory air-conditioning and power windows.
If you'd like to add a little more elegance to your garage, this Maserati Mexico ought to do it.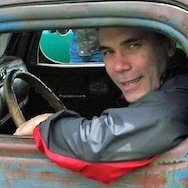 Written by Jim Koscs, Audamotive Communications