Sometimes, the bad guys lose.
If you've ever wondered what happened to the nine Lamborghini Veneno roadsters built, well, one just went to a new home after being sold at a Bonhams auction in Switzerland on September 28. The open Veneno was among 25 supercars and luxury models confiscated by Swiss authorities from Teodoro Nguema Obiang Mangue.
If  that name doesn't ring a bell in car collecting circles, it might be because, as vice president of Equatorial Guinea, Obiang Mangue's work plundering oil-rich West African nation's treasury was taking up so much of his time. According to a New York Times report, American law enforcement believes the country is one of the most corrupt in the world. He'd settled one case with the U.S. government for $30M. Swiss authorities charged Obiang Mangue in 2017 with money laundering and embezzling more than $100 million.
How does such a shady guy get such a plum job? You'd have to ask his dad, Teodoro Obiang Nguema Mbasogo. He's the president of Equatorial Guinea. According to the BBC, $23.5M raised from the auction will help fund social projects in that country.
A Real Son of a… Despot
Like other despots' sons (see Hussein, Uday, deceased), the younger Obiang developed an insatiable lust for the world's fastest, most luxurious and most expensive cars. Occasionally, pesky corruption investigations by European authorities would lead to some losses for Obiang Mangue. In 2013, French authorities seized and auctioned a couple of his Bugatti Veyrons, for example.
The RM Sotheby's auction was much larger, with something for everybody. Consider some of the results:
2014 Lamborghini Veneno Roadster: $8.35M
2015 Koenigsegg One: $4.6M
2003 Ferrari Enzo: $3.1M
2015 Ferrari LaFerrari: $2.2M
2010 Lamborghini Reventon Roadster: $1.97M
2015 Porsche 918 Spyder: $1.56M
2011 Aston Martin One-77 Roadster: $1.56M
2010 Bugatti Veyron: $1.32M
2014 McLaren P1: $1.27M
There were several U.S.-market cars, including a 2007 Bentley Azure convertible with just 843 miles, a Rolls-Royce Phantom convertible and a Lamborghini Murcielago LP670-4.
The crooked vice president seemed to prefer his cars rare and with low miles. A Koenigsegg One, one of six made, had 597 km. But the low-mile champ was the Enzo, with a claimed 21 km from new. Most likely, these cars were originally owned by little old ladies who only drove them to church on Sundays.
Standing out in that crowd, the Bugatti Veyron had 3,100 miles, which might make it one of the highest-mileage Veyrons around. Considering the previous owner's reputation, however, one might think the buyers would have verified the mileage figures.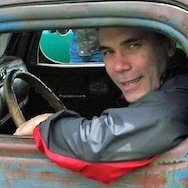 Written by Jim Koscs, Audamotive Communications
For Premier Financial Services