A Beautiful and Influential Piece of Ferrari History.
Think about this number for a moment: when the calendar flipped to 1950, Ferrari had built 100 cars total – one hundred. So if you told someone you owned a Ferrari, you would likely find yourself explaining what it was. "See, there's this Italian ex-race driver named Enzo…"
The need for explanations soon faded. In the fall of that year, displaying three cars bodied by Carrozzeria Touring at the Paris Auto Salon must have made the fledgling Italian marque look like a mass producer. By 1951, another coachbuilder, Alfredo Vignale, had joined the very exclusive group designing and building bodies for Ferrari. The firm's work, with much penned by a young designer named Giovanni Michelotti, would be instrumental in shaping the "Ferrari look" that would influence other Ferrari coachbuilders including Pininfarina.
Gooding & Company is offering one of Vignale's finest designs, a 1952 Ferrari 212 Inter, one of 80 constructed. Its pre-sale estimate is $1.7m-$2m.
The Columbo V12 Keeps Growing
Ferrari's 212 Inter was the evolution of the 165 and 195 series, with the 212 denoting the cylinder displacement, which was, oddly, 213cc and it yielded a 2562cc version of the Columbo V12. (Maybe somebody was superstitious about having a "13" in the name.)
Similar to the 1952 Ferrari 212 Inter offered by Gooding & Company, the 212 made 155 horsepower with a single Weber carburetor and 170 hp with three carbs. The 5-speed transmission must have seemed pretty exotic 67 years ago. Performance would have been sprightly by modern standards. The 161-inch Vignale coupe was smaller than your average modern subcompact and weighed about 2,200 pounds.
This particular example was built on a 2500mm wheelbase (98.4 inches) versus the 2600mm (102.3 inches) used for many 212s, and it also had the three-carburetor option, suggesting a lighter, more powerful car possibly ordered for racing. In any case, Ferrari seemed especially pleased with this particular version, photographing it for the 212 Inter's brochure. If you buy this car, you get the brochure, too.
Ferrari entered two 212 Inter Vignale coupes in the 1951 La Carrera Panamericana and took first and second places.
A Ferrari for a Ford?
With any ancient Ferrari, you're bound to get a pretty good story. Chassis 0221 EL's Certificato d'Origine dated August 6, 1952, was signed by Enzo Ferrari. Eugene Lanz of Rohrbach, Switzerland was the first buyer, and he registered it in August 1952. Inexplicably, he traded it to a Ford dealer a month later for a "limousine," according to a report by Ferrari historian Marcel Massini. Keep in mind that "limousine" would be the German term for "sedan." One could imagine the negotiations on that deal.
By 1963, the Vignale-bodied Ferrari was on its fourth owner and showing a lot of wear and tear. The Ferrari mystique was in full force then, and its cars were mechanically very superior to the 212 Inter.
That fourth owner put the Ferrari into storage with plans to restore. Well, before you know it, 40 years went by. Massini inspected and photographed it in 1990 for his book, "Ferrari by Vignale." He didn't see it again until 13 years later, accompanied by Ferrari restorer Paul Russell, when the car was largely disassembled.
Shortly afterward, a German buyer put the 212 Inter through a thorough restoration, preserving much of the car's original upholstery. Further, a plaque on the driveshaft hump displays a First Place award from the September 1952 Concorso Internazionale d'Eleganza in Stresa, Italy.
Looking for a New Home
Once restored, this historic Ferrari appeared at significant Concours events, including Concorso d'Eleganza Villa d'Este, yet it was also enjoyed on the road, participating in the 2006 Mille Miglia.
The 212 Inter went back to Switzerland in 2013 to a new owner, accompanied by a trove of documentation preserved over its entire life. The big file includes a factory-issued Certificate of Authenticity, Swiss registration records, and the Massini report, with photographs. A Ferrari Classiche Red Book confirms that this 212 Inter still has its original chassis, body, and numbers-matching drivetrain.
Perhaps the next additions to the file will come from you.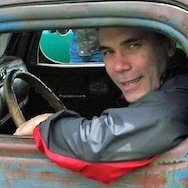 Written by Jim Koscs,  Audamotive Communications
For Premier Financial Services