Meet a million-dollar Camaro.
The $3.75M 1968 Ford Mustang fastback used in the Steve McQueen film "Bullitt" wasn't the only iconic American muscle car to set off auction bells in January. Barrett-Jackson's auction in Scottsdale sold a 1969 ZL1 Camaro for a whopping $1,094,500.
While a 2020 Camaro ZL1 is blindingly fast on a drag strip or road course, its original namesake was built as a drag racer that happened to be street-legal, if not easily street-drivable. Just 69 were made, and this one is among the best.
Can-Am Camaro
American carmakers, including even AMC, routinely built small runs of drag-race specials in the 1960s, usually needing at least 50 to qualify for certain NHRA classes. In 1969, Illinois Chevy dealer Fred Gibb convinced Chevy to build a run of Camaros equipped with the aluminum version of the 427 cu.-in. L88 engine that was part of a Corvette road-racing package. The aluminum 427 had been developed for Can-Am racing, where it was used by McLaren, Chaparral and others to great effect.
Using Chevrolet's Central Office Production Order (COPO) system, Gibb ordered 50 such Camaros to qualify for NHRA Super Stock racing but was able to sell only 13. The rest were offered to other Chevy dealers, who ordered 19 more.
Potent, Pricey Pony
The ZL1 was an all-out performance package that also included heavy-duty suspension and drivetrain components. In addition, it added $4,100 to a V8 Camaro, for a total of about $7,200. Unlike the street-machine Camaro SS-396, the ZL1 Camaro carried no special model designation or styling. A couple were optioned with the Rally Sport package with its hidden headlight grille, and some had added interior options. But the basic deal looked pretty much like a base Camaro, right down to the "dog dish" hubcaps.
The ZL1 was rated at 430 horsepower but was actually closer to 550, and that was before NHRA-allowed tuning. Drivers including Bill "Grumpy" Jenkins, Dick Harrell, and Lamar Walden helped build the ZL1 legend on the drag strip.
$100,000 Hunk of Aluminum
The Hugger Orange Camaro ZL1 sold by Barrett-Jackson was #59 of the 69 made. It had previously sold for $770k at Barrett-Jackson's 2018 Scottsdale auction. The $325k jump to the recent sale price is attributed to the owner locating and installing the car's original numbers-matching engine block. It had been in the hands of a retired General Motors warranty administrator since around 1970. The ZL1 owner reportedly bought the block for $100k. Not a bad return on investment.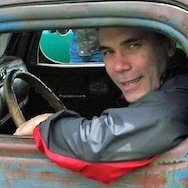 Written by Jim Koscs, Audamotive Communications