There's lots happening in Woking. Try to keep up.
Keeping up with a McLaren on the road or track is no easy feat. Keeping up with happenings at McLaren is not much easier. Every week seems to bring more news. That, of course, is good news for people who like supercars.
We'll skip the news about McLaren moving its corporate headquarters from New York to Coppel, TX. Do you really care that McLaren execs got tired of paying those outrageous bridge and tunnel tolls?
Here's a glance at three McLaren cars and our promise to take a closer look in 2020.
McLaren Elva

: She Goes!

Remember the days of complaining when a $50,000 Mercedes didn't include standard floor mats? So, what would you say about a $1.7 million McLaren that didn't have a roof or even a windshield? You could call it the modern incarnation of the Mercer Raceabout, an early 20thcentury New Jersey hoodlum built for road and race and that also lacked such frivolities.

McLaren's Elva joins the Ferrari Monza in a new realm of supercars that dispense with wind protection. The Elva is McLaren's lightest road car ever. It might also be its most beautiful. The name comes from the McLaren-Elva sports racers of the 1960s. Many enthusiasts also know the British Elva marque for its Courier roadster, which happened to be Mark Donohue's first racecar.
Inherit the Wind … and Bugs
As Ferrari does for its Monza, McLaren claims that special aerodynamic tricks keep the wind off windshield-less Elva's occupants. Specifically, McLaren says its Active Air Management System will put the driver and passenger in "a relative bubble of calm." (If this were a Tesla, Elon Musk would probably call it "Serenity Now!" mode or perhaps "Cone of Silence.")
The system channels air through the car's nose and out a vent in the hood. A deflector panel rises six inches to then steer the airstream over the cockpit. For wimps who wouldn't want to test how this magical system handles things like rocks, insects or birds, McLaren is offering an optional windshield. It will be standard in U.S. states that think windshields should be mandatory.
What's In A Name?
There's something else about the name "Elva." Company founder Frank G. Nichols got it from the French "elle va," which means "she goes." And brother, does she! With its 804-horsepower twin-turbo 4.0-liter V8, the McLaren Elva will go from 0-100 km/h (62 mph to us Yanks) in under three seconds and reach 200 km/h (124 mph) about 3.5 seconds later.
McLaren is building 399 Elvas. If you aren't lucky enough to get one and didn't get a Ferrari Monza either, cheer up. For just 15 grand, you can have the world's quickest accelerating production vehicle and have minimal wind protection: the Kawasaki Ninja ZX-14R will do the quarter-mile in 9.5 seconds at 153 mph, just edging out the La Ferrari, McLaren P1 and a few others.
McLaren's New GT

: So New, It Doesn't Get a Number

McLaren unveiled the new GT last spring, and the first customers began taking delivery of their cars this past October. This is not to be confused with the 570 GT, which is part of McLaren's "Sports" Series.

McLaren calls its new model the "New GT" to make a distinction, but "New" is thankfully not part of the car's official name. The marque describes the $213,195 numeral-less GT "the first true McLaren Grand Tourer in the McLaren product family."

So, then the 570 GT was not a true grand tourer? Please, try to follow the story. McLaren also says the new GT shares "Speedtail DNA, with beautiful lightweight body and outstanding ride comfort and cabin refinement."

The bottom line is that McLaren used its basic supercar building blocks and made a more comfortable model for everyday driving. The marque says the GT has more luggage space to carry things like skis and golf clubs. Golfing? Sure. Skiing? You're not seriously thinking of taking this car to the slopes.
McLaren 620R

: The "R" Is for Road and Racetrack

The McLaren 620R has "only" 610 horsepower, yet this is the car from Woking that you'll want if you plan to spend a lot using your private racetrack membership. The 620R is the stree-legal version of the 570S GT4 racecar. McLaren will build 350 of its new road/track machine, and a portion of those will available in the U.S.

The 620R is hyper-track-focused, so it's definitely not a GT like the "new GT." It's also not McLaren's most powerful car, but will still do 0-60 in under three seconds, 0-124 mph in 8.1 seconds and reach 200 mph.

The huge adjustable carbon-fiber rear wing, which adds mucho downforce, comes from the 570S GT4 racer but has a center brake light. Other carbon fiber body parts also come from the GT4, but with a few necessary adjustments to be street legal.

The 620R rides on two-way adjustable coil-over suspension instead of the air suspension used in McLaren road cars. Other track hardware includes Pirelli P Zero Trofeo R tires and carbon-ceramic brake rotors with forged aluminum calipers.

You can also ask McLaren Special Operations to add fun stuff like a McLaren Track Telemetry system. Floor mats, however, are not included.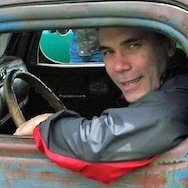 Written by Jim Koscs, Audamotive Communications