The 7,000-percent solution
Did you feel the ground rumbling in San Francisco on October 17? It wasn't an earthquake, but rather the reverberations of an epic car chase that first roared and screeched across movie screens on that day in 1968.
We're talking, of course, about "Bullitt," a cop drama known much less for its plot or acting than for its nearly 11-minute car chase and its two stars, Steve McQueen and a Highland Green 1968 Mustang fastback.
In January, you will be able to bid on one of the two Mustangs used in the movie, the "hero car" filmed for close-ups and some action scenes. Mecum is offering the car at its huge Kissimmee, FL auction. The car is a bit frayed around the edges, having been used as a daily driver from in the '70s and '80s and then hidden away for more than 30 years, but it runs like it's ready for a cameo in a "Bullitt" reboot.
$4m Mustang?
What the "Bullitt" Mustang will sell for is anyone's guess, but Dana Mecum, founder and president of Mecum Auctions, has said he thinks the could set a record for American muscle cars. That peak currently stands at $3.5m for a 1971 Plymouth Hemi 'Cuda convertible sold at Mecum's Seattle auction in 2014.
For perspective, Hagerty estimates average value for a 1968 Mustang fastback equipped like the "Bullitt" movie cars (390 cu.-in. V-8, 4-speed stick and GT package) at about $55,000.
I Left My Car in San Francisco
Whatever the "Bullitt" Mustang sells for, it's fairly certain that the buyer will not be driving it. There are plenty of other Mustangs for that. This car could make an incredible draw for a museum, for example.
What makes this Mustang so valuable is not simply that McQueen drove it in the film, or that the film was even really that good, but that the car and McQueen starred in what is considered one of the greatest car chases ever filmed. Its legacy includes, of course, more and more car chases in movies — "The French Connection", "The Seven-Ups" "Gone in 60 Seconds" and "Ronin" are among the more memorable — not to mention nearly every episode of "The Rockford Files."
The film's other legacies might include too-clever-by-half TV detective names like "Cannon" and "Magnum," plus more police dramas staged in San Francisco, including the "Dirty Harry" film franchise and, on the smaller screen, "The Streets of San Francisco" and "Nash Bridges."
The Increasing McQueen Premium
Let's jump back to that Steve McQueen provenance for a moment. If Mecum's prediction about the "Bullitt" Mustang should come to pass, it could mean a 7,000 percent "McQueen premium" over a similarly equipped '68 Mustang fastback.
In 2007, Christie's sold the late actor's 1963 Ferrari 250 GT Berlinetta Lusso for $2.3m. That was a stunner at the time, since Lussos were selling for about $500-600k and the McQueen car was expected to bring $800k-$1.2m. That was for a Ferrari in a chocolate brown color, which, perhaps in the Ferrari world, only a Lusso could pull off.
The "Bullitt" Mustang's value stems from its revered position at the intersection of pop culture and car culture. And, it's not just that McQueen drove the car, but that years later, he twice attempted to buy it from a subsequent owner, whose son is now bringing it to auction.
Boosting the "Bullitt" Mustang's myth was its "missing in action" status for so long, along with the wild story of its emergence in 2017.
Watching the Detectives
Hagerty broke the full story, but in a nutshell, the car was sold in California after the movie was finished, and then again to a New Jersey police detective in 1970. The stunt car, meanwhile, had disappeared into Mexico, reportedly too damaged to pass a California State inspection.
The detective, Frank Marranca, sold it to Robert Kiernan of Madison, New Jersey in 1974 for $6,000. That was a lot of money for a used Mustang in 1974, especially since muscle cars were selling cheaply in the wake of the 1973 oil embargo. Figure the "McQueen premium" might have been about $4,000 on the car at that time. Kiernan's wife, a school teacher in Madison, used the green Mustang as a daily driver until 1980, when the clutch quit at 65,000 miles and the car was put in the garage.
McQueen had previously tracked down Kiernan and sent letters offering to buy the car. Kiernan rebuffed McQueen. The actor had quite an attachment to the Mustang; it was he who had dictated cosmetic changes to the car to match his character's mood, including removal of all badges and backup lights, scuffing the paint and adding the Torq-Thrust wheels. McQueen died in 1980.
Kiernan kept the invaluable Mustang under wraps for the next four decades, even as the family moved to Ohio, Florida and then Tennessee.
Ford Sees (Highland) Green
Gauging strong interest in the movie car among Mustang buffs, Ford had issued a Bullitt Edition Mustang in 2001 and then a second for 2008-2009. In between, through the miracle of science, Ford featured McQueen in a "Field of Dreams" inspired TV spot for the 2005 Mustang GT.
Eager to begin promoting a third Bullitt Edition Mustang planned for 2019, Ford in 2017 launched a search campaign for the original "Bullitt" car. Before that effort could get traction, though, news broke that a body shop owner in Mexico found the movie's stunt car, and not long after, Kiernan's car surfaced in Tennessee.
Both cars were authenticated by noted Mustang historian Kevin Marti, but the stunt car's buyer had decided to replace all the car's damaged panels by the time the Kiernan story emerged. How that restoration work might affect the car's historic value is up for debate.
What Ford also didn't know then was that Sean Kiernan, Robert's son, had inherited the hero "Bullitt" car upon his father's passing in 2014. Three years later, he was ready to bring it out of hiding, and he consulted with Hagerty on doing so. And here we are.
Faster Than a Speeding Bullitt
One person eagerly waiting to see what happens with the "Bullitt" Mustang at auction is Michelle Yancey, Premier Financial Services Southwest Sales Manager. Yancey owns a 1967 Mustang fastback, which shares the same body as the '68 model. She picked it up in 2016 from Ferrari of Austin, which had taken it in partial trade.
"I flew down and drove it home," she says. "I'd always wanted a pre-1970s Mustang," says Yancey, who feels the early-1970s versions were less appealing. OK, she used the word "ugly." Her blue '67 fastback has cosmetic mods that are similar to what Mustang owners would have done back in the day, including Cragar S/S chrome wheels, which are from 1967, a Shelby-style hood and the GT-style rocker panel stripes.
Yancey's Mustang has a Ford 302 cu. in. V-8 "crate motor" that likely makes more net horsepower than the 390 in the "Bullitt" car. She drives the car often but wishes it were a 4-speed instead of an automatic, and says finding a good 4-speed car is the only thing that would make her sell it.
Well, the "Bullitt" car is a 4-speed …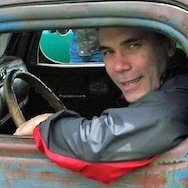 Written by Jim Koscs, Audamotive Communications
For Premier Financial Services