This is going to be big.
So, uh, did you hear that Porsche finally unveiled its first electric car, the Taycan, on September 4? Of course you did. You can be forgiven if you thought the Taycan had been introduced a long time ago, what with the way Porsche has been steadily doling out little bits of information and photos over the last couple of years.
Get ready for a steady diet of Taycan media coverage. You won't get tired of it because this newfangled Porsche is a really, really big deal. The world's preeminent sports car maker has gone electric, and in a uniquely Porsche way.
Remember when Porsche hinted at a Taycan model starting at around $80,000? A lower-spec model will be offered down the road. For now, the Taycan starts at $152,250 for the Turbo, and $186,350 for the Turbo S. If you had 30,000 orders in hand, you'd go where the money is, too.
Turbo? What?
There's so much to unpack with the Porsche Taycan ("Tie-kahn" – kind of rhymes with icon) Turbo and Turbo S, but we just have to start with the name. How is an electric car a turbo? Of course, it's not. This is Porsche's way of attaching some familiarity to such a radical departure from its gas-fueled machines.
And this is the last thing we'll say on the "Turbo" badge: Elon Musk has already tweeted some mockery toward Porsche for it, but this is from the guy who called Tesla's driver-assist features "Autopilot" with a "Mad Max" mode. Suddenly, "Turbo" seems pretty innocuous, eh?
At Least It's Turbo-Fast
The "Turbo" badging is a little silly, but you can't argue with 670 horsepower and 627 lb-ft of torque in the standard model and 751 horsepower with 774 lb-ft. of torque in the Taycan Turbo S. Those big output numbers occur only for 2.5-second bursts, dropping to 617 horsepower max for both models after that.
Both Taycan Turbo models have electric motors at both ends. The Turbo S allows extra power at the front motor, which is the primary powertrain difference between the two. Naturally, that plays out in the performance, which is stunning. Porsche says the Taycan Turbo will do 0-60 in 3.2 seconds and cover the quarter-mile in 11.1 seconds. The Turbo S will hit 60 in as little as 2.6 seconds and will fry the quarter-mile in 10.8 seconds. Top speed for both models is 162 mph.
Here's a bigger performance story: Porsche says that in testing, the Taycan Turbo S did 24 consecutive 0-200 km/h (124 mph) blasts, and performance dropped by just 0.8-second by the end. Try 24 back-to-back drag-strip runs in just about any internal combustion vehicle, and you'll see much larger performance drop-off as you keep repeating such sprints.
How Far Can You Go?
As with any vehicle, electric or gas, how far you can go in a Porsche Taycan on a charge of its 93.4-kWh battery pack will of course depend on how fast you're driving. Porsche has so far quoted range figures based on the World Harmonized Light Vehicles Test Procedure, claiming 237-280 miles for the Turbo and 241-256 for the Turbo S.
The numbers will likely drop under the EPA test procedure, and you can be sure that Musk will issue some snotty tweets about the 370-mile max range available in the Tesla Model S. Then again, this is just Taycan 1.0; Porsche will not stay with the same specs forever.
They Did It Their Way
Porsche definitely followed its own road to develop its first EV. In addition to using permanent-magnet synchronous AC motors, Porsche gave the Taycan model a two-speed transmission for the rear axle. All other EVs use a single-speed gear transfer. You get a first-gear start in the Sport and Sport Plus driving modes, or in Normal mode by really mashing the "gas" pedal. Behaving yourself while driving in Normal mode, the Taycan's rear motor runs in the higher ratio most of the time.
Shifting into a higher ratio at about 50 mph will help boost highway range. The Taycan can also run on the front motor alone. What's more, the body's slippery shape with an ultra-low 0.22 coefficient of drag (Cd) looks dynamite while also contributing to range.
The Taycan uses regenerative braking under most braking scenarios, but unlike other EVs, the Taycan coasts when you let off the "gas" without touching the brake pedal which Porsche says is more efficient than slamming on the regen for one-pedal driving. It also feels more like a regular car that way.
Fast Charging
The Taycan has 800-volt charging, but that depends on the charger you use. Plugging into one of Electrify America's new 350-kw, 800-volt DC Fast chargers will take a Taycan battery from 5 percent to 80 percent charge in under 23 minutes. Add another 13 minutes if it's one of the 400-volt units. Plugging in at home could stretch that out to 11 hours. But that's why you have a gas-fueled Porsche in the garage, too.
We'll revisit other elements of the Taycan. For now, why not put yourself on the list to get one?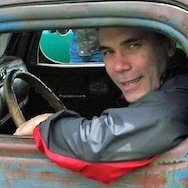 Written by Jim Koscs, Audamotive Communications
For Premier Financial Services