Double your pleasure with two.
Monterey's auctions this weekend will offer a plethora of classic Aston Martins, but most eyes will be on the DB5 converted to full "Goldfinger" spec back in 1965. It's expected to bring up to $6m at the RM Sotheby's sale. That's a heck of a lot, considering the car was never used in a movie. It was one of two such DB5s built to tour auto shows in promotion of the 1965 film, Thunderball.
At the same auction, a much less rare (99 built) but more modern Aston Martin comes with a name that's nearly as famous as Bond's, at least among marque aficionados. It's the 2003 DB AR1 Zagato. And, as a bonus, Bonhams is offering one of these gems, as well.
The DB AR1 Zagato offered by RM has just 100 miles from new and comes with a pre-sale estimate of $325k-$375k. The Bonhams car, with 1,075 miles, has an estimate of $250k-$300k. That one, by the way, has a hint of Bond: it's car #007 in the series of 99.
Two Great Marques
Ugo Zagato could have been a great name for a Bond movie villain. Instead, he was a coachbuilder who, starting around 1919, sought to bring lightweight airplane construction techniques to racecars. His son, Elio, was a racer and helped launch the Gran Turismo racing category in the 1940s. Zagato's lightweight/high-strength bodies were sought by Europe's great GT makers, including Alfa Romeo, Ferrari, Maserati and, eventually, Aston Martin.
The first collaboration with Aston Martin yielded the 1961 DB4 GT Zagato, with just 20 built, and each worth a small fortune today. Forty-two years later, after a meeting between Elio Zagato's son, Andrea, and Aston Martin CEO Ulrich Bez at the 2001 Pebble Beach Concours d' Elegance, the relationship was renewed.
Too bad for American customers that the resulting Aston Martin DB7 GT Zagato was unable to meet U.S. certification. So, none of the 99 built could be sold here. Then came better news: Aston Martin and Zagato would build a special model just for Americans. That became the DB AR1 Zagato, for "American Roadster."
When 435 Horsepower Was Killer
Where the DB7 GT Zagato used the 6.0-liter V12 with a six-speed manual transmission, the DB AR Zagato paired a 435-horsepower version with a 5-speed automatic. That was a 20-hp boost over the DB7 Vantage. Coupled with a revised final drive ratio and an active sport exhaust system, the car offered more mid-range punch. Do you get wistful for those simpler times when 435 horsepower, 0-60 mph in 4.9 seconds and a 185-mph top speed weren't the stats for your daily commuter SUV?
Ah, but no SUV, no matter how powerful, can turn heads like the Aston Martin DB AR1 Zagato. The design was similar to the stunning coupe, with the same large grille up front. The twin cowls behind the front seats, tapering into the trunk lid, were meant to echo the coupe's "double bubble" roof design.
There was one thing missing – intentionally, of course. The Aston Martin DB AR1 Zagato has no roof whatsoever. It came only with a simple rain cover to protect the interior when the car is parked, plus a matching set of custom umbrellas for the occupants to wait out any showers. There isn't even a flimsy temporary canvas top like that on the 2001 Ferrari 550 Barchetta.
There's no better word for the DB AR1's interior than sumptuous. And how's this for a shot of nostalgia – the 6-speaker Becker stereo has a cassette player and a 6-CD changer. Options included a navigation system and aluminum shift knob and dashboard switches.
Aston Martin debuted the DB AR1 at the Los Angeles Auto Show before shipping it to a gallery in New York. Not surprisingly, all 99 cars planned for production sold out quickly.  Why wouldn't they? Just look at it.
Built to be Driven … Really
The DB AR1 was a well thought-out machine, with big Brembo brakes featuring racing-style grooved discs, and four-piston calipers and the booster from a V12 Vanquish. There's a limited-slip differential, and unique multi-spoke 19-inch alloy wheels use a revised offset to give a wider track. Yep, Aston Martin thought some people might actually drive these cars.
No doubt, the two DB AR1s offered at auction in Monterey have been maintained properly to compensate for their lack of road miles. But if they still have their original Yokohama tires, those would be 16 years old and unsuitable for driving.
There is some bad news for California residents: the DB AR1 cannot be registered in there. Maybe Aston Martin can make up for that unfortunate situation by building a new open roadster just for that state. Call it the California Spy… oh, wait, somebody already did that.
Happy bidding!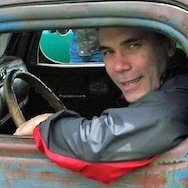 Written by Jim Koscs,  Audamotive Communications
For Premier Financial Services