Guest Writer Rich Taylor of Vintage Rallies shares with Premier readers the rally schedule for this fall. Rallies this year include rides through the picturesque New England and historic Texas.
All About the Rallies
For 2019, we switched our Mountain Mille rally in West Virginia from its usual spot in October to May, and switched New England 1000 from its usual spot in May to October 20-25. This way, rallyists whose schedule is only free in the Spring were able to experience West Virginia and Virginia, while Autumn rallyists can visit New England. We're also heading back to our beloved Texas Hill Country on November 17-22 for the 20thAnniversary of Texas 1000.
Fall in New England
Our Fall event in New England will be our 27thAnnual New England 1000. It is starting and ending with overnights at the charming Trapp Family Lodge outside Stowe, VT. The rally includes staying two nights at Laurance Rockefeller's luxurious Woodstock Inn. The last night will be at The Sagamore, a truly Grand Hotel on its own private island in Lake George.
We're driving through the Adirondacks, Green Mountains and White Mountains. The colorful foliage alone will be worth the trip! During the rally, we'll visit one major car museum, two fascinating machinery museums, three private car collections, and half-a-dozen classic covered bridges. We will also see dozens of picturesque lakes and some of the prettiest towns in New England. Best of all, virtually every scenic road on our 1000 mile route has been newly paved. Plus, there's usually no traffic.
Rallyists are joining us from all over the U.S. including California, Florida and Puerto Rico. They'll be driving everything from a 1950 Allard to a 2019 Porsche Speedster. The bulk of the group is Ferraris, Corvettes, Shelbys, Jaguars and Porsches from the Fifties and Sixties. Our own Mitch Katz, CEO of Premier Financial Services, will join us in his 1965 Alfa Romeo Giulia Spider Veloce.
Taking on Texas
In Texas, a group headed by vintage racers Michael & Stephanie Origer alongside Joel & Shannon Weinberger are planning to join us with five or six cars from the Chicago area. We're going to start and end at elegant Eilan Hotel & Spa outside San Antonio, stay two nights at Horseshoe Bay Resort on Lake LBJ and end with one night at Canyon of the Eagles on Lake Buchanan.
Our 1200 mile rally route stops new and old. Spots we've discovered. Favorite stops include Luckenbach, Fredericksburg, l'art et l'automobile and of course, routes 335/336/337, the Twisted Sisters. As we like to point out, North Carolina's Tail of the Dragon is 11 miles; the Twisted Sisters go on for 139 miles. Everything really is bigger and better in Texas!
Rally with Us
We still have a few entries available if you'd like to join us on either the New England 1000 or Texas 1000. Visit www.vintagerallies.com to learn more, download a brochure or fill out an online entry form. Please join us for a truly memorable week! Or even two weeks!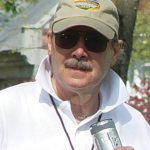 Written by Rich Taylor, Founder of Vintage Rallies
For Premier Financial Services
Photos by Taylor Constantine