Monterey's Amazing Collector Car Week
Ever since 1950, when the first editions of the Pebble Beach Concours d'Elegance and the Pebble Beach Road Races were held, the many automotive-related events on the Monterey Peninsula each August have made this gorgeous coastal area the global epicenter of today's car culture. This year, the August 12-18 Monterey Car Week boasts six collector-car auctions plus 16 car shows and gatherings, five classic rallies/tours, and of course, the Rolex Monterey Motorsports Reunion at Laguna Seca. Other highly-anticipated events at Monterey will include Automobilia Monterey, Pebble Beach RetroAuto and the Automotive Fine Arts Society Exhibition.
With 2019 marking the historic centennial year for Bentley, this year's Monterey event and auction docket will feature highlights from the rich history of this storied marque. Of course, Bentley will be one of the featured marques at the Pebble Beach Concours d'Elegance, along with special classes observing the centennial of the Zagato coachworks, Bugatti racing and touring cars, historic Hot Rod magazine cover cars, plus other featured marques and special classes. As always, the Pebble Beach Concours d'Elegance  will serve as the showcase for some of the world's most photogenic and anticipated concept cars and new-car debuts, bridging the classic and modern sides of the automotive spectrum.
Events in Sunny Monterey
Kicking off Monterey Car Week on Tuesday, August 12, the Carmel-By-The-Sea Concours on the Avenue will see Carmel's beautiful Ocean Avenue close to traffic and host more than 175 show cars arrayed over 18 city blocks. While a veritable flotilla of extremely valuable and beautiful classic cars will populate the Monterey area, popular niche-type events have also gained traction during Car Week, including the Little Car Show on Wednesday, August 14 in Pacific Grove and the fun, counterculture Concours d'LeMons scheduled for Saturday, August 17.
A new event for 2019 is the RADwood exhibition at the Legends of the Autobahn, which is sure to pique the interest of entirely new groups of buyers, collectors and enthusiasts that were influenced by the highly collectible sports and GT cars of the 1980s and 1990s. Displays of automobilia, luxury lifestyle brands, exotic supercars and even expert panel discussions round out the massive Monterey event roster.
As we have recommended to our clients and readers in years past, advance planning and judicious time management is more essential than ever before to getting the most from your Monterey experience. To assist, we have assembled an event schedule posted below for your reference.
Monterey Car Week 2019 Schedule of Events
MONDAY, AUGUST 12th, 2019
The Porsche Monterey Classic
6 p.m. – 8:30 p.m.
Porsche Monterey
For more information, please visit porschemonterey.com
Automobilia Monterey
10 a.m. – 6 p.m.
Embassy Suites Ballroom, Seaside
For more information, please visit automobiliamonterey.com
Worldwide Auctioneers Preview
1 p.m. – 6 p.m.
Pacific Grove Golf Links
For more information, please visit worldwideauctioneers.com
Automotive Fine Arts Society Exhibition
10 a.m. – 5:30 p.m.
Carmel-By-the-Sea
For more information, please visit autoartgallery.com
TUESDAY, AUGUST 13th, 2019
Carmel-By-the-Sea Concours on the Avenue
10 a.m. – 5 p.m.
Ocean Avenue, Downtown Carmel-by-the-Sea
For more information, please visit carmelconcours.com
Automobilia Monterey
10 a.m. – 6 p.m.
Embassy Suites Ballroom, Seaside
For more information, please visit automobiliamonterey.com
Classic Motorsports Magazine Kick-Off Car Show And Cruise-In
3 p.m. – 7 p.m.
Lighthouse Avenue, Pacific Grove
For more information, please visit classicmotorsports.com
Automotive Fine Arts Society Exhibition
10 a.m. – 3:30 p.m.
New Masters Gallery, Delores St., Carmel-by-the-Sea
For more information, please visit autoartgallery.com
WEDNESDAY, AUGUST 14th, 2019
Fuel Run Rally
All Day Event
For more information, please visit fuelrun.com
Automobilia Monterey
10 a.m. – 5 p.m.
Embassy Suites Ballroom, Seaside
For more information, please visit automobiliamonterey.com
Carmel Mission Classic
10 a.m. – 4 p.m.
Mission San Carlos Borromeo de Carmelo, Carmel
For more information, please visit carmelmissionclassic.org
The Little Car Show
12 p.m. – 5 p.m.
Downtown Pacific Grove
For more information, please visit www.marinamotorsports.com
Bonhams Quail Lodge Auction Preview
9 a.m. – 6 p.m.
The Quail Lodge & Golf Club
For more information, please visit bonhams.com
Worldwide Auctioneers Auction Preview
1 p.m. – 6 p.m.
Pacific Grove Golf Links
For more information, please visit worldwideauctioneers.com
Gooding & Company Pebble Beach Auction Preview
10 a.m. – 6 p.m.
The Pebble Beach Equestrian Center
For more information, please visit goodingco.com
RM Sotheby's Monterey Auction Preview
10 a.m. – 8 p.m.
Monterey Conference Center
For more information, visit rmsothebys.com
Russo and Steele Monterey Auction Preview
9 a.m. – 5 p.m.
Downtown Monterey, by Fisherman's Wharf
Monterey Conference Center
For more information, visit russoandsteele.com
Prancing Ponies Car Show
11 a.m. – 3:30 p.m.
Carmel-by-the-Sea
For more information, please visit prancingponies.org
Automotive Fine Arts Society Exhibition
10 a.m. – 3:30 p.m.
New Masters Gallery, Delores St., Carmel-by-the-Sea
For more information, please visit autoartgallery.com
Gordon McCall's Motorworks Revival 2019
5 p.m. – 10 p.m.
Monterey Jet Center
For more information, please visit mccallevents.com
THURSDAY, AUGUST 15th, 2019
Pebble Beach Tour d'Elegance
7 a.m. – 3 p.m.
From Pebble Beach to Ocean Avenue and back
For more information, please visit pebblebeachconcours.net
Rolex Monterey Motorsports Reunion
7 a.m. – 5 p.m.
WeatherTech Raceway Laguna Seca
For more information, please visit weathertechraceway.com
PebbleBeach RetroAuto
9:30 a.m. – 5:30 p.m.
The Inn at Spanish Bay, Pebble Beach
For more information, please visit pebblebeachconcours.net
Bonhams Quail Lodge Auction
10 a.m. – midnight
The Quail Lodge & Golf Club
For more information, please visit bonhams.com
Worldwide Auctioneers Pacific Grove Auction
9 a.m. – 3 p.m. Preview
5 p.m. – 11 p.m. Auction
Pacific Grove Golf Links
For more information, please visit worldwideauctioneers.com
Gooding & Company Pebble Beach Auction Preview
9 a.m. – 6 p.m.
The Pebble Beach Equestrian Center
For more information, please visit goodingco.com
Mecum Auctions Monterey Auction
8 a.m. – 10 a.m. Preview
10 a.m. – TBD Auction
Hyatt Regency Monterey Hotel and Spa – Del Monte Golf Course
For more information, please visit Mecum.com
2019 Italian Stampede
7 a.m. – 5 p.m. (Rally)
7:30 – 11 p.m. (Party)
Los Angeles to Monterey
For more information, please visit italianstampede.com
RM Sotheby's Monterey Auction
10 a.m. – 8 p.m. Preview
5:30 p.m. – midnight Auction
Monterey Conference Center, Portola Plaza
For more information, visit rmsothebys.com
Russo and Steele Monterey Auction
9 a.m. – 3 p.m. Preview
5 p.m. – 10 p.m. Auction
Downtown Monterey, by Fisherman's Wharf
Monterey Conference Center
For more information, visit russoandsteele.com
Automotive Fine Arts Society Exhibition
10 a.m. – 5:30 p.m.
New Masters Gallery, Delores St., Carmel-by-the-Sea
For more information, please visit autoartgallery.com
FRIDAY, AUGUST 16th, 2019
The Werks Reunion, a Porsche Gathering
7 a.m. – 4 p.m.
The Corral de Tierra Country Club in Salinas
For more information, please visit werksreunion.com
Rolex Monterey Motorsports Reunion
7 a.m. – 5 p.m.
WeatherTech Raceway Laguna Seca
For more information, please visit weathertechraceway.com
Legends of the Autobahn
9 a.m. – 3 p.m.
The Nicklaus Club in Monterey
For more information, visit legendsoftheautobahn.org
Bonhams Quail Lodge Auction
Starting at 10 a.m.
The Quail Lodge & Golf Club
For more information, please visit bonhams.com
The Quail, a Motorsports Gathering
10 a.m. – 4 p.m.
The Quail Lodge & Golf Club
For more information, please visit signatureevents.com
Mecum Auction
8 a.m. – 10 a.m. Preview
10 a.m. – 5 p.m. Auction
Hyatt Regency Monterey Hotel and Spa
Del Monte Golf Course
For more information, please visit mecum.com
RM Sotheby's Monterey Auction
10 a.m. – 4 p.m. Preview
5:30 p.m. – midnight Auction
Monterey Conference Center, Portola Plaza
For more information, visit rmsothebys.com
Pacific Grove Concours Auto Rally and Celebration
12 p.m. – 8 p.m.
Lighthouse Avenue in Pacific Grove
For more information, please visit pgrotary.org
Gooding & Company Pebble Beach Auction
9 a.m. – 5 p.m. Preview
5 p.m. – 9 p.m. Auction
The Pebble Beach Equestrian Center
For more information, please visit goodingco.com
Russo and Steele Monterey Auction
9 a.m. – 4 p.m. Preview
5:30 p.m. – 10 p.m. Auction
Downtown Monterey, by Fisherman's Wharf
Monterey Conference Center
For more information, visit russoandsteele.com
Automotive Fine Arts Society Exhibition
10 a.m. – 5:30 p.m.
New Masters Gallery, Delores St., Carmel-by-the-Sea
For more information, please visit autoartgallery.com
SATURDAY, AUGUST 17th, 2019
Rolex Monterey Motorsports Reunion
7 a.m. – 5 p.m.
WeatherTech Raceway Laguna Seca
For more information, please visit weathertechraceway.com
Concorso Italiano
9:30 a.m. – 5 p.m.
Bayonet Golf Course, Seaside
For more information, please visit concorso.com
PebbleBeach RetroAuto
9:30 a.m. – 5:30 p.m.
The Inn at Spanish Bay, Pebble Beach
For more information, please visit pebblebeachconcours.net
Concours d'LeMons
8 a.m. – 1:30 p.m.
Seaside City Hall
For more information, please visit concoursdlemons.com
Mecum Auction
8 a.m. – 10 a.m. Preview
10 a.m. – 5 p.m. Auction
Hyatt Regency Monterey Hotel and Spa
Del Monte Golf Course
For more information, please visit mecum.com
Gooding & Company Pebble Beach Auction
9 a.m. – 11 a.m. Preview
11 a.m. – 5 p.m. Auction
The Pebble Beach Equestrian Center
For more information, please visit goodingco.com
Russo and Steele Monterey Auction
9 a.m. – 3 p.m. Preview
5:00 p.m. – 10 p.m. Auction
Downtown Monterey, by Fisherman's Wharf
Monterey Conference Center
For more information, visit russoandsteele.com
Automotive Fine Arts Society Exhibition
10 a.m. – 4 p.m.
New Masters Gallery, Delores St., Carmel-by-the-Sea
For more information, please visit autoartgallery.com
Automotive Fine Arts Society Exhibition
AFAS Reception
4 p.m. – 6:30 p.m.
New Masters Gallery, Delores St., Carmel-by-the-Sea
For more information, please visit autoartgallery.com
Exotics on Broadway (formerly Exotics on Cannery Row)
3 p.m. – 8 p.m.
Seaside
For more information, please visit exoticsonbroadway.com
The Barnyard Ferrari Social
4 p.m. – 7 p.m.
The Barnyard Shopping Village, Carmel
For more information, please visit thebarnyard.com
RM Sotheby's Monterey Auction
10 a.m. – 4 p.m. Preview
5:30 p.m. – midnight Auction
Monterey Conference Center, Portola Plaza
For more information, visit rmsothebys.com
SUNDAY, AUGUST 26th, 2019
Pebble Beach Concours d'Elegance
10:30 a.m. – 5 p.m.
The 18th Fairway of the Pebble Beach Golf Links
For more information, please visit pebblebeachconcours.net
Rolex Monterey Motorsports Reunion
7 a.m. – 4:30 p.m.
WeatherTech Raceway Laguna Seca
For more information, please visit weathertechraceway.com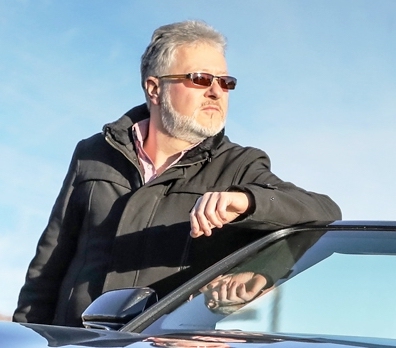 Written by David Neyens, Classic Auction News
For Premier Financial Services