Heavy Metal Thunder
"Porsche 911 Restored by Singer Vehicle Design" might be the world's longest nameplate. That's the official and legal name for what are arguably among the most in-demand versions of older Porsche 911s right now.
Whatever you do, don't call the Singer restoration a "resto-mod." It is a fully restored and modified 964-series Porsche 911, but the artistry, imagination and craftsmanship involved put these 911s in a whole other category. Each is restored and customized to the customer's wishes.
The wishes don't come cheaply. Singer's restoration services start at $475,000 and generally average more than $600,000. The customer also supplies the Porsche 964. Company spokesperson Deb Pollack confirms that Jerry Seinfeld doesn't own one, but that there is a waiting list.
"We delivered our 100th restoration last June and since then have delivered about 25 more. We also have another 100+ on order," she tells Premier Financial Services.
Legend of a Mind
For many 911 enthusiasts, the most iconic of the lot, design-wise, are the early chrome-bumper cars. Driving one offers pure sports car pleasure, but with quirks, too. You could upgrade the powertrain and chassis to your heart's delight, but results will vary.
Rob Dickinson had what many think is a better idea. Singer restores 964-series 911 models, improving every aspect while also giving them styling inspired by the earlier cars. That's the basic idea, but it barely scratches the carbon fiber surface.
The 964 was a major modernization of the 911 Carrera, with a new engine, suspension, brakes and transmissions. Much of the original body shell remained. The torsion-bar suspension was replaced with coil-over-shock units, and this series debuted the first 911 with available all-wheel drive. Car & Driver called the 964 "faster, gutsier, more stable, and more satisfying."
To Dickinson, though, it's a blank canvas … or a blank music sheet.
Not Just a Singer in a Rock and Roll Band
Take the name, "Singer." That's what Dickinson was before he started restoring his custom Porsches. He fronted the 1990s British rock band, Catherine Wheel, named for one of the more horrific medieval torture devices. His cousin, Bruce Dickinson, is the singer for metal band Iron Maiden, also taking its name from a medieval torture device. Family reunions must be a hoot.
The name is also a tribute to Porsche engineer Norbert Singer, renowned for turning the then 15-year-old 911 into the 935 racer, which won Le Mans and many other victories.
After Catherine Wheel disbanded in 2000, Dickinson moved to California, where he restored and drove a 1969 911. Such was the quality of the car that others asked if he'd restore their 911s. Dickinson, however, wanted to go beyond what Porsche hath wrought, so he "re-imagined" what a 911 could be.
Speed King
The customer supplies Singer Vehicle Design with a 1989-1994 Porsche 911 Coupe or Targa and then specifies the level of modification and personalization. Choices seem limited only by the digits one can write on a check.
The car is disassembled, and the unibody is media-blasted to bare metal and treated for rust prevention. Additional welding and fabrication further strengthens the structure in prep for a substantial performance and handling boost.
Only the steel doors go back on, to keep the original side-impact protection. Most of the rest is replaced with carbon fiber parts, including the bumpers. The result is a car weighing about 2,700 pounds, compared to the original 3,100. The Aria Group in Irvine, which is planning its own mid-engine carbon-fiber supercar, the FXE, is a supplier of pant and bodywork.
Your Wildest Dreams
Customers can choose from 300- and 350-hp 3.8-liter engine builds and a 390-hp 4-liter supplied by Ed Pink Racing Engines. With the 4-liter, the car can do 0-60 in 3.3 seconds and 0-100 mph in 8.2 seconds. The sound is everything you'd imagine a heavy-metal rendition of the air-cooled Porsche flat six to be.
Transmission choices include 5- and 6-speed G50 units, and an option for all-wheel drive, which Singer recommends with the 390-horse engine. This system is not from the 964 but instead uses the lighter viscous-coupling AWD from the 993-series 911.
The custom-built wheels look like Fuchs wheels Porsche used in the 1960s but are much larger: 9 x17-inch in front and 11 x 17-inch in the back. Suspension is tweaked and tuned with Öhlins adjustable shocks and reconfigured geometry. Brakes use the steel rotors from a 993 or Singer's custom carbon ceramic discs, with Brembo four-piston calipers in either case.
The custom interior recalls the 1960s 911 models, again with a wide range of customization choices. Finally, the customer can choose from a palette of 70+ exterior colors, many of which bring back the old days, too.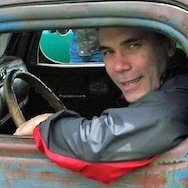 Written by Jim Koscs, Audamotive Communications
For Premier Financial Services