Celebrating A Classic
At last count, the Porsche North America website showed 27 members of the 911 family – twenty-seven! On May 7, that number will jump to 28 with the 2019 911 Speedster, which Porsche debuted at the New York International Auto Show in mid-April.
Porsche first showed the 2019 Speedster as a concept in June 2018. Then came the unsurprising announcement last fall that the Speedster was going into production. Porsche said then that it would make 1,948 cars for global consumption, a nod to the marque's birth year.
That's not a small number of cars. For its 2011 911 Speedster, Porsche made just 356 cars – a nod to, well, do we have to tell you? There's certainly more profit in nodding to birth years than historic model designations, though, especially with the $275,750 is charging for the 2019 Speedster.
The "Speed" in Speedster
Like the first Porsche 356 Speedster 65 years ago, the 2019 rendition gets its sleeker look from a cut-down windshield and side windows. There's no back seat, as if you could ever call the 911's back seat a "seat." Behind the driver and passenger seats are a pair of what Porsche calls "streamliners." You'll probably just call them humps. Overall, it's a super-slick look that non-Speedster owners will envy.
Last fall, Porsche promised "more than 500 horsepower" for the Speedster, using the naturally aspirated 4.0 liter flat-six engine from the 911 GT3. It's more all right – a whopping 2 hp over than the GT3, for 502 hp, with 346 lb-ft of torque.The engine can spin to 9,000 rpm, and Porsche says the rev-happy nature is "accompanied by a highly emotional, racing inspired soundtrack." In other words, it screams.
If you're looking for the absolute ultimate 0-60 time from a 911, however, the 3.8 seconds Porsche claims for the Speedster – same as for a GT3 with a 6-speed manual transmission – is not your car. Chalk that up to a gift to the purists: The 2019 911 Speedster comes exclusively with the stick shift.
The PDK dual-clutch automatic, which drops the GT3's 0-60 down to 3.2 seconds, is not available for the Speedster, though top track speed is still a heady 192 mph. Rear-axle steering, dynamic engine mounts and 20-inch center lock wheels are with Ultra High Performance tires ensure the Speedster lives up to it name in the curves.
The Speedster Diet
Other 911s have 7-speed manuals, but, as with the GT3, Porsche dropped a gear for the Speedster, saving 9 pounds. That's just one element of a wide-ranging weight-reduction plan. Standard Porsche Ceramic Composite Brakes weigh about 50 percent less than cast iron rotors. There's a manual top, but with a power latch mechanism. More weight savings comes from the carbon fiber front hood, front fenders and rear deck lid, as well as polyurethane front and rear fascias.
Deleting air conditioning cuts more mass, getting down to a claimed 3,230 pounds, compared to 3,307 for the 911 Carrera Cabriolet. The A/C remains a no-cost option, and choosing it will bring weight closer to 3,300. If you value your relationships, you should choose the A/C.
You Can Still Order Options
The 2019 Speedster cabin strikes the right balance of function, luxury and design heritage. Inside the 2019 911 Speedster, lightweight door panels with storage nets and door pulls cut a few more pounds but are probably more critical to the nostalgia vibe.
While $275,750 is a healthy chunk of change, you can't expect everything for the price. The red interior stitching you see in photos comes as an option that includes red door pulls, a red marker at the 12 o'clock position on the steering wheel and the "Speedster" name in the headrests. The package also includes doorsill guards with "Speedster" rendered in carbon fiber.
Steeped in Heritage
If you really want to get steeped in Porsche history, order your 2019 Speedster with the Heritage Design Package. It comes in one color, GT Silver Metallic, accented by the front bumper and front fender "arrows" painted in white. Porsche says the white "gumball" styled graphics on the front hood and the doors were inspired by historic Porsche 356 racecars, but pretty much all old racecars had them. You can choose your own "start number" or you can order a car without them.
The Heritage Design Package comes exclusively with a two-tone black and Cognac leather interior, with cabin trim in the same GT Metallic Silver color as the exterior. A gold lettered "Porsche 70th" plaque between the seatbacks is matched by gold Speedster badges on the "streamliners." (Whoa, a "gold package" on a Porsche?) The "Porsche" script along the car's flanks recalls 1970s models.
Porsche did not reveal the price of the Heritage Design Package at the New York Auto Show, but we'd bet it's more than what an entire 1955 Speedster cost new.
Place Your Order … Now!
Although U.S. Speedster allocation wasn't revealed in New York, ordering opens on May 7. Deliveries expected by the end of the year, just in time for the holidays. If you should miss out, you could console yourself with a matching pair of 2019 911 Carrera S Cabriolets and have some change leftover for gold badges.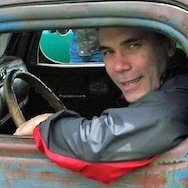 Written by Jim Koscs, Audamotive Communications
For Premier Financial Services