Chaos and Control Among The Elite
The world of supercars and hypercars never fails to surprise. For those who remember the antics of the 1960s' top-secret Control agent Maxwell Smart under pressure, some of the latest news could be framed within question: "Would you believe a brand new Lamborghini sedan? No? Then would you believe a $55,000 sports car from the McLaren F1 designer? No, again, eh? Well, then how about a miniature electric Bugatti for the paperboy?"
"The paperboy, Mr. Smart?"
"It's a very expensive newspaper."
The Black Car Returns
If there's a ceiling for what someone will pay for a new automobile, don't bet against Bugatti finding it. A customer just bought a one-off model called Bugatti La Voiture Noire for about $19m. The actual price was about $12.5m, or a bit more than double the price of last year's Divo. But then there were the taxes.
Bugatti designed the single La Voiture Noire to celebrate the marque's 110-year anniversary. Inspiration, as much as could be taken for a modern car, came from the original "la Voiture Noire," ("the black car.") It was one of the four Type 57SCs made and driven by Jean Bugatti himself, but missing since WWII.
The bespoke bodywork, complete with a "spine" as on the 57SC, covers a Chiron, meaning the same 1,479 horsepower, quad-turbo W16 engine. This one-off Bugatti does, however, have six huge tailpipes.
Baby Bugatti Buggy
To spread the birthday cheer more widely, Bugatti is also offering a run of 500 drivable, electric-powered Type 35 replicas for $33,000 each. The small price gets a small Bugatti, a ¾-scale recreation of the marque's seminal race/road car that tore up the Grand Prix record book in the 1920s. It's called the Baby II, because there was an original Baby.
In 1926, Ettore Bugatti built a half-scale version of the Type 35 for his son, Jean. Smitten by the cute Bug, customers asked for replicas, and the Bugatti Baby was born – 500 of them, in fact. The real Type 35 was barely 145 inches long, so the first Baby was indeed fit only for a child. At about 109 inches long, the Baby II is longer than a Smart car and can be driven by adults.
Baby McLaren?
Not quite. To be clear, McLaren Automotive is not teasing the idea of a "baby supercar." But Gordon Murray, who created the original F1, has been going non-stop since designing that seminal model. Murray suggests his T43 iStream Superlight (for his 43rd design), which uses high-tech materials, could sell for about $53,000 and be offered in the U.S. market. The mid-engine T43 would be a purist's sports car in the vein of the Alfa Romeo 4C, Lotus Elise and the we-can't-get-it-in-America Alpine A110.
The T43 iStream Superlight lives up to its name with a proposed 1,900-pound weight. Power will come from Ford's turbocharged inline 3-cylinder "Dragon" engine in the Fiesta ST, but making about 215 horsepower vs. that hot hatch's 198 hp. (The BMW i3, remember, uses a turbo triple.)
The low vehicle weight is a product of the construction, which would use carbon fiber honeycomb body panels over an aluminum frame. The T43 is 142 inches long on a 98.4-inch wheelbase, and stands 49 inches tall. Murray explains that it would be easy to get into and comfortable to drive, and would include today's latest user tech, like navigation. The bad news: there's no date for production.
Murray says the package could be upsized to accommodate an honest-to-goodness V12, which he feels a true successor to the F1 should have. Again, no production date has been mentioned.
Maserati Going Electric … Soon
There's good news for Maserati buffs who might fear the marque's push into sedans and SUVs might obscure its sports car side. Maserati CEO Harald Wester confirmed that the Alfieri, a luscious GT first teased as a concept in 2014, would be shown at the Geneva Auto Show in 2020.
Maserati confirmed in a press release that a thorough upgrade to its historic plant in Modena in the fall would produce "a characteristically Maserati sports car." The first pre-production models are expected in 2020.
At the same time, Wester also confirmed that all future Maserati models would have some form of electrification, including mild hybrid, plug-in hybrid and full EV. Put all of that together, and you should expect the Alfieri to offer those choices, so at least one will sound like a Maserati.
A More-Door Lamborghini?
After all of that, would you believe Lamborghini is going to make a sedan? Well, maybe not exactly a sedan, but Lamborghini CEO Stefano Domenicali, interviewed by Britain's Autocar magazine, confirmed development work on a "2+2 grand tourer."
No details were offered, but Domenicali said it could come in 2025, when Lambo sales are projected to reach 8,000. As for what the car might look like would be only a guess, but Lamborghini did nearly build a four-door based on the stunning Estoque concept shown in 2008.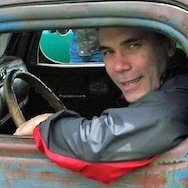 Written by Jim Koscs, Audamotive Communications
For Premier Financial Services