Was It A Case of Saintly Intervention?
This past August at the Bonhams Quail Lodge auction in Monterey, a beautiful blue 1972 Volvo 1800 ES with 56,000 original miles sold for $92,400, including buyer's premium. Yeah, wow.
That $92,400 might be a magic number for the car, because four years prior at the Bonhams Greenwich Concours d' Elegance sale, a 1973 1800 ES brought exactly the same amount, including the premium. That one was red and had just 13,000 miles from new.
More than 90 grand for a car that Hagerty values at under $47,000 for a #1 concours example and just under $17,000 for an average is an eye-opening number, on par with what Porsche 914s have been doing lately.
Simon, the Patron Saint of Volvos
Was this a case of "Saintly" intervention? The Volvo P1800 debuted as a coupe in 1962 and became famous when driven by the suave Simon Templar (Sir Roger Moore) in the hit TV show, "The Saint."
Volvo built its jaunty sports coupe on the mechanicals of the staid but sturdy 122 sedan. The design had long been attributed to Pietro Frua, one of several Italian design houses to submit proposals. There certainly was something Italianate about it. One advertising headline read: "It's sort of a souped-down Ferrari."
The Truth Comes Out
For 1972, Volvo redesigned the coupe into the 1800 ES sport wagon. Its 2.0-liter fuel-injected engine offered 125 horsepower, prompting Volvo's advertising double entendre, "The sports car that really hauls."
Eight years ago, Volvo fessed up and admitted what it had known all along: the original P1800's designer was Pelle Petterson, a young Swede freshly graduated from Pratt Institute in New York and interning at Frua.
Petterson went on to become an Olympic and World Champion sailor, an Americas Cup skipper and a renowned yacht designer. If you have one of Petterson's boats, why not add his car to go with it?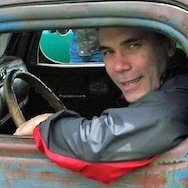 Written by Jim Koscs, Audamotive Communications
For Premier Financial Services