Porsche Revives A Legend (Again)
Porsche is teasing again. First shown as a concept in June, the 911 Speedster is now scheduled for production, and if you're not already on the list to get one of the 1,948 being built for global consumption, well, there's always the next-generation 911 coming down the pike.
But before that car arrives, Porsche continues to rev up anticipation with a second Speedster Concept being shown at the Paris Auto Show this week. Why? Because, Porsche.
The "Speedster" name of course was first used on the bare bones 356 in the mid-1950s as a lower-priced entry model. Call it one of the greatest accidental legends in the automotive realm.
Porsche has reprised the Speedster name on limited-production 911 models before. The 2019 model breaks a couple of Porsche rules. First, the engine will be the naturally aspirated 4.0-liter flat six from the GT3 making "more than 500 horsepower." So, it goes against the trend of turbocharging that's swept through the entire Porsche range.
Going Retro, Porsche Style
Next, the Speedster will come with a 6-speed manual transmission standard, though the PDK automatic would make it quicker. As for the 1,948 production number, that is of course for the first year for the 356. But the Speedster came along in 1954, so why not build another six cars? Because, Porsche.
The 2019 911 Speedster is based on the 911 Carrera 4 cabriolet, but with just two seats, a lower windshield and rear fairings that recall 1950s sports racers … or the 1961 Ford Thunderbird Sports Roadster. There is no top. Fun retro touches include circular Talbot side mirrors, and a fuel filler cap on the front hood.
If you get to order a 2019 911 Speedster, you'll be able to dress it up with various Heritage Design packages and a long list of Porsche Exclusive accessories. Price has not been announced, but suffice it to say, this is not an "entry" model.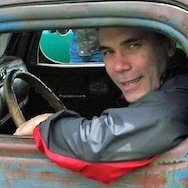 Written by Jim Koscs, Audamotive Communications
For Premier Financial Services