The Bossiest Mustang
The 1969-1970 Ford Mustang Boss 429 looms large in classic muscle car history, not as the most powerful or quickest, but as one of the most audacious and perhaps misunderstood.
Ford introduced two Boss Mustangs in 1969: the Boss 302 was a homologation special for SCCA Trans Am road racing and a direct rival to the Camaro Z/28. The Boss 429 was an entirely different animal, a monster powered by a tamed-for-the-street NASCAR big block V8 and meant to be a rival to the fastest Chevy Camaros.
At its Pebble Beach auction this month, Gooding & Company is offering a restored 1970 Boss 429 with 22,000 original miles, with a pre-sale estimate of $300-$400k.
Mecum's Monterey auction is offering two Boss 429s, one a 1970 rotisserie restoration and the other a modified 1969. The 1970, in stunning Calypso Coral (red-orange, basically), has a pre-sale estimate of $300-$350k, which is in line with Hagerty's valuation for a #2 condition car.
The modified car has a far lower estimate, $200-$225k, but it might be the more fun to drive of the two.
Meet the New Boss
It seems to be a universal experience that, when a new boss arrives, things change, sometimes in big ways. That's how the Boss 302 and Boss 429 came to be.
In February 1968, Semon "Bunkie" Knudsen left a long career with General Motors to become president of Ford. This did not sit well with insiders, especially Lee Iacocca. But Knudsen had a solid track record in brand building, which was Henry Ford II's reason for hiring him. Knudsen had been instrumental in revitalizing Pontiac in the late 1950s with more distinctive styling and a push into performance and racing.
At Ford, Knudsen set his sights on the Mustang. What about the Shelbys? By 1968, those had become in-house models aimed at customers looking for all-around luxury GTs, not manic muscle cars. Also, the 428 Cobra Jet engine in the Shelby GT500 KR was an option for any Mustang.
NASCAR V8
Meanwhile, in NASCAR, Ford was replacing its legendary 427 cu. in. V8, the 428 Cobra Jet's wilder cousin and the engine that allowed Ford to beat Ferrari at Le Mans. To qualify it's new 429 for NASCAR, Ford needed to put it into at least 500 production cars. But those didn't have to be the models it actually raced in NASCAR, the Ford Torino and Mercury Cyclone. Knudsen chose the Mustang.
Ford's new NASCAR weapon had shallow, semi-hemispherical combustion chambers, leading Ford to name it "Blue Crescent." That's not a suitable name for a muscle car, of course, and Chrysler had trademarked "Hemi." In Ford lore, the Boss 302 and Boss 429 names reportedly came from staffers referring to working on Knudsen's Mustang projects.
The Boss 429 engine had a special high-strength block with forged internals. Those "Blue Crescent" cylinder heads made it too wide to install in a Mustang without considerable under-hood modifications, so Ford farmed out final assembly of engine-less Mustangs to its own specialty and race builder, Kar Kraft.
Full Performance Package
A Boss 429, built only as a Mustang Sports Roof (fastback), started at nearly $5,000 – pricey for the day. A 4-speed manual transmission, Traction-Lok differential with 3:91:1 ratio, front disc brakes, trunk-mounted battery, "Competition Suspension," front chin spoiler and 15-inch Magnum 500 wheels were all standard.
Styling for the Boss 429 was more reserved than for the boy-racer Mustang Mach 1 or flashy Shelbys. The big hood scoop was functional, feeding air to the carburetor. A small "KK NASCAR 429" serial number on the driver's doorjamb was an ultra-cool touch.
Ford built 1,350 Boss 429s over the two model years. (The 1,357 and 1,358 numbers sometimes cited includes various prototypes. A genuine Boss 429 Mustang has a "Z" engine code in its VIN.
The Boss and the King
With the Boss 429, Ford dominated the 1969 NASCAR Grand National season. Luring Richard "The King" Petty away from Plymouth helped. Petty won 10 of the 54 races, and fellow Ford driver David Pearson took 11 victories.
High expectations for the Boss 429 Mustang's street performance fell somewhat short, however, a consequence of taming a race engine for drivability and a warranty. The Boss 429's huge ports and valves could flow far more copious amounts of fuel and air than the single four-barrel carburetor fed them. (Chrysler's Hemi used dual four-barrel carbs.) The camshaft, initially a hydraulic unit but switched to solid lifters for 1970, was fairly conservative in its specs, too.
As a result, the Boss 429's high-13 to low-14 second quarter-mile times were quick, but could be matched by Mustangs equipped with the much less expensive 428 CJ. Even so, collectors have long revered the Boss 429 and its undeniably critical NASCAR connection.
As for the boss himself, Ford fired Knudsen in September 1969. Iacocca became Ford president a few months later.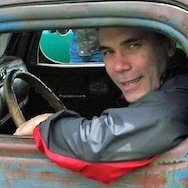 Written by Jim Koscs, Audamotive Communications
For Premier Financial Services