The Admiral's Ferrari Is Going to Auction
Every vintage racecar has a story. Some of the more compelling ones are those intrinsically linked to a marque's formative years. "The Admiral's Ferrari," a 1955 Series II Mondial, is one. This August, after 58 years in one owner's hands, the car will go in search of a new steward at the Gooding & Company auction in Monterey.
The admiral is Robert Phillips, who, as a young Naval officer, bought the Mondial in 1960. But the car's story begins nine years earlier.
Not Just V12s
Ferrari's V12-powered sports racers were not alone in winning glory for the marque in its early years. From 1953-1957, inline fours and sixes powered numerous winning Ferrari sports racers that are highly sought after today.
In 1951, an Aurelio Lampredi-designed inline four began a winning record in Grand Prix racing. A four could develop its peak torque lower in the rpm range than the V12s, making them more effective on tightly winding courses. Enzo Ferrari and Lampredi reasoned that a four would work well in a lightweight sports car, as well.
The experimentation began with the 625 TF and 735 S. The 500 Mondial ("World") came next in 1953, named for Alberto Ascari winning two consecutive World Championships in a four-cylinder Ferrari GP car. The first Mondial, coincidentally, featured the first Ferrari body built by Scaglietti, the start of a long collaboration.
The 500 Mondial engine had 1,985cc displacement and, with a 9.2:1 compression ratio, gave 170 horsepower, quite a lot for a 1,600-pound car. The larger Monza four displaced 3.0-liters and would end its career at 3.4 liters. (The first Ferrari Testa Rossas used the 2.0-liter four.) Two cylinders added to the Mondial engine yielded a 3.7-liter six, while a Monza-based 4.4-liter six made up to 360 horsepower in the 121 LM.
How the Admiral Found His Ferrari
Phillips was stationed at the Naval Air Station in Oakland, California in 1960 when he learned about a Ferrari Mondial, chassis 0556 (0446)/MD, that was in the area. He went to see it in, of all places, a Rambler dealership. It was in rough shape.
Phillips says about eight of these cars were made. As a Series II model, his Mondial had the revised Tipo 111 four-cylinder style engine, a five-speed transaxle, a more complex oval-tube chassis and a larger capacity (150 liter) fuel tank. The car had already been through a slew of owners, most of whom had raced it. The first was privateer racer François Picard, who'd had the car painted the light blue national racing color of France. He raced it at the 24 Hours Grand Prix de Paris at Montlhéry.
Gino Munaron then drove 0556 (0446)/MD it in several Italian road races and hill climbs before selling it back to Ferrari in October 1955. Enzo Ferrari selected it as one of three factory entries in the inaugural Grand Prix of Venezuela the following month. There were also six privately owned Ferraris entered. This was the only Mondial Series II in the race, and Eugenio Castellotti drove it to fifth overall and first in class.
The Mondial then sold to Dominican diplomat Porfirio Rubirosa, who earned class wins at the 1955 Governor's Trophy in Nassau and the 1956 12 Hours of Sebring. The car then found a home in with Raymond Hassan in Cincinnati, Ohio. Hassan raced it at a few events and then sold it to a salesman, Robert Ready Davis, of Indiana. When Davis's job transferred him to Northern California, he trailered the Mondial with him, leaving it at the Rambler dealership with the hope that he'd return it to competitive form. After 28 races on three continents over four years, the Mondial needed much more than hope.
From Rambler Dealer to Race Track
When Phillips saw the car in the Rambler dealer's service garage, it was on jack stands and missing its wheels. He negotiated a price and then convinced the auto shop manager at the Naval Air Station to let him store the car and work on it there.
Over nine months, Phillips repaired the Ferrari's engine, transaxle, and bodywork. He raced the car at events throughout California, until the Navy transferred him to Turkey and then to New Jersey. Before taking his post there, he flew to Oakland and drove the Mondial cross country to continue ownership.
Restored At Last
Over decades owning the Mondial, Admiral Phillips became one of the foremost experts on four-cylinder Ferraris. Around 2000, he commissioned a full restoration by renowned Ferrari specialist David Carte. The project would last eight years.
Phillips had the car repainted in its original French Racing Blue and with the number 8. Another French Racing Blue 1955 Mondial, 0424 MD (0564 MD), also wearing number 8, was offered at RM Sotheby's "Driven by Disruption sale in New York in 2015. This preservation-class car had originally been delivered to French racer Yves Dupont.
At the 2008 Pebble Beach Concours d'Elegance, the admiral's freshly restored Mondial won First in Class as well as the Enzo Ferrari Trophy for the Best Ferrari on the Field. It has won several awards since, including the Scuderia Ferrari Cup for the Best of Show at the Cavallino Classic.
After 58 years, the car could become someone else's trophy.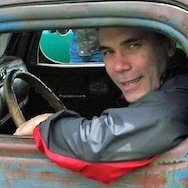 Written by Jim Koscs, Audamotive Communications
For Premier Financial Services