Porsche! Porsche! Porsche!
To paraphrase famous TV middle daughter Jan Brady, the auction results from Amelia Island Concours auctions could be summed up thusly:
"Porsche! Porsche! Porsche!"
As Hagerty reported, 98 Porsches sold at the Amelia auctions – one fifth of the 493 cars sold. Porsches had a 90-percent sell-through rate, and four of the top-10 sales were Porsches.
One of those sold stands apart not for its rarity or a six-figure price, but for the opposite: Gooding & Company sold a 1974 Porsche 914 2.0-liter for $93,500. The price was well above the pre-sale estimate of $60,000-$80,000 and much higher than Hagerty's $44,100 valuation for a concours-condition 914 of this vintage.
Outliers
What made the Gooding 914 remarkable was its like-new condition and 4,934 original miles. Hagerty called the result an "outlier," but this 914 wasn't alone. As we pointed out in a profile of the Porsche 914 last summer, RM Sotheby's sold a 1975 914 at Monterey in August 2017 for $93,000. That car, a 1.8-liter base model, was also in like-new condition and with just under 3,200 miles.
Out Of the Shadows
The 1969-1976 Porsche 914 spent decades in the shadow of the 911, with many enthusiasts giving it the cold shoulder for its mixed Porsche and Volkswagen parentage. The 914/6 got much more respect thanks to its 6-cylinder 911 engine and rarity. Gooding sold a 914/6 last year for $99,000.
What's happening here? On the one hand, the 914 has always had its own ardent fans, and while many others bought 914s for their affordability relative to the 911, they're now able and willing to pay for the best. At the same time, some Porsche collectors who have the 911s they want are in the hunt for 914s, too.
Most of the 119,000 914s built were sold in America, where it was Porsche's best-selling model in those years. Many, if not most, have rusted away. Let's see if these $90k+ preserved gems lift up the rest of the 4-cylinder models, which, according to Hagerty, range from about $6,000 $45,000.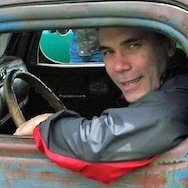 Written by Jim Koscs, Audamotive Communications
For Premier Financial Services