Quarter-billion Dollar Jamboree.
If you didn't get that Jaguar D-Type you wanted for Christmas, here's good news: the two offered in the Scottsdale 2018 auctions are still available. Neither the 1954 Jaguar factory works team D-Type offered by RM Sotheby's nor the 1956 D-Type offered by Gooding & Company were among the sold cars in January's Scottsdale, Arizona auctions. But plenty of choice machines did sell, some setting records.
According to Hagerty's tally, the sales total of $247.8 million in Scottsdale was down 5 percent from 2017. The highest sale of the week was $8,085,000 for a one-of-a-kind 1965 Ferrari 275 GTB built by Pininfarina, which was not only the auto show display model, but also became Battista Pininfarina's personal car. This was a world record for a 275 GTB.
Changes in the Market?
The market at the top might have softened, according to Hagerty, which said that this year's tally of cars that sold for $3 million or more was half that compared to the 2017 Scottsdale auctions. In addition, Hagerty reports that "nearly 90 percent of cars valued above $250,000 were bid to amounts at or above market-correct prices, although the sell-through rate in this price bracket was only 70 percent."
While the recently enacted tax cuts might have boosted confidence for some buyers, the loss of the "1031 exchange" for personal property, including cars, is certain to affect sales at the high end. We'll be watching that closely.
Cars That Give
Over at Barrett-Jackson, which covers the entire spectrum of the car world, notable sales included a 2015 Porsche 918 Spyder for $1.43m and a 1953 Ferrari 212 Europa and $1.1m. Also at Barrett-Jackson, former President George W. Bush, Jay Leno and Chad McQueen were on hand to help auction some cars for various charities, among them a 2017 Ford GT for $2.55m, a 2018 Corvette Z06 Carbon Fiber 65 Edition for $1.4m, the first production 2019 Corvette ZR1 for $925,000 and the first 2019 Mustang Bullitt for $300,000.
Premier's Previews: How'd They Do?
Premier previewed five Scottsdale cars in depth before the auctions. Here's a look at the results. (Prices include buyer's premium.)
1954 Jaguar D-Type (RM Sotheby's) was bid to $9.8m, compared to a $12m-$15m pre-sale estimate.
1956 Jaguar D-Type (Gooding) did not sell. This bright red bolide, originally owned by Bernie Ecclestone, was bid to $8.85m against a $10m-$12m estimate. As of Wednesday, Jan. 24, it was still posted on Gooding site with "Make an Offer" button.
1972 Ferrari 365 GTS/4 Daytona Spider (Bonhams) was #6 in Scottsdale top 10 sales, getting $2,640,000 – right in line with its $2.4-$2.8m estimate.
2012 Lexus LFA (Gooding) sold for $825,000 vs. pre-sale estimate of $900k-$1.2m but was still $300k over the original MSRP. This example has just 11 delivery miles.
1988 911 Turbo Flat Nose (RM Sotheby's) sold for $162,400 — well below the $200,000-$250,000 estimate.
Premier's "Cars to Watch"
Also preceding the Scottsdale 2018 auctions, Premier's leasing experts selected cars they would be watching closely to gauge where the collector car market is heading in the New Year. These were their picks, with results. (Prices include buyer's premium.)
Gooding & Co.

Southeast Sales Manager Chris Warren was watching the 2010 Lamborghini Murcielago Roadster. It was #49 of 50 made and with under 200 miles, but it did not sell. As of Wednesday, January 24 it was still posted on the Gooding site with $375,000 asking price and a "Make an Offer" button.
Kyle Lane, Premier's newest Sales Manager loved seeing the 1989 De Tomaso Pantera GT5-S (one of 136 built) sell for $319,000 and which was a world record for the car, according to Gooding.
Northeast Sales Manager, Keith Neelans tracked the 1970 Iso Grifo 7 Litri as it sold for $572,000 vs. $600,000-$700,000 estimate. Gooding set a world record with another Grifo with Lot #28, the 1963 A3/L prototype, which sold for $1.76m.
Juan Garcia, Premier's West Coast Sales Manager had a favorite at Gooding, the 1956 Jaguar D-Type, which did not sell, as noted above.
Premier's Southwest Sales Manager, Michelle Yancey, had her eye on the 2004 Porsche Carrera GT which sold for $715,000. Under 2,900 miles for this GT, one of 644 U.S. models.
The team at Premier's headquarters watched as Toyota's first real supercar, the 2012 Lexus LFA Nurburgring, sold for $825,000.
RM Sotheby's
Kyle Lane, had his eye on the 2005 Ford GT (2,000 miles) which sold for $302,000 — about double its original MSRP.
Chris Warren loved this 1967 Toyota 2000 GT (full restoration) sold for $665,000 — much less than the $900k-$1m+ seen for 2000 GTs in recent years.
Keith Neelans was watching the 1957 Mercedes-Benz 300 SL Roadster –which sold for $1,083,000. Gooding also sold a 1957 300 SL Roadster for exactly this amount, plus a 1960 Roadster for $1.1m.
The 1953 Porsche 356 Cabriolet, that timeless design that Michelle Yancey loves, sold for $280,000.
1954 Jaguar D-Type did not sell. Juan Garcia was watching this one too, along with the D-Type at Gooding, hoping for a great comparison.
Premier's corporate headquarters in Woodbury, Connecticut, enjoyed watching the bidding on the 1993 Bugatti EB110 (139 made) which sold for $967,500.
Bonhams
Juan Garcia called shotgun on the 1958 Porsche 550a Spyder sold for $5,170,000 – second highest sale in Scottsdale.
Premier's Chris Warren was watching the 2016 Porsche 911R (38 miles from new ) which sold for $478,500.
2008 Tesla Roadster (414 miles from new) sold for $71,500. Premier's Michelle Yancey was watching this future classic and happy to see the bidding results.
Kyle Lane's pick, the 2005 Porsche Carrera GT was withdrawn before bidding began.
Premier's Porsche pro, Keith Neelans was on pins and needles as the 1956 Porsche 356A Speedster was on the block, it sold for $308,000.
The Premier crew back home in Connecticut watched as their pick, the 1969 De Tomaso Mangusta sold for $249,700.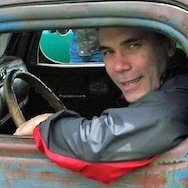 Written by Jim Koscs, Audamotive Communications
For Premier Financial Services