Historic Porsche Race Car with a McQueen Connection.
One of the most significant consignments scheduled for the Gooding & Company Pebble Beach auction next month represents the period when Porsche began its domination of endurance racing. The 1970 Porsche 917K (K for kurzheck, or short tail), formerly owned by Porsche factory driver Jo Siffert, did not compete in the 24 Hours of Le Mans, but rather played a starring role in the Steve McQueen movie, "Le Mans."
Does a McQueen connection beat a race winner? We'll have to see. In any case, a Porsche 917 coming up for auction is a big deal and merits a look back at this pivotal racecar. The pre-sale estimate is $13-$16 million. The car had been documented by Porsche Engineer and Noted Author Walter Näher
Porsche 917K: A New Le Mans Dynasty
Porsche holds the record for Le Mans outright victories, at 19, with three of those just in the past three years. Porsche's Le Mans dynasty began with the 917, but it had been a 20-year road getting there. From class wins in major races and victories in hillclimbs, the marque began to rack up outright victories with its purpose-built sports racers in the 1960s, beginning with the 904.
The big break for Porsche came, in a kind of roundabout way, from Ford. Following the Ford GT40's Le Mans wins in 1966 and 1967 with 7-liter engines, the FIA put a 3-liter limit on prototypes for 1968, but the Group 4 ("sports cars") rules allowed the Ford GT40 Mk. I's that had been homologated with a 5-liter engine. The rule required production of 25 cars, which the Fords met. The FIA perhaps didn't expect anyone else to build 25 cars for the class, but for Porsche, it was too good an opportunity to pass up.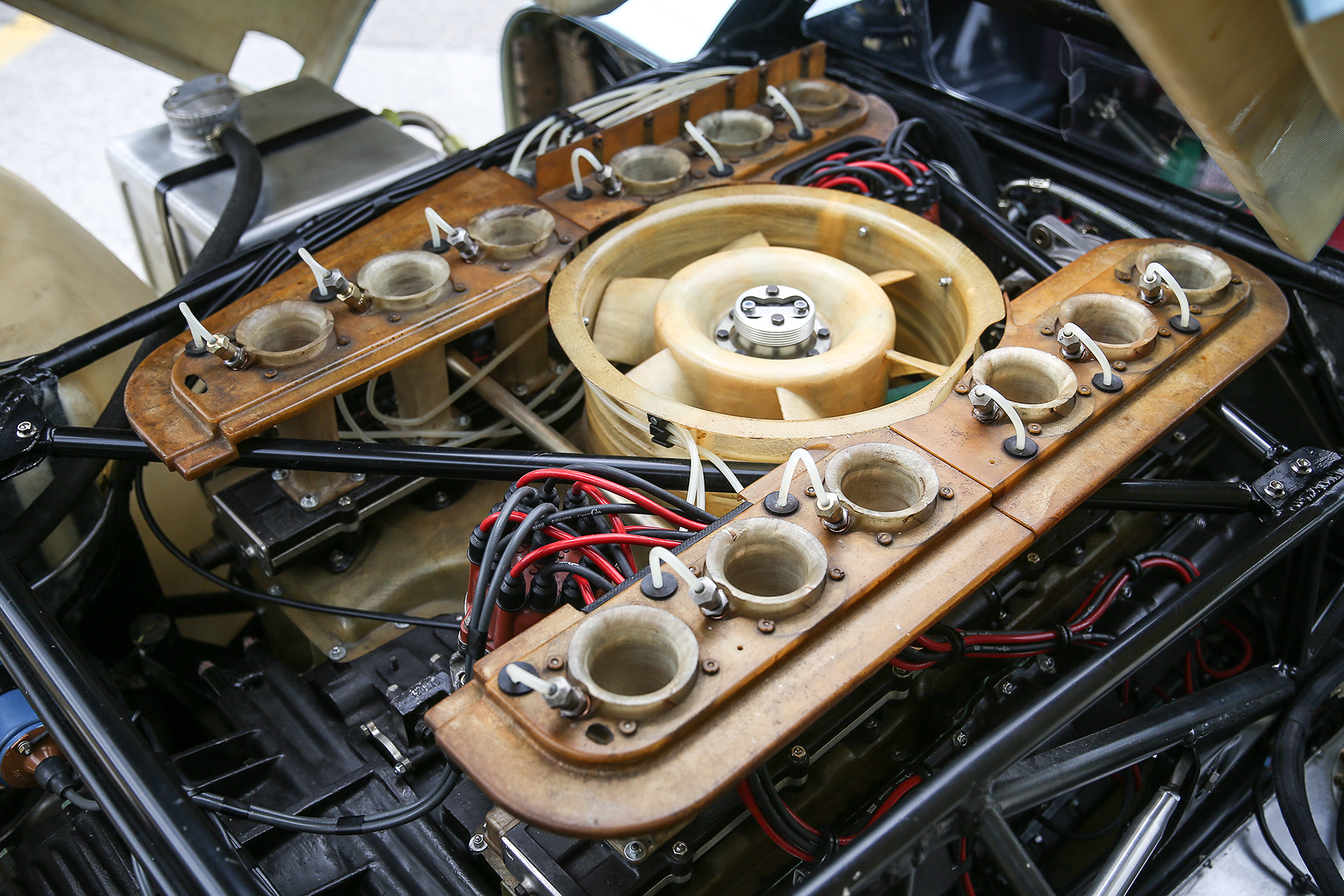 Racing Stripes
Porsche had already been racing with a flat eight, which was essentially a 911 engine with two cylinders added. Making it a 12 would have meant too long a crankshaft, so Porsche split the crankshaft into two six-cylinder portions. These were joined in the center of the engine by gears that also drove the camshafts, the clutch and the air-cooling fan.
The result was a 4.5-liter flat 12 making a monstrous 580 horsepower in a car weighing less than 1,800 pounds. (The engine was later enlarged to 4.9 liters.) Porsche initially thought the long-tail body would be suited to high-speed tracks like Le Mans, but it actually proved unstable.
A JW Automotive-Gulf Ford GT40 Mk. I piloted by Jacky Ickx and Jackie Oliver won the 1969 Le Mans. The two factory-backed 917s dropped out due to bell housing problems, but a Porsche 908 driven by Hans Herrmann took second place just a few hundred feet behind the Ford. A private 917 had been entered by gentleman racer John Woolfe, who was killed when he crashed on the first lap.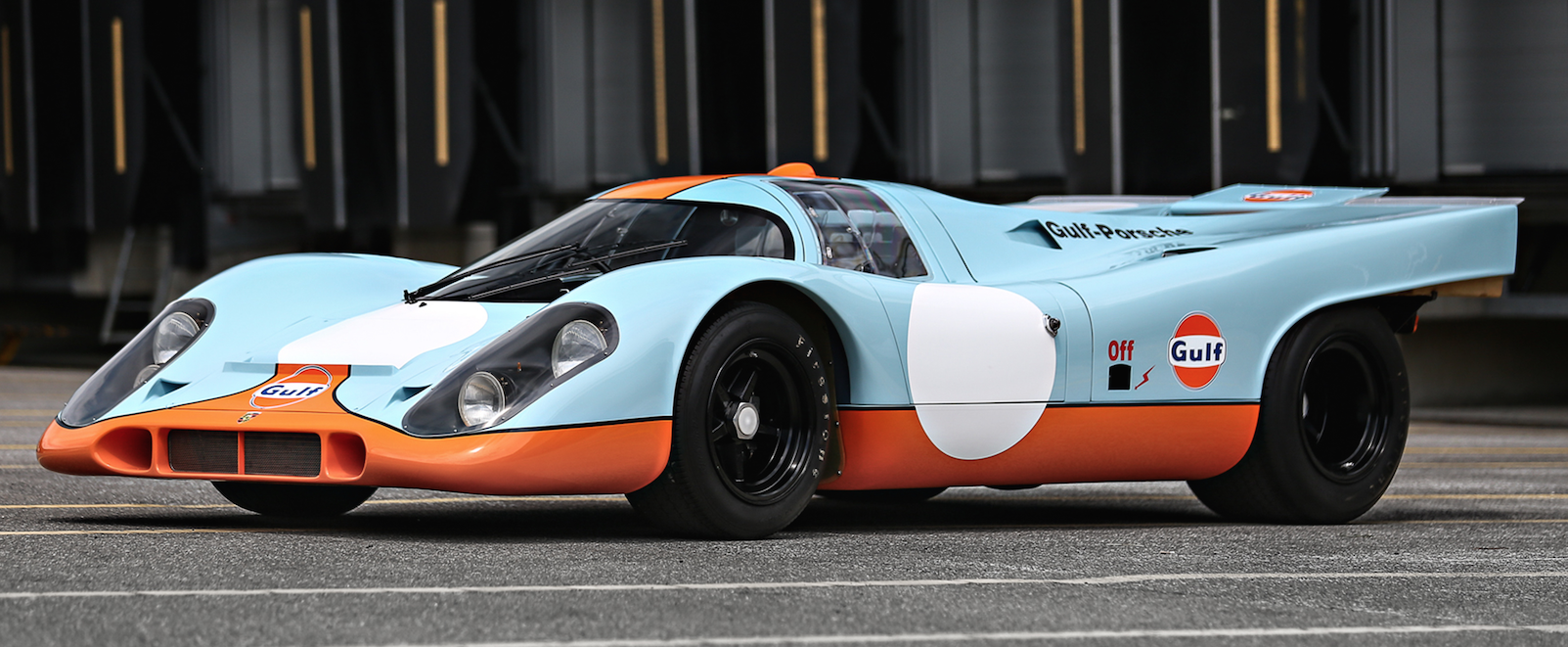 Next, the Wild and Wooly Can-Am
For 1970, JW Automotive-Gulf campaigned the Porsche 917 but did not win Le Mans. Victory went to the Porsche KG Salzburg team in a 917K, with second place going to a Martini Racing 917L. A Porsche 908, also campaigned by Martini, took third to give Porsche a 1-2-3 sweep. A Martini 917 won Le Mans again in 1971, with the JW Automotive-Gulf 917 taking second. (In the movie "Le Mans," the 917 in Gulf livery wins the race.) The Group 4 rule that "created" the 917 was changed for 1972, obsoleting the 917.
Porsche jumped into what was then the Wild West of racing, the Can-Am series, where Chevrolet big-block V8s were dominant. The 917/10K and later 917/30 used a totally different open cockpit body. It was here that Porsche unleashed the astounding potential of turbocharging, with the 917's flat-12 eventually eclipsing 1,200 horsepower. Porsche would dominate the Can-Am through 1973; a fuel rule change for 1974 dismissed the turbos. Porsche, however, had established its vice-like grip on top-echelon racing.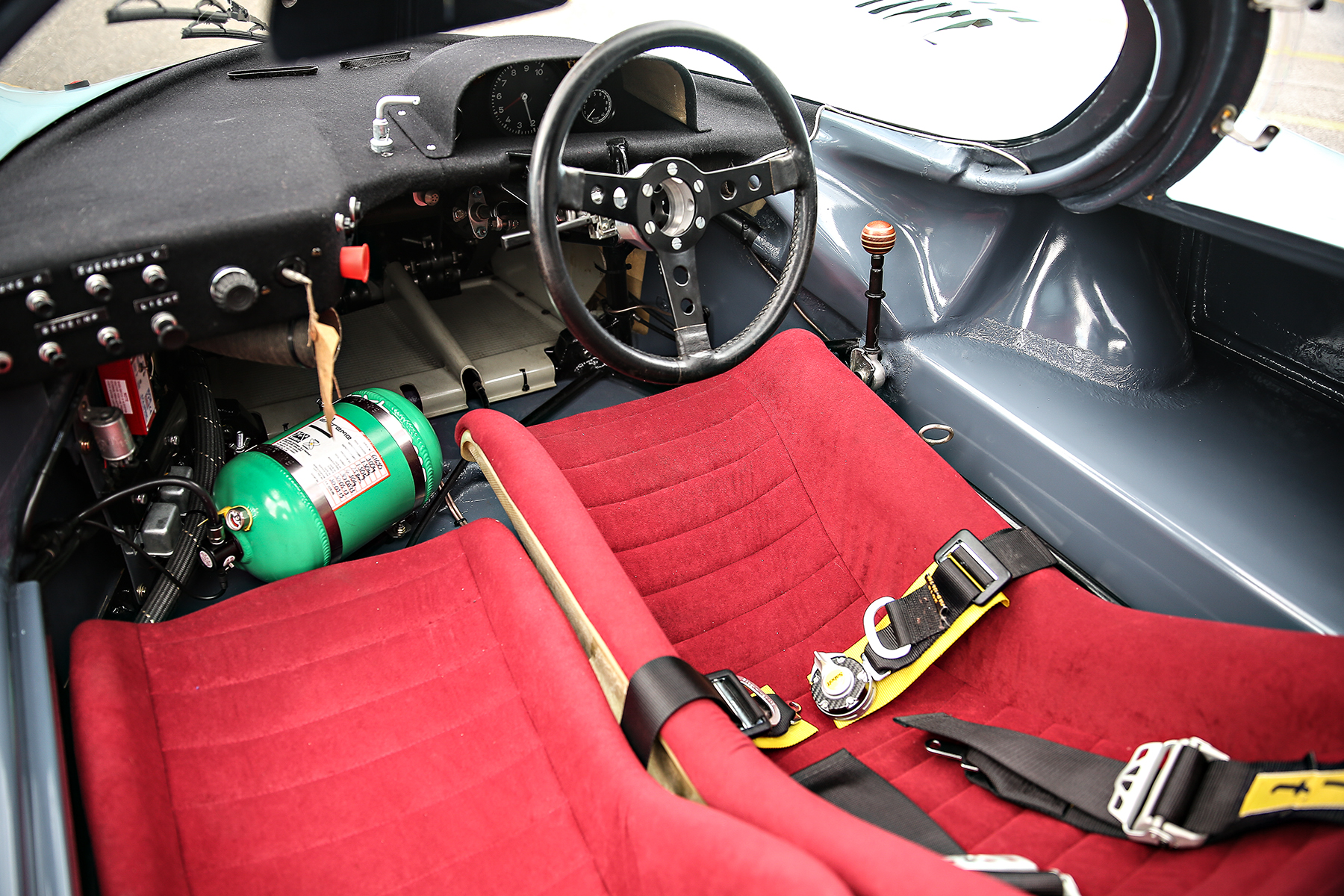 The Story Behind 917-024
The Gooding & Company consignment, chassis 917-024, did not race at Le Mans, but it was tested there in 1970 with Brian Redman and Mike Hailwood driving.
Factory driver Jo Siffert then bought the 917 and leased it to Steve McQueen's Solar Productions for the "Le Mans" film. The 1971 movie, which used footage from the 1970 race, is known for a muddled plot and sleep-inducing dialog – and for bombing at the box office. It's worth watching for the vintage race footage, though. For the film, 917-024 was used as both a camera car and for race footage.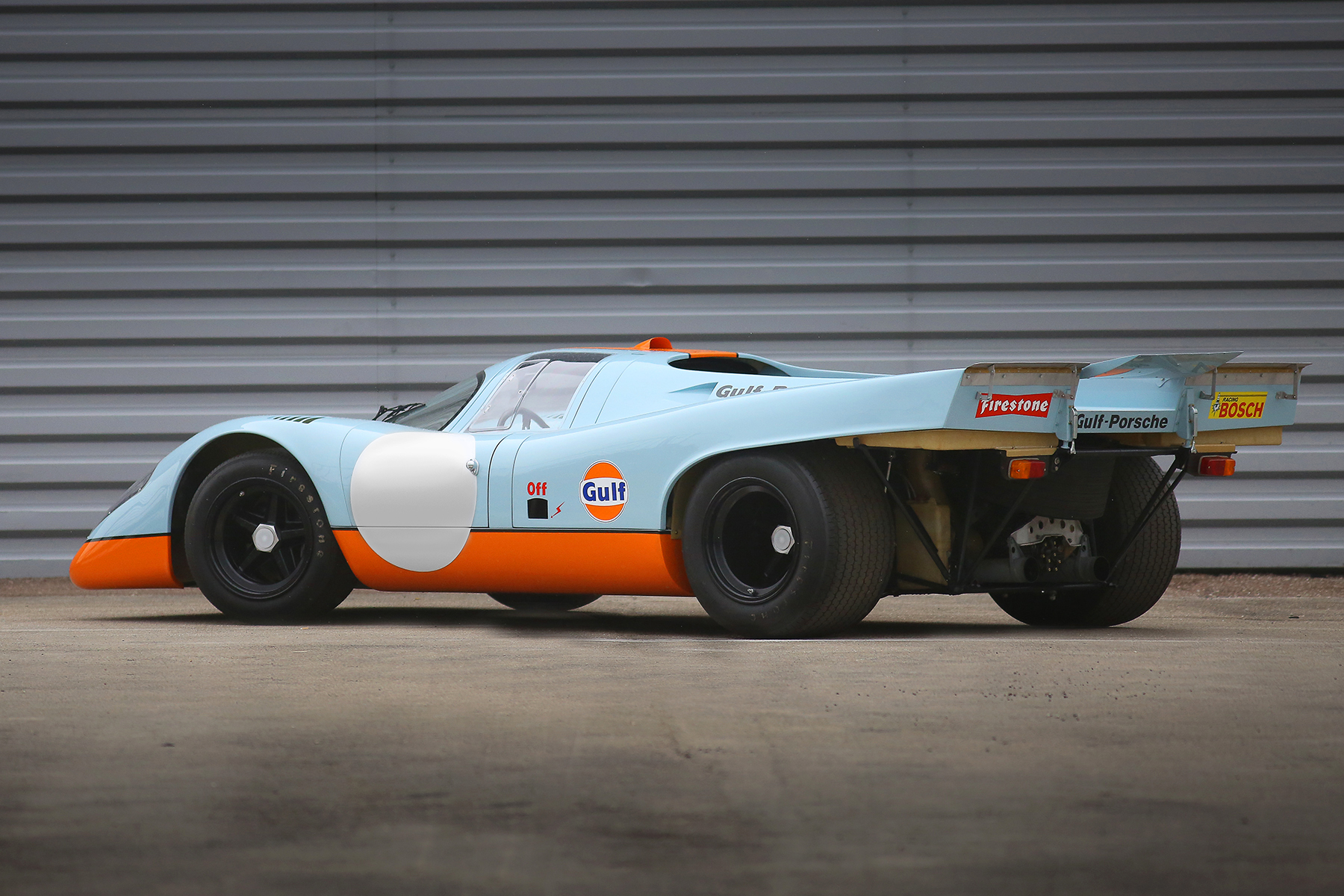 When Siffert died in a crash at Brands Hatch in 1971, the 917 led his funeral procession. A collector in Paris bought 917-024 in the mid-1970s. It remained hidden for a quarter century, resurfacing as a dust-covered "barn find" in 2001. The original JW Automotive-Gulf livery, space-saver spare, Firestone fuel cell, and Firestone Super Sports GP tires were still in place. A handwritten tag, hanging from the key, had instructions to run the engine lean for Le Mans. It was believed to be from Porsche driver Herbert Linge.
A restoration by Graber Sportgarage in Switzerland was completed this year. A 917 at auction is a rarity, indeed. A co-starring role with Steve McQueen can only help.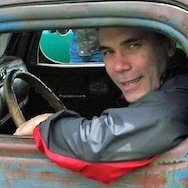 Written by Jim Koscs,  Audamotive Communications
For Premier Financial ServicesSaveSaveSaveSaveSaveSaveSaveSaveSaveSaveSaveSave