George Jetson's GT.
It won Motor Trend's Car of The Year Award in 1972. It wowed all who test-drove it. It made passersby look twice, three times — even four times. "What the heck is that?" It was featured on TV's "Columbo," driven by Patrick McGoohan in one of his four appearances as the murderer. (Columbo, of course also drove a French classic, his trusty Peugeot 403 convertible.) And it endeared itself to a group of loyalists, who, like Brian Brandt, consider any other automobile inferior.
Perhaps they are correct about the singular Citroën SM.
Brandt, a New Yorker who drives about 6,000 miles each year in his SM, owns a record label for contemporary classic and jazz composers. He carries John Cage's catalog, so that gives you an idea of his appreciation for the avant-garde.
"The SM was designed at the same time as the Concorde," said Mr. Brandt, referencing the Anglo-French supersonic airliner developed in the 1960s. "Both were made to bring prestige for France."
Foreign Intrigue
How did this French car end up with a Maserati engine – driving the front wheels, no less?
Go back to the Citroën DS, a car that was so far ahead of its time when introduced in 1955 that it was, in many ways, still ahead of its time when Citroën stopped building it 20 years later. The DS introduced radical aerodynamic design and a novel hydropneumatic suspension that yielded an uncannily smooth ride.
For all its advances and renowned comfort, however, the DS was no sport sedan, never having more than about 140 horsepower from a four-cylinder engine.
While developing a new prestige coupe in the '60s, Citroën went hunting for a more powerful engine, finding a V6 under development at Maserati. Like the old electric razor TV commercial, they liked the engine so much they bought the company. Car buffs call the SM the Citroën Maserati, a nod to the V6, which Maserati used in its mid-engine Merak sports car.
The Maserati V6 (2.7-liter at first, then 3.0-liter later) sounds more powerful than its 180 horsepower. The tone is much more "growly" than today's luxury car V6s, with no help needed from tricky mufflers or sound "enhancers." A 5-speed manual was standard and is still preferred over the optional 3-speed automatic.
Baby, It Was Born This Way
Designed by Citroën's own head designer, Robert Opron, the Citroen SM looked ready for the 21st century when it arrived in 1971. The covered-six-headlight front end included of course Citroën's steering headlights, although the U.S. models were stuck with exposed conventional lights. (Many owners had the French lights retrofitted.)
Inside, the Citroën SM offered a distinctive mix of high design and French opulence. In place of a conventional brake pedal, there is a large round button sticking up from the floor. It responds to foot pressure.
The single-spoke steering wheel sprouting from a dashboard filled with oval gauges looked futuristic in the early 1970s. Soft pleated leather upholstery and tasteful chrome accents gave the SM cabin a feel that was somewhere between the relative simplicity of a 1970s Mercedes and the lavishness of the period's Jaguars.
Concord for the Road, Just Not as Fast
Citroën imported about 2,000 1971-73 SMs into the United States, and two years later abandoned the U.S. market. The car cost more than $13,000 in 1973, right in premium Mercedes territory. Acceleration was quick but not blazing in the 3,300-pound SM. Its forte was high-speed cruising.
The Citroën SM makes an exceptional driver's car, owners say. First, though, the SM needs a few mechanical upgrades to make it so. The key ones — modifications to the engine's valves and timing chain — take an expert technician about two days to complete.
One must get used to driving an SM, which has a reputation for acutely quick steering. It's not simply hydraulically assisted, as in more conventional cars, but rather hydraulically operated.
"Once you get acclimated to this car, nothing else you drive feels right," Brandt said.
What's It Worth? Good Question
At the Gooding & Co. Scottsdale auction last month, a restored 1973 Citroën SM sold for $81,400 against a pre-sale estimate of $75,000 – $100,000. Meanwhile, an unrestored 1972 model brought just $35,200 (including premium).
A major factor in the value difference was choice of transmissions: a 5-speed in the Gooding car and an automatic in the Bonhams car.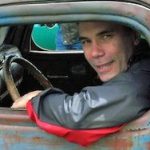 Written by Jim Koscs, Audamotive Communications
For Premier Financial Services
Save
Save
Save
Save
Save
Save
Save
Save