If you try, sometimes, you just might find, you get what you need!
Jean and I tried extremely hard planning and promoting Mountain Mille this year—especially Jean—and it worked. With 52 entries, we had the largest rally group we've hosted since the wheels fell off the world in 2008. To do something completely different, after a dozen years rallying around Western Virginia and West Virginia, we moved Mountain Mille 300 miles South.
We started and ended at the historic Omni Grove Park Inn in the mountains outside Asheville, stayed two nights at rustically-chic The Lodge at Buckberry Creek in the mountains outside Gatlinburg and stayed one night at luxurious Old Edwards Inn in mountainous Highlands. We were seriously overbooked, to the point that we overflowed the main hotels into upscale private homes and adjacent hotels.
Five days of sunshine and spectacular scenery
Mountain Mille took place just a week after Hurricane Matthew, but the storm affected coastal North Carolina and not the western mountains. Even better, the weather for the rally was perfec. Five days of sunshine, unusually high temperatures in the 70s and 80s, and spectacular Autumn foliage. Additionally, since we were mostly on little-used rural roads and driving on weekdays, there was very little traffic. Even on popular Tail of the Dragon.
We drove hundreds of miles on famous sports car roads like Tail of the Dragon, The Rattler, The Hellbender and Waterfall Byway through Callasaja River Gorge, as well as even tighter mountain roads that don't have cute names. We visited two car museums, a motorcycle museum and a World War II Warbird museum, 1756 British Fort Loudon, 1917 Biltmore Industries, 1942 Fontana Village, 1944 Fontana Dam and even the quirky Bavarian-themed town of Helen, GA. Our travels took us into North Carolina, South Carolina, Georgia and Tennessee.
We enjoyed an especially nice group of cars, virtually all of which could be exhibited without shame at a Tier One Concours. The group included four Jaguar XK-120/140/150s, a gorgeous AC Ace-Bristol, Lancia Aurelia B-24 Convertible, award-winning Austin-Healey factory-built 100-4 M, multiple Porsche 356s, three Corvettes, a Shelby GT-350, an Alfa Romeo Guilia Spider Veloce, Jaguar XKE and such rarities as a Pebble Beach-winning Iso Grifo, Morgan Plus 8 and Ferrari Dino 206 GT4. There were two Aston Martins, two Bentleys, 10 Ferraris, and of course, 15 different Porsche 911s, including two full-race cars and a Carrera RSR.
The Sponsors and Teams
Our sponsors RPM Vermont and Exotic Car Transport followed the group with Mazda sports cars rallyists could borrow if their vintage cars broke down. Steve Markowski, Rolf Humburg and Tom Meunier attended to a variety of minor ills…thanks to their persistence, only one Lancia remained broken by the end of the week.
Seven teams zeroed the rally: Jim Earsley/Jamie Malloy in a 1953 Jaguar XK-120, Tom Smith/Jane Smith in a 1958 Jaguar XK-150, Robert Slayden/Beryle Slayden in a 1962 Porsche 356B, Bob Stockman/Sally Stockman in a 2006 Ferrari F430, James Pyle/Deborah Pyle in a 2007 Ferrari F599, Bill Colom/Lorraine Eckert in a 2013 Ferrari California and Mukesh Bhatia/Orrin Terry in a 2016 Porsche Boxster Spyder.
Another three teams were only 1 point off a perfect score. Firstly, Scott McCuskey/Mary McCuskey in a 1973 Porsche 911S and, David Fischer/Bill Coleman in a 1980 Porsche 911 Carrera RSR. Secondly, Felix Erbring/Victor Erbring in a 2015 Porsche Boxster S. and Siebe Noordzy/Martien Bressier had 3 points in their 1986 Porsche 911 Carrera TL Cabriolet. Lastly, Byron LaMotte/Leigh Stewart had 4 points in their 1971 Iso Grifo.
Getting serious about scoring, hungry for supper and into the spirit.
As usual on a Vintage Rallies event, about a third of our guests were serious about the rally timing and scoring, about a third were serious until they screwed up a Checkpoint and about a third just came to drive an exciting car on beautiful roads through spectacular scenery, eat in gourmet restaurants, stay at world-class hotels and party with very special people.
Ah, the parties. Since our rally ended a week before All Hallows Eve, Jean brilliantly turned our Victory Banquet into a Halloween Party. We all had to come costumed as My Favorite Car. Almost everyone got into the spirit, appearing in a wild variety of costumes and standing up in front of the group to explain their meanings. It sounds silly, but it was hilarious fun.
You Get A Trophy, You Get A Trophy, Everyone Gets a Trophy
Everyone earns a trophy at a Vintage Rallies event, but some are larger than others. We have several most important awards. Firstly, the the Car of the Rally, which this year went to Martin Gruss for his impeccable 1955 Jaguar XK-140 DHC. Secondly, the Drive of the Rally, which this year went to David Coleman. This is for his high-speed professionalism behind the wheel of a Porsche 911. Lastly, the Spirit of the Rally, which went to delightfully enthusiastic Stephanie Origer.
From the prizes, we segued into a charity auction to benefit people in West Virginia, devastated by flooding last June. Since Mountain Mille has rallied through Greenbrier County for a dozen years and is heading back there in 2017, we've come to have a special feeling for the mountains of West Virginia.
Florida artist Karen Barrow generously agreed to paint a portrait of four rallyists' cars in return for their donations to Greater Greenbrier Long-term Recovery Committee 501(c)(3). Additionally, we had a stackof classic posters donated by Tony Singer of VintageAutoPosters.com. Lastly, a variety of other automotive collectibles to auction. Eric Minoff, from our sponsor Bonhams, served as a highly-entertaining professional auctioneer.
Over the years, Vintage Rallies has raised more than $2-million for North American charities. This year's Mountain Mille added substantially to that total thanks to our generous sponsors, rallyists and the fact that as we have for 24 years, whatever is left after Jean and I pay the bills goes to charity.
Heading West in 2017
New England 1000 2017 will mark our 25th Anniversary and 95th event. It's scheduled May 21 through May 26, 2017. Because our first rally was in Vermont in 1993, to celebrate we're starting and ending at Stowe Mountain Lodge. It's near Smuggler's Notch, then rallying around Vermont, New Hampshire and Maine.
Our wonderful friend John Whitney Payson died in October, and his pals Chris Nast II, Peter Efros and Rick Snow are helping us make the forthcoming New England 1000 not only a gala celebration of 25 years of Vintage Rallies, but also something of a memorial to John.
Mountain Mille is planned for October 8 through 13, 2017 starting and ending at The Homestead in Hot Springs, VA. Additionally, you will be staying during the week at The Greenbrier in White Sulphur Springs, WV. Plus, driving a variety of delicious mountain roads, including the Back of the Dragon.
We already have a whole group of Texas enthusiasts who've signed up for our rally in West Texas. Every five years or so, we head West of the Pecos. We visit Marfa, Lajitas, Big Bend National Park and the Chaparral Wing of the Petroleum Museum. Our old friend hotelier Charles Mallory is helping us out this year. Therefore, it should be even more special than in the past. We've tentatively scheduled Texas 1000 for November 12 through November 17, 2017. As we get closer, there'll be more information at www.vintagerallies.com.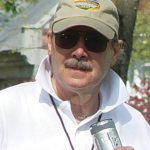 For Premier Financial Services
Photos by Taylor-Constantine