Get ready for the coming wave of premium EVs.
Could you imagine a Ferrari without the glorious exhaust note of its V12 or turbocharged V8? Neither could Ferrari. At the 2016 Paris Motor Show earlier this month, company executives stood by their commitment to hybrid technology, exemplified by the LaFerrari Aperta roadster on display, but continued to shun a pure electric for the marque.
Ferrari rival Lamborghini and former Ferrari sibling Maserati, however, may soon offer models making the turbine-like whir of a Tesla.
And there will be more. Also at the Paris show, Mercedes-Benz, affirmed its commitment to electrons with its forthcoming EQ line of vehicles and showing the Generation EQ concept vehicle. According to Dieter Zetsche, chairman of Daimler, the new line will "cover all vehicle segments, from the compact to the luxury class."
Audi, too, is going all in on EVs and recently showed its concept for a electric SUV it says will have 250-mile range and arrive in 2018. Audi will also build a nationwide network of fast-charging stations.
Burning Rubber, Not Gasoline
Getting to the point, the appeal of a high-performance EV is this: burning rubber, but not gasoline. An EV generates its peak torque immediately and requires no transmission, and the result is an acceleration feel that even some V12 powerhouses don't match. Passing power and speed are also generally unmatched.
Car & Driver, testing a Tesla Model S P90D, recorded a blistering 2.8-second 0-60 sprint and an 11.1-second quarter-mile at 121 mph. Actually, the Tesla didn't even burn rubber, its dual electric motors translating their combined 732 lb.-ft. of torque into instant acceleration.
Since then, Tesla has introduced an even more powerful P100D model and claims a 2.5-second 0-60 sprint. Tesla owners have recorded sub-11 second quarter-miles, posting their feats on the popular Tesla Racing YouTube channel.
You're probably going to see even faster EVs down the road.
Orders from Sergio
Maserati recently joined the growing ranks of premium marques developing electric vehicles, confirming that one is under development under orders from Fiat Chrysler Automobiles boss Sergio Marchionne. It will be a low-volume model, likely a GT coupe, according to Car & Driver, and not a sedan or SUV like Tesla is offering.
You can be sure it will be fast. Because it will lack the stirring sound one gets from a Maserati, however, the company's engineering head, Roberto Fedeli, says to expect the production model to amplify another renowned Maserati trait. Place your bets on beautiful design.
German publication AutoBild, meanwhile, has reported that Lamborghini may design an electric supercar around the Mission E platform. Lamborghini, as a subsidiary of Audi, is a member of the Volkswagen Group with Porsche.
Porsche unveiled the drop-dead gorgeous Mission E concept at last year's Frankfurt Auto Show, and developing a production EV is a top company priority, even pushing aside a hybrid 911 for now. Earlier this year, Porsche confirmed plans to invest $750 million to develop an EV and hire 1,000 new workers to build it. One can hope the production version looks as good as the Mission E.
Second Chances and Newbies
By the time the Porsche and Maserati EVs arrive, they should have plenty of company, and not just from established marques. Henrik Fisker, whose odyssey to electrified automobiles recently took an odd detour to build his former Karma model using supercharged Corvette engines, recently announced a new company, Fisker, Inc., to build a 400-mile premium EV. The car, he said, will use battery from a company division, Fisker Nanotech. Expect a concept in 2017.
Nevada-based startup Faraday Future has been testing what appears to be an SUV-type vehicle. Another newbie, Atieva, has been testing its high-powered EV powertrain in the ultimate stealth disguise, a Mercedes-Benz Metris van nicknamed "Edna." The company circulated a YouTube video of its 900-hp van out-dragging all manner of performance cars, including a Ferrari 458 Speciale and Nissan GT-R.
And a Racing Pedigree, Too
Finally, for those purists who demand a racing pedigree in their sports cars, well, that's happening, too. Formula E is growing, with Jaguar and Audi recently showing racecars, and others planning to jump in including BMW, Mercedes-Benz. Faraday Future is in, too. In July 2017, Brooklyn will host back-to-back Formula E races at the Brooklyn Cruise Ship Terminal. Earplug vendors are said to be very unhappy.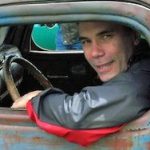 Written by Jim Koscs,  Audamotive Communications
For Premier Financial Services
Save
Save
Save
Save