Rallying Through The Texas Bluebonnets
Jean and I love the Texas Hill Country. We should have one of those bumper stickers that reads "I wasn't born in Texas, but I got here as quick as I could!" We first visited the Hill Country some 20 years ago on a Ford Motor Company press trip and immediately said, "This would be a perfect place to hold a Vintage Rallies event!"
So for 18 years, we've organized an annual 1000 mile rally in Texas. Over the years, we've also purchased four houses, two old-time general stores, two service garages and 20 acres of pastureland in a tiny town near Fredericksburg, the Heart of the Hill Country. We still haven't managed to move full-time to Texas, but our hearts are definitely here…along with two separate flocks of sheep.
Usually, we hold our Texas event in November, when it's still warm and sunny but there's not much going on in the rest of the U.S. vintage car world. This year, knowing that the famous Hill Country spring wild flowers would be especially brilliant thanks to El Nino winter rains, we scheduled our Texas Bluebonnets for April 3 through April 8.
Moving the Texas rally to the spring turned out to be ideal. The weather was perfect, 75 degrees and not a cloud in the sky for five days. The smooth and twisty roads were lined with bluebonnet, Indian paintbrush, Indian blanket and Russian Thistle, a riot of blue, yellow, red and white. As usual, there were no citation-wielding policemen and virtually no traffic.
The highpoint of the week was a Wednesday afternoon drive on the Twisted Sisters, the Texas answer to North Carolina's Tail of the Dragon. But while Tail of the Dragon is 11 miles of curvy mountain road, the Twisted Sisters— 335/336/337—go on for 139 miles. Everything really is bigger and better in Texas!
Vintage Paint, Local Color
The concept of our events is to drive neat sports cars on fun roads, but also to give our participants a feel for what this part of America is all about. On Texas Bluebonnets, for example, not only did we drive 1132.9 miles, we visited Luckenbach, TX—made famous by Willie, Waylon and The Boys—Austin, Fredericksburg, Gruene, Burnet and Llano.
We also stopped at Wildseed Farms—the largest wildflower nursery in the world—and Lady Bird Johnson Wildflower Center. We visited a typical Texas pecan orchard, an immaculate restoration shop called Classic Jaguar, Street Dreams street rod dealership, and Jacques Vaucher's l'art et l'automobile gallery. We took a sunset boat ride on Lake Buchanan, looked at Jupiter through the astronomical telescopes, ate brisket and sausage in Salt Lick Barbeque, gourmet French cassoulet at Karen Vaucher's, and half-pound cheeseburgers in biker-oriented Bent Rim Grill. All in all, we had a terrific time.
We stayed near Austin at posh Omni Barton Creek—where the Dellionaires stay—and outside San Antonio at Hyatt Hill Country Resort. One of our favorite spots in the Hill Country is Canyon of the Eagles, a lakeside, mountaintop resort in a nature preserve with rustic-chic buildings by award-winning Lake-Flato Architects. We spent two nights there, and it was simply wonderful.
Enthusiastic Exotics
Our rally cars included a Corvette Stingray, Shelby GT-350H, Mercedes-Benz Gullwing, two Jaguar XK-120s, two Porsche 986s, three Porsche 356Cs, three Porsche 911 Carreras, four Ferraris and a variety of other exotics. After four days of driving, three teams Zeroed the rally; David North/Will Kontes in a 1968 Ferrari 330 GTC, Gary Pace/Bill Kontes in a 2011 Mercedes-Benz SLS AMG and Ed Pensock/Terri Pensock in a 2007 Porsche Cayman S. Our Car of the Rally Award went to Phil Shires/Renee Shires for their lovely 1954 Jaguar XK-120; our Spirit of the Rally Award went to Jamie Malloy for her enthusiastic navigating in boyfriend Jim Earsley's topless 1953 Jaguar XK-120.
Every five years or so, temporarily forsaking our beloved Hill Country, we head back to West Texas. There's a perfect 1000 mile rally route that starts at the Commemorative Air Force in Midland, stays in Marfa and Lajitas, visits Big Bend National Park and finishes up at the Chaparral Gallery of the Petroleum Museum. A whole group of Vintage Rallies regulars are already set for West Texas, which we're tentatively scheduling for early November, 2017.
Check out vintagerallies.com and join us for another larger-than-life Texas 1000, West of the Pecos!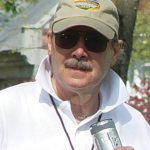 Written by Rich Taylor, Founder of Vintage Rallies
For Premier Financial Services
Photos by Taylor-Constantine