88 Rallies in 23 Years!
Everyone's favorite car on this year's Mountain Mille was a 1954 Oldsmobile Rocket 88 Holiday Coupe driven by a husband and wife team of newly-retired Army Colonels—Yes, Sir! Yes, Ma'am!—in training for next year's Mille Miglia. In organizing 88 Vintage Rallies over the past 23 years, this is the first time we've had a 1954 Oldsmobile, let alone matching His and Hers Colonels. Yes, every Vintage Rallies event is unique!
Among the sports cars you might have expected to see were two Jaguar XK-120s, Mercedes-Benz 300SL and 190SL roadsters, an AC Aceca, four Porsche 356s, a hot-rod Triumph TR-4, an Alfa Romeo Guilia Spider, a Ford Cortina GT, two Jaguar XKE Coupes, a Lotus Elan Plus 2, a Ferrari 250 GT Lusso, a Ferrari 275 GTB/4, seven air-cooled Porsche 911s— including two Carrera RSs and a Carrera RSR— a Ferrari 365 GTC/4, a Ferrari 400i, a Ferrari 599, a Lotus Exiges, a Porsche 911 GT3, a new Alfa Romeo 4C and my own street-legal '67 Corvette Sting Ray B-Production racer. The phrase "something for everyone" springs to mind.
Driving 1000 Miles in 4 Days
We started the 2015 Mountain Mille with a car show/cocktail party at the weekend retreat of rallyists Chuck and Nell Staes in Hot Springs, Virginia. It's no exaggeration to say that every car displayed on Chuck's lawn was immaculate, just as capable of winning a concours as of driving over 1000 miles in the next four days.
After the Staes party, we had an elegant dinner and overnight at our favorite American resort, The Homestead. Newly revitalized by Omni, this 1766 Historic Hotel of America is so classic and yet so homey, it's where Jean always says she'd like to live when we're too feeble to drive sports cars anymore.
Bright and early Monday morning, the group wandered the back roads to mountaintop Snowshoe, West Virginia for lunch, visited the fascinating Shay locomotive shops in nearby Cass, then ended up at our second-favorite hotel, another Historic Hotel of America, The Greenbrier.
Some of the Smoothest, Curviest, Best-Engineered Mountain Roads in the World.
Under the ownership of local West Virginia coal billionaire Jim Justice, The Greenbrier has blossomed in the past five years. The famous Dorothy Draper interiors have been freshened by her protégé Carleton Varney, there's now a casino under the front lawn, the famous Presidential "bunker" is open to visitors and, well…it's all just wonderful.
During the rest of the week, we visited the Tamarack Art & Craft Center, historic Lewisburg, Mountain Lake where Dirty Dancing was filmed and Montpelier where James and Dolley Madison lived. More importantly, we drove 1063.75 miles on some of the smoothest, curviest, best-engineered mountain roads in the world. We had lots of rallyists with us who'd never been on Mountain Mille before, and they couldn't stop remarking on the superlative roads.
Our sponsors RPM Vermont and Exotic Car Transport followed the group with two truckloads of vintage sports cars rallyists could borrow if their vintage cars broke down. Peter Markowski, Keith Carnevale and Tom Meunier were up early and stayed up late attending to a variety of minor ills, from inoperative fuel pumps to reluctant windshield wipers.
Windshield wipers? Yes, indeed. Sunday afternoon for our outdoor cocktail party/car show, the weather was beautiful. Monday was lovely. Tuesday morning there was a hint of moisture in the air. Wednesday it rained. Thursday was dry and beautiful again.
Since our rally ended the day before All Hallows Eve, Jean brilliantly turned our Victory Banquet into a Halloween Party. We all had to come costumed as My Favorite Car. Surprisingly enough, almost everyone got into the spirit, appearing in a wild variety of costumes and standing up in front of the group to explain their meanings. It sounds silly, but it was also hilarious fun.
Rally Timing Gets Serious
Five teams zeroed the rally: Ross Longfield/Mark Longfield in a 1969 Jaguar E-Type; Max Thomason/Nancy Thomason in a Porsche 911 Carrera RSR; Bill Kontes/Will Kontes in a Porsche 911 Carrera Cabriolet; David North/Gary Pace in a Ferrari 400i; David Fischer/Max Thomason, Jr. in a Porsche 911 GT3.
As usual on a Vintage Rallies event, about a third of our guests were serious about the rally timing and scoring, about a third were serious until they screwed up a Checkpoint and about a third just came to drive an exciting car on beautiful roads through spectacular scenery, eat in gourmet restaurants, stay at world-class hotels and party with very special people.
If you fit into any of these categories, please join us in 2016.
2016's Upcoming Rallies
Texas Bluebonnets will be April 3 through April 8, starting and ending outside Austin, Texas and driving through the beautiful Texas Hill Country during wild flower season.
New England 1000 will be May 22 through May 27, starting and ending at Mirror Lake Inn outside Lake Placid, New York, then staying at Otesaga Resort in Cooperstown and 1000 Islands Harbor Hotel in Clayton, NY. Among other things, we'll visit the Baseball Hall of Fame, Antique Boat Museum and Boldt Castle on an island in the Saint Lawrence River.
Mountain Mille will be October 16 through 21, starting in either Asheville or Knoxville—we haven't decided yet—staying in Highlands, North Carolina and driving a variety of mountain roads, including the famous Tail of the Dragon.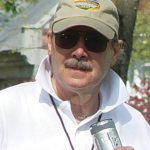 Written by Rich Taylor, Founder of Vintage Rallies
For Premier Financial Services
Photos by Jean Constantine