A New Rally is Born
"Anything worth doing at all is worth doing to excess!" — John P. Grier
On the Texas 1000 a year ago, two couples from Santa Fe — Paul & Cathy Kalenian and Mike & Judy Johnson — suggested that Jean and I organize one of our Vintage Rallies in New Mexico, Colorado and Utah. So we did. Other people obviously thought this was a good idea, too, because our first Southwest Passage was so overbooked that our Wranglers—that's what we call our crew because they keep the unruly herd moving in the same general direction—had to stay in a separate hotel when we ran out of rooms.
Like St. Augustine in Florida, Santa Fe claims to be the oldest city in the United States, dating back to 1610. But unlike St. Augustine, Santa Fe has a youthful vibrancy, a palpable energy that's infectious. There's lots of art, music, jewelry, fashion, design, gourmet dining…who knew? Everybody seems to be having a great time, and you suddenly realize you're having a great time, too.
We stayed at La Fonda on the Plaza. There was a hotel on this corner from 1610 till 1919 when it was replaced with today's faux-adobe La Fonda, now an elegantly art-filled Historic Hotel of America. It's smoothly run, and our contact, Desiree Quintana, is one of the most accommodating people Jean has worked with in 24 years of putting on events.
Santa Fe Festivals Abound
In addition to our Southwest Passage, there was a weekend Wine and Chili Festival going on, plus the local Santa Fe Concorso organized by retired Buick stylist Dennis Little and his wife. Many Vintage Rallyists showed their cars in the Concorso, winning prizes, too. The difference between our Vintage Rallyists and ordinary car show types, of course, is that when the Concorso was over, our folks then drove their cars 1400 miles in the next four days, often at triple-digit speeds!
Being a reticent Vermonter, Jean's ultimate accolade is "I could live here if I had to." She could live in Santa Fe. Once you get 30 miles outside of town, however, it's a different story. Rural New Mexico is like West Texas or Arizona, high desert covered with cedar, too dry for crops, let alone cattle or sheep. We didn't even see any goats, and that means it's dry!
We headed North to Colorado, where the roads and scenery are far more spectacular. We headquartered at The Peaks in Mountain Village, high above Telluride, CO. New owner Chuck Horning went way out of his way to make us welcome, while Telluride's box canyon, seen from The Peaks at 9500 feet, is like something from Brigadoon. It's so beautiful you keep expecting it to disappear and only come back in another 100 years.
Superb Roads Surpass Renowned Rallies
In four days, we managed to squeeze in not only Santa Fe and Telluride, but Durango, Mesa Verde National Park, Palisade, Gateway Canyon, Arches National Park and Taos Pueblo. Even better, the roads were uniformly superb.

It was all wonderful! We had some truly gourmet meals prepared by genuine French chefs, as well as cowboy barbeque, Mexican burritos and even authentic Pueblo Indian cooking. The only complaint I heard was that it was like being on a cruise…we'd all have to diet when we got home.
For the first time in 88 events, nobody "Zeroed" the rally. But that doesn't mean everybody didn't have fun. Our cars ranged from the 1953 Jaguar XK-120M of Tod & Wendy Willson to the 2015 Porsche 911 Carrera Turbo S of Don Weber & John Williams. Frankly, nobody seems to mind the mix of old and new exotics, if anything it adds spice and interest to the whole event.
Among the standout entries were John & Lisa Weinberger's 1954 Maserati A6GCS racer, Rob & Patricia Moler's 1957 Ferrari Testa Rossa, Jean-Paul & Isabelle Montupet's 1960 Lotus Elite, Don & Jan Polak's 1961 Volvo PV 544 factory rally car, Bill Coleman & David Fischer's 1962 Alfa Romeo 2600, Dan & Madonna Weltman's Shelby GT-350 and Mike Green & Andy Malcolm's 1973 Porsche 911 Carrera RS.
We had a whole class of Jaguar XK-120/140/150s, another whole class of Ferrari 330/365 GTC/GTSs, plus all sorts of Aston Martins, Audis, Corvettes, Ferraris, Jaguars, Maseratis, McLarens and Porsches. One of the coolest cars was the 2013 Alfa Romeo TZ3 Stradale Zagato of Bob & Sally Stockman. There were just nine of these cars built…one ordered a new Dodge Viper ACR race car and sent it to Zagato in Italy where the body was replaced with the sexiest, curviest, most sensational carrozzeria, kind of like an Alfa TZ1 updated by 50 years and inflated to double size. It has to be the ultimate Italian-American blend. Amazing, simply amazing.
Vintage Rallies will Rally on in Santa Fe
Bottom line, we had a wonderful time. The rallyists were great, the cars were great, the hotels were great, the restaurants were great, the roads were beyond great and the scenery was…well, we ran out of superlatives after the first day. Let's just say this was the best Vintage Rallies event in 24 years. We'll definitely come back for another Southwest Passage. And soon!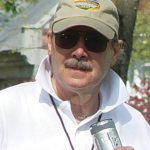 Written by Rich Taylor, Founder of Vintage Rallies
For Premier Financial Services
Photos by Jean Constantine