Suitable for a Literary Classic
Before attending RM Sotheby's Monterey auction, consider putting "The Great Gatsby" on your late summer reading list. You probably haven't read it since high school. A refresh will better prepare you for the 1929 Rolls-Royce Phantom Ascot Tourer by Brewster on offer at the auction.
Here's a quick sample: "On week-ends, his Rolls-Royce became an omnibus, bearing parties to and from the city between nine in the morning and long past midnight…"
We know that neither this Rolls, nor the yellow 1928 Ascot Dual Cowl Sport Phaeton featured in the 1974 film adaptation of the F. Scott Fitzgerald classic, would have been Jay Gatsby's ride. The novel was written in 1925, and its story took place in 1922. The Rolls that Fitzgerald described would have been a Silver Ghost. Chalk that up to Hollywood license, or just the convenience of getting a Phantom owner to paint his car yellow.
The light green Ascot Tourer offered by  RM Sotheby's is less flashy than the yellow that Gatsby chose to woo Daisy Buchanan. A car that her boorish husband refers to as a "circus wagon". Likewise, this Phantom Ascot Tourer has a pre-sale estimate of $275,000-$325,000.
The American Rolls-Royce
Six years before the great Duesenberg Model J arrived, a nouveau riche ex-bootlegger might well have chosen a "Springfield" Rolls-Royce like the Ascot Tourer, that is, a model made in Springfield. Mass. Rolls-Royce of America Incorporated was established there in 1919 when its planned operation to build aero engines for The Great War was no longer needed.
Rolls-Royce went to great pains to assure snobby American buyers that the Springfield cars were the equal of cars made in England. In addition, the thorough testing of finished cars was the same. This includes lengthy road tests and disassembling and re-assembling the chassis and engine, followed by more road testing.
Many were then driven – as bare chassis with temporary seats and weather protection – from the Springfield plant to Brewster & Company in Long Island City, New York, for bodies. These were produced under the Rolls-Royce Custom Coach Work label.
One of 28
Certainly one of the most beautiful Brewster bodies on the Phantom I was the Ascot Tourer, of which 28 were made. This was a dashing five-passenger open car with flowing fenders more characteristic of the 1930s models to come. The raked-back one-piece windshield and low canvas roof looks quite sporting. Perhaps only the York roadster body by Brewster, complete with rumble seat, was more daring.
The RM Sotheby's car is one of five made with hidden door hinges, and these cars were used as demonstrators to be used in test-drives arranged at Rolls-Royce dealers.
The Phantom I, which was not called that until the arrival of the Phantom II, succeeded the legendary Silver Ghost. It used a 7.7-liter inline-six-cylinder engine with overhead valves activated by pushrods. A more ambitious double overhead cam engine had been planned but never came to fruition.
In Vogue
The big Rolls-Royce six made about 95 horsepower. For a marque that would become famous for thinking it vulgar to advertise power and speed, a November 1929 ad in Vogue magazine seemed to appeal to customers like the fictitious Gatsby: "Somewhere between you and the graceful little figure-head that rides that radiator, you know a powerful motor is purring. You know it by the ease with which you glide up hills, and by the swallow-flight of the scenery."
The Ascot Tourer offered by RM Sotheby's was originally delivered to M.G. Patton, the Rolls-Royce dealer in Pittsburgh, where it served as a demonstrator for its first five months. Its first private owner was a 25-year-old sportsman from the city's Squirrel Hill section. Whether he, like Gatsby, was using it to draw the attention of an unrequited love has not been recorded in the car's records.
It's also not known if any of the subsequent owners was anything like Gatsby, but one, H. Dieter Holterbosch, was at least involved in the brewing business. Holterbosch, the American importer for Lowenbrau beer bought the Rolls in 1977. Further, that was around the time that Miller had acquired the rights to brew it in America. So, it's not quite the intrigue of Gatsby's past, but Lowenbrau's path did cause some controversy among beer lovers.
Wedding Car
Holterbosch had the Rolls restored in elegant period-correct colors by Crosthwaite & Gardiner. The chrome finishes, including the wheels, are correct for the car, as well. The car was used for family weddings during his 33 years of ownership.
You'd be hard-pressed to find a more elegant wedding car, but we'd prefer to picture this grand Rolls-Royce participating in the Pebble Beach Motoring Classic, the 1,500-mile tour from Kirkland, Wash. to Pebble Beach. Could you picture yourself driving?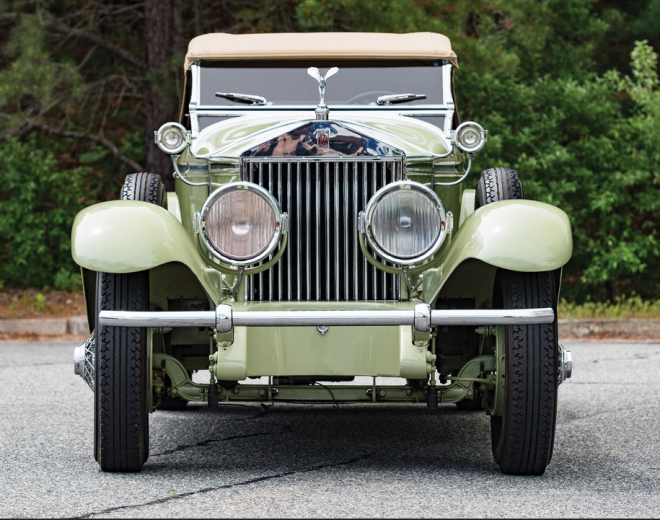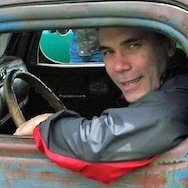 Written by Jim Koscs, Audamotive Communications
For Premier Financial Services