Exclusive, Long and Luxurious
Many exotic car drivers won't put 6,000 miles on the odometer during their entire ownership of a car. Ed Bolian will be driving that distance in his manual-transmission Lamborghini Murciélago LP 640 this month. He'll join about 25 others in the Lux Rally, an all-inclusive, eight-day luxury experience-driving event from Nashville to Las Vegas.
Bolian is the founder of VinWiki, a crowd-sourced vehicle history-reporting platform, which he describes as "a social version of CarFax." The VinWiki app has 180,000 users, and the YouTube channel has about 750,000 subscribers.
Many Premier Financial Services customers know Bolian and his car exploits through his engaging videos on the VinWiki Youtube channel, which Premier sponsors.
Going the Distance
In 2013, Bolian broke Alex Roy's record for driving from New York to Los Angeles, accomplishing the feat in 28 hours and 50 minutes driving a 2004 Mercedes CL55 AMG. The Lux Rally is not for setting speed records but is rather designed to be the ultimate car vacation. The driving route offers all kinds of scenery and roads, from straight-on highways to mountains. First-class accommodations and food are part of the all-inclusive package.
Leaving the Thompson Hotel in Nashville, the route heads south, with an overnight in the Peabody Hotel in Memphis before going through Texas with stops in Dallas and Big Spring. Then it points northwest for overnights in the Four Seasons in Santa Fe and Gateway Canyons Resort in Colorado before the final push to Las Vegas, with a stay in the Aria.
Bolian will drive the stick-shift Lambo from his home in Atlanta to the Nashville starting point, run part of the event with his wife and the rest with a friend, and then drive back to Atlanta. He seeks out distance drives, calling them great vacations for car enthusiast couples. The driving is important, but he also recommends these events for the social element.
"There are many different, interesting ways to enjoy your exotic cars," he says. "The reason to do these events is to meet the people."
You Have to Know Someone
Lux Rally, which also offers two other events, is run by David Eisen and Alexander Ireland, who has more than a decade of five-star hotel management experience. You must be a member to join, which is free but requires referral from another member. The events are reasonably priced (the Lux Rally was $7,500), but participation is limited to about 30 cars.
For more information: https://luxrally.com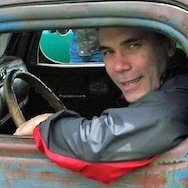 Written by Jim Koscs, Audamotive Communications
For Premier Financial Services