Super-rare Super 90
Car buffs have a knack for tagging special and rare cars with nicknames based on body designs or features. Ferrari aficionados have the "long nose" and "short nose" 275 GTBs. Mercedes buffs have the "Gullwing" and "Pagoda" SLs. Corvette and Volkswagen fans have "split window" models.
Among Porsches are several, of course, including the 356 B Roadster known as the "Twin Grille". Only 248 made in 1962 were made with bodies by Belgian coachbuilder D'Ieteren. It's one of only 58 equipped with the highly desirable 1.6-liter Super 90 engine, named for its 90 horsepower (DIN) rating.
One of those will be offered at the RM Sotheby's Amelia Island Concours auction this weekend. It has a pre-sale estimate of $375k-$475k. The car has been in the hands of collector Alex Dearborn, keeper of a Twin Grille Registry for 40 years, since 2007.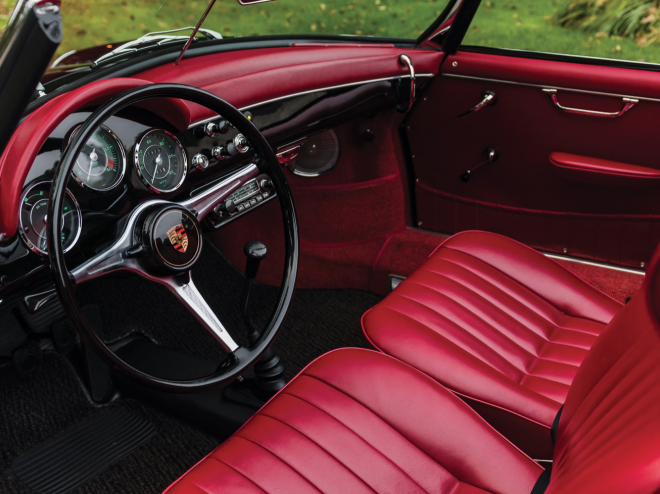 Growing Up Quickly
Porsche grew from a boutique carmaker to a mass producer rather quickly in the 1950s, as the numerous variants of the 356 found wide appeal wherever they were offered. Porsche used contract builders to help meet demand, among those Drauz, Karmann and Reutter.
The 356 Convertible D (for Drauz) replaced the Speedster in 1959. It kept that model's two-seat layout, dashboard and side trim. However, it has a taller, chrome-framed windshield and a proper, single-layer canvas top. The more luxurious Cabriolet had painted sheet metal around the windshield and a thick, padded top. With the arrival of the 356 B series, the Convertible D became the Roadster.
In 1961, Drauz transferred some of its Roadster body production to Porsche's Belgian distributor, D'leteren Freres, also was a coachbuilder. The 1962 D'leteren used the T6 body, immediately identified by the pair of engine cover cooling grilles as well as the squared engine hood panel. Significantly, D'leteren used caulk on all seams, which likely saved many panels from rust.
Porsche Smorgasbord
Adding up the many different body styles and engine options the 356 offered, including the top-performing Carrera models, shows how the marque has long catered to customers' wishes for individualization. It's why today, the 911 lineup can stretch to 20+ model variants.
Over the decades, in both model series, the confluence of a desirable body style and upgrade engine has inevitably created an instant collectible. In the case of the 356 B Roadster "Twin Grille," the option of the Super 90 engine over the 60- or 75-hp choices turned the 356 into a whole other animal.
Packed with lighter and stronger engine components, the Super 90 could rev higher than the other 356 B 1.6-liter engines and had a special oiling system that ensured proper lubrication in hard cornering. Sports Car Graphic managed 0-60 in under 10 seconds.
In its 1961 road test, Road & Track said, ". . . both acceleration and top speed are of a very high order, and the Super 90 must be classed as a really fast car". The definition of "really fast" was relative even then. However, R&T was referring more specifically to the momentum one could maintain on curving roads, not just straight-line acceleration.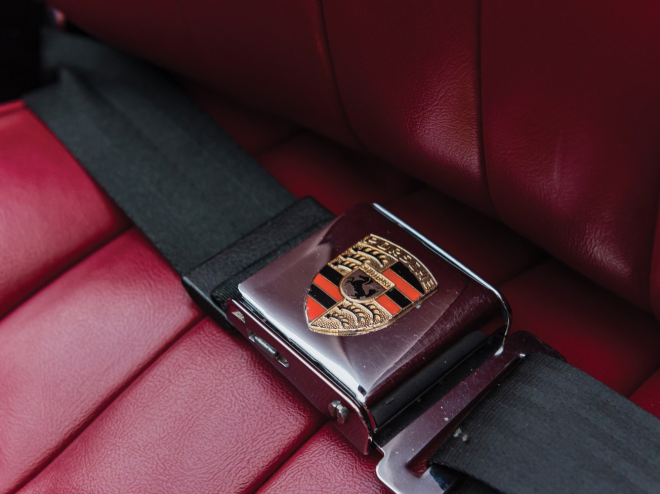 Special-Ordered
The 356 B Roadster on offer from RM Sotheby's is a highly optioned model. It was originally delivered to its first owner, Werrner Ehrenpreis from California. he received it at the Islinger Porsche Agency in Mannheim, West Germany. Ehrenpreis had special-ordered the car in Black (701) over red leatherette with a black canvas folding top, plus optional seatbelts, armrests, headrests, fog lights, cigarette lighter, radio/speaker/antenna package, canvas tonneau, sun visors with passenger-side mirror, additional soundproofing, chromed wheels, and a luggage rack. 
Dearborn, like the owners before him, certainly enjoyed driving this special Porsche 356. He had the engine rebuilt in 2010 (and 115,480 miles), also increasing displacement to 1,776cc for more power and torque. The transaxle was overhauled, gaining a taller fourth gear for more relaxed highway cruising. Dearborn also added more sound insulation. In addition, for driving safety, a hidden third brake light, LED rear lamp bulbs, halogen headlights, and 15 x 5.5-in. chromed steel wheels.
In 2015, the car took runner-up at the Boca Raton Concours. Notably, it was the only car in its class not trailered there. More recently, Dearborn drove the Super 90 Roadster in the Mountain Mille tour through the Smoky Mountains. 
One can easily imagine that this 356 B Roadster would be happy to continue its driving life. Maybe you're the one to give it that.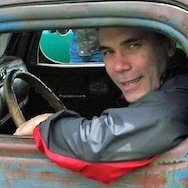 Written by Jim Koscs, Audamotive Communications
For Premier Financial Services